Shady Lady
The Hitchcock blonde reappears.
---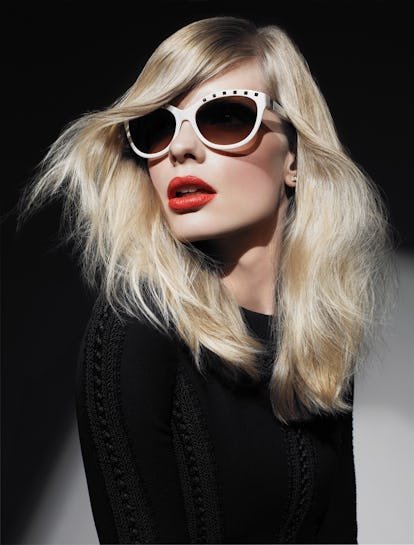 Photographer: Amy Troost Stylist: Michelle Cameron
Alfred Hitchcock, the 20th century's most famous director, wasn't subtle about what he looked for in his leading ladies: From Tippi Hedren to Kim Novak to Grace Kelly, nearly all of them were statuesque ice queens whose bleached coifs hid some tragic secret deep beneath the hairspray. As our more recent embrace of icons like Farrah Fawcett and, a few decades later, Gwyneth Paltrow, proves, though, "blonde" is less an idée fixe and more an ever changing mood—and we now seem headed toward a cool Hitchcock moment once again. "Bringing the intensity down from, say, a bright yellow or an orange blonde really shows off all the varied shades contained in the highlights," says Gregorio Ruggeri, owner of Manhattan's Salon Ruggeri. "So something with a bit more ash can be quite exciting." Just slip on a pair of oversize shades and decide which movie you're in today: Notorious? Spellbound? As long as you steer clear of shower scenes, you're ready for your close-up.
Makeup by Polly Osmond. Hair by Rudi Lewis. Manicure by Rica Romain for Chanel at See Management; Digital Technician: Charley Parden; Photography Assistants: Henry Lopez, Scott Simpson; Fashion Assistant: Amanda King. Model: Julia Stegner at Women Model Management.