Soko Announced Her Pregnancy on Instagram
The French musician announced her pregnancy while vacationing with Internet It Girl Cory Kennedy.
---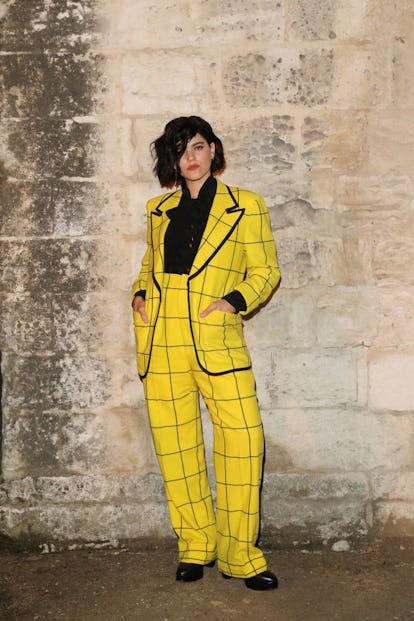 Vittorio Zunino Celotto/Getty Images
The summer of unexpected pregnancy announcements continues, as Soko joins the ranks of celebrities who revealed their pregnancy on Instagram seemingly out of nowhere.
The French singer-songwriter and Gucci muse successfully kept her pregnancy well hidden for half a year, until she made an announcement via Instagram on July 21, which appears to be on-trend with celebrities this summer. (Before Fenty muse Slick Woods slyly announced her pregnancy on Instagram just before the Fourth of July, no one had any idea she was pregnant or that she was so far along either; the 21-year-old model was seven months pregnant as of July 9, according to a separate post on Instagram.)
"6 months of growing a little Alien," Soko captioned the photo of her exposed belly, followed by a string of emojis, one of which was the pregnant woman emoji, of course. No information about Soko's current partner or the father of her child is readily available, but celebrities ranging from Jessica Alba to Diplo shared their excitement for the musician in the comments.
"I've always been open with my sexuality, meaning I don't really care about gender," Soko told W in March 2016, when she was in the midst of a relationship with Kristen Stewart. The two only dated for a short while, but their intense PDA fueled the celesbian tabloids for months. Since the high profile affair, Soko has kept mum about her relationship status.
But perhaps even more intriguing than unpacking Soko's celebrity relationships, discerning the paternity of her child, or bearing witness to supportive comments from Diplo on her photo, is the fact that joining her on this Costa Rican getaway is Internet It Girl and former Cobrasnake muse Cory Kennedy. For some niche corners of the Internet, there was a point in time (likely between 2006 and 2010) where logging on meant stumbling across new party photos of a teenage Kennedy out on the town every few days. Sometime between then and now, Soko and Kennedy became close enough friends to go on vacation and share pregnancy announcements together; the mid-aughts Internet culture fixture was even given credit for the photo of pregnant Soko on the beach.
While the origin of the friendship between Soko and Kennedy is unclear, it appears as if they have been consistently hanging out for over a year, because Kennedy has been capturing candid images and videos Soko for her Instagram since at least last January, and the two attended a Kenzo x H&M fashion show together with Spike Jonze in October 2016. For two of the Internet's most elusive celebrities, all of this chalks up to a friendship that somehow flew under the radar, but makes a lot of sense when you think about it. Future God Mother perhaps?
Relate: Premiere: Soko Is Confronted With Her Exes in "Diabolo Menthe" Video (Exclusive)