This Manhattan Bodega Is Made Entirely of Felt
The softest store we ever felt.
---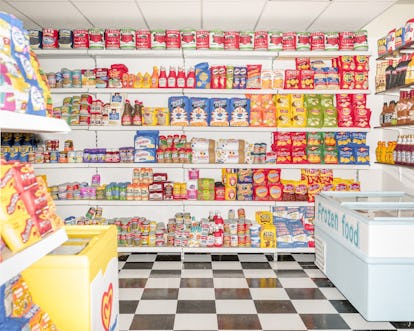 Courtesy of The Standard
The bodega is one of Manhattan's greatest food traditions, but now we can definitively say that the corner stores truly offer everything: A convenience store now exists that sells all the packaged snacks a New Yorker could ever dream of—except all the food is made out of felt. Expect to see all over your favorite trendy New Yorker's Instagram soon.
8 Till Late, a 12,000-square-foot shop off the Standard Biergarten on Little West 12th Street, is the brainchild of British artist Lucy Sparrow and features shelves upon shelves of incredibly detailed, hand-stitched "foods," including everything from name-brand canned and frozen delicacies to produce. Even nonedible convenience store staples, like Band-Aids, are in stock. Customers are invited to grocery shop the aisles as they would in any other bodega.
Meanwhile, those looking to grab a quick lunch made of not-food or metaphorically munch away the sins of nights out past can head to the deli counter to craft their very own felt sandwiches made from—what else—synthetic pastrami or salt beef with pickles. To top it off, a fully functional, fabric hot dog stand will be posted just outside the faux food shop, complete with glitter-glue ketchup and mustard toppings, of course—because this is still New York City, and even felt hot dogs demand proper condiments.
Sparrow spent six months working on the textile food haven with the partial support of a Kickstarter campaign, but it's not all fun and felt. The installation is meant to be a commentary on the slow death of the neighborhood corner store and a celebration of local, independent shops' vitality to the community. 8 Till Late will reportedly hold weekly events in the store to engage customers in neighborhood life.
"I want the work to make people think about the loss of community spaces when these small corner shops disappear; to remind them how valuable these corner shops really are and the color they bring to our lives," Sparrow said of the project in a press release.
8 Till Late is open daily from June 5 to June 30, 8 a.m. to 8 p.m. Peek inside the most tactile convenience store in existence via the photos below.
Related: This Summer-Long House Party Will Be a New Instagram Favorite at Storm King Art Center
See What's Trending in W Video: