Attention Fenty Beauty Fans: Rihanna Is Launching 14 New Lipstick Shades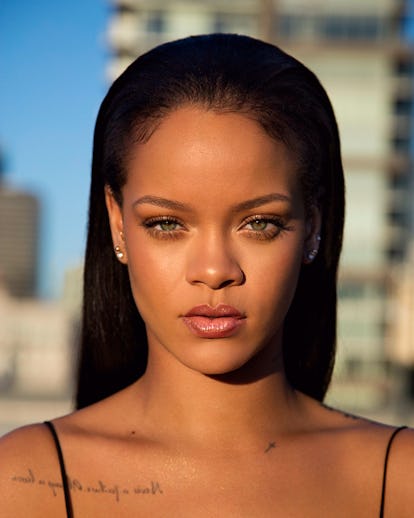 Rihanna
When Rihanna launched her makeup line Fenty Beauty in September September, the collection included highlighters, shimmer sticks and a universal lip gloss. She then expanded her line to include 40 shades of foundation, and today she revealed the latest launch: 14 new lipsticks shades for the Mattemoiselle collection.
The singer, actress, designer, and beauty mogul shared a sneak peek of the shades to her 58 million Instagram followers by posting a photo of herself, wearing a stunning dark navy lipstick. In the photograph, Rihanna kept the rest of her makeup minimal, with flawless skin, a shimmery eye, and wavy hair. She captioned the photograph, "Shade: #CLAPBACK #MATTEMOISELLE drops Dec. 26th at @fentybeauty @sephora and @harveynichols." The Wild Thoughts singer also posted a shot of all the products, adding "14 new @fentybeauty lipstick shades coming right up!! #MATTEMOISELLE drops online at 9am EST on Dec. 26 Be first in line @sephora @harveynichols and #SephorainJCP".
This month, Rihanna has already made headlines for wearing bold lip colors: on Friday she showed off an ultra violet lip in honor of Pantone's 2018 Color of the Year, and at her street-naming ceremony in Barbados she proved that orange lipstick may be the new red this holiday season. Now, we expect a bold lip to stay her look for at least a little while longer.
Rihanna Is Proof that a Bold Orange Lip Is the New Red This Holiday Season