Fiona Apple Says "Time's Been Up For A While" in the Music Industry
The award winning musician spoke candidly about the upcoming white rose protest at the Grammys.
---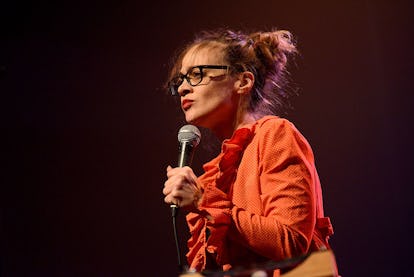 Scott Dudelson/Getty Images
Never one to mince words, Fiona Apple got extremely candid about sexism and the music industry when stopped by TMZ reporters at Los Angeles International Airport Friday morning to discuss the Time's Up initiative in the music industry. "Time's up on f–king Harvey Weinstein and all that s–t," Fiona Apple replied when asked to comment on the upcoming protest at the 2018 Grammys, wherein attendees will don white roses (a protest inspired by the black gowns worn by actresses at the Golden Globes) in support of the Time's Up movement.
"Everybody should express themselves however they want to, they should wear whatever they want symbolizing whatever they want to symbolize," she told a TMZ reporter at LAX on Friday morning "Time's been up for a while," she added while also signing autographs in the airport. When asked if she felt the abuse of power by men and sexually predatory behavior towards young women was just as prevalent in the music industry as it is in Hollywood, Apple replied, "F–k yes. Are you f–king kidding me? Yeah." Of course it is far from surprising that the same issues of sexual assault and gender disparity in the movie business also plague those involved in the music industry—even back in November, Bethany Cosentino of the band Best Coast penned a letter about her experience with sexual assault in the indie music scene.
As far as whether or not she will be tuning in to the Grammys to keep an eye out for white roses on the red carpet, it does not look like Apple could care any less about the ceremony itself. Not even the performances could convince the Grammy winner herself to watch the 2018 Grammys, although she did admit that she finds nothing wrong with the fact that the awards exist to entertain other people in the first place. "I just don't care," she said. "It's fine if other people care. It's wonderful, and I root for people, but I don't care." She even admitted to reporters that she gave her Grammy award (which she won in 1998 for Best Female Rock Vocal Performance) away, and has no idea where it is. This sentiment does not exactly come as a surprise—after all, she is the same artist who declared the world "bulls–t" when she won her MTV VMA in 1997.
Related: Watch St. Vincent and Fiona Apple Perform Together at Trans-Pecos Festival in Marfa
See W's most popular videos: