Secrets of Fashion Week Manicurist Madeline Poole
Nail artist Madeline Poole spends her days perfecting cuticles, but her beauty routine runs the full gamut.
---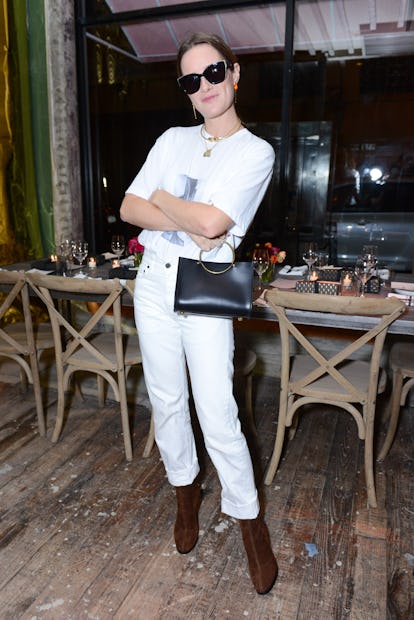 Manicurist Madeline Poole's 126,000 Instagram followers are familiar with her colorful designs. Scroll through the @mpnails feed, and you'll see her work backstage during fashion month at Stella McCartney, DKNY and Phillip Lim. And while her own nails are always on point (they're pretty much her résumé), the rest of her beauty routine is impressive too. Here, the Sally Hansen ambassador talks her fashion week kit, micro-current facials, and her obsession with eyebrows.
Who was your first beauty icon? Carmen Electra. I watched loads of MTV and the look at the time was a really heavy, black-rimmed eyeliner, super glossy, pearlescent lips and "iced tips" or chunky highlights and spaghetti straps. It's very much not my style now but I was envious at the time!
What's always in your kit? Sally Hansen Insta-Dri Top Coat – I use this incessantly and have a few backups in my kit. It's an amazing top coat for nail art because it doesn't drag color, dries very quickly and is quite chip resistant.
What's your favorite off-label use for a beauty product? Coconut oil as moisturizer. And Vaseline. I put rose tinted Vaseline on my cheeks and eyelids for the dew [effect].
What's your first beauty memory? Destroying my eyebrows when I was about 14. I've got thick dark brows and I plucked them to nothing, trimmed, AND bleached them when I was a kid.
What was your worst beauty blunder? The above for sure. But I've also had a lot of bad haircuts, including some pretty unbearable lopsided bangs that took years to grow out. That happened when I was about 17 and it was a battle I fought for about five years. Some days, I still feel like I'm working on it.
What beauty products are currently in your purse? Sally Hansen Complete Care 7-in-1 Nail Treatment, which is a growth and strengthening treatment you can wear under polish, over polish or on its own. I put it on every few days. I like to keep a medium grit nail file in my bag so I don't snag on anything. Nars Lip Pencil in Bahama and Vaseline Rosy Lip Therapy.
What's your 5-minute morning beauty routine? I wash my face with Sunday Riley Ceramic Slip Cleanser, then use Giorgio Armani Luminous Silk Foundation. I spritz a little Caudalie Beauty Elixir (which I'm pretty sure I got from the W Mag beauty closet, so thanks for that!) after foundation and a bit of mattefying powder. I don't wear mascara or eye makeup day to day because I find it makes my eyes look tiny! And I either paint my nails with a Sally Hansen Complete Salon Manicure shade or freshen them up with Sally Hansen Insta-Dri Top Coat.
If you had an extra 10-15 minutes in your routine, how would you spend it? Probably attempting to pluck eyebrow hairs that the human eye cannot even detect. And brushing my eyebrow hairs into a perfect shape. I'm a bit obsessed.
What trend do you look back on with regret? I have had a lot of interesting looks in my lifetime. I'm never comfortable blending in. I used to sew my own t-shirts out of cartoon covered pillow cases in middle school and I thought I was sooooo cutting edge.
What is your first go-to product or one you can't live without? Since I'm a major eyebrow freak, Laura Mercier brow definer.
Whose nails are you dying to get your hands on? Zendaya, RiRi, Serena and Venus.
What nail look are you really into right now? I've been doing the nail look I made for the Phillip Lim show in every possible color combination. It was an optical circle shape. In certain colors it really vibrates and I can't get enough of it.
Which discontinued product or shade do you mourn? MAC x Proenza Primrose lipstick. I wouldn't really apply it; I would just dab a bit on and rub it in. It made your lips look like they're just a bit wine-stained!
Is there a beauty professional you can't live without? Shamara Bondaroff of SB skin is a micro current facialist I go to in Union Square. Very major.
What's your beauty peeve? Dry skin with foundation on top of it.
What was the most exciting moment for you during fashion month? The whole experience is exciting. Paris is so decadent, especially around fashion week and in the area I'm working in. The Stella [McCartney] show is always held at the opera house and it's the most fabulous, breathtaking stage and backstage area.
What are you currently obsessed with? MASHED POTATOES – VOLUME 2 by Mashed Potatoes on SoundCloud.
Photos: Secrets of Fashion Week Manicurist Madeline Poole
Madeline Poole. Photo by BFAnyc.com.
Backstage at Phillip Lim during New York Fashion Week. Photo courtesy of Madeline Poole.
DKNY at New York Fashion Week. Photo courtesy of Madeline Poole.
Stella McCartney at Paris Fashion Week. Photo courtesy of Madeline Poole.