Fleetwood Mac's "Dreams" Is Back on the Billboard Charts Thanks to a Meme
Have you any memes you'd like to sell?
---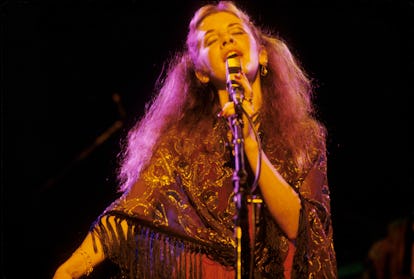 Richard E. Aaron
Thunder only happens when it's raining, but Fleetwood Mac's "Dreams" can get stuck in your head at literally anytime. The Stevie Nicks–written song, first released 41 years ago when it became Fleetwood Mac's only number one singles-chart hit, is back on the Billboard charts once again. It's suddenly number 14 on the Hot Rock Songs chart, where it sits between tracks from Portugal. The Man and James Bay, and the only reason anyone can figure out how it got there in the year 2018 is thank to a popular Twitter meme.
Back on March 22nd, user @BottledFeet uploaded a video of the leader of Alcorn State University's historic Golden Girls dance team and perfectly synced it up with the Fleetwood track. Edited videos matching people dancing to songs in wildly different styles or genres are always popular (see the meme involving cybergoths from a few years back), but something about this really took off. It's racked up over 325,000 likes, and the video has been viewed 6.57 million times.
According to Billboard, both streams and online sales of the single shot up by double digits in the week that the meme went viral.
Part of the credit goes to the dancers' expert moves, part to the Twitter user's wit, and, perhaps most of all, it might just be the fact that people simply really, really love this song.
This isn't even the first time it's had a resurgence. Irish band The Coors released a cover version in 1998 that became a solid hit across the world (including reaching number six in the U.K.). Progressive house duo Deep Dish also recorded a remix/cover with new vocals provided by Nicks in 2005 that went on to become a solid worldwide hit, including on U.S. dance charts. Other notable DJs, including Paul Oakenfold and Soul Clap have released well-received remixes of the track throughout the year as well. (If you're wondering why this song has so many remixes, and why it fits so perfectly with the video of the dancer, it's because Nicks purposefully wrote the original with a dance beat.)
Of course, another part of this may be the fact that it just doesn't have a lot of competition. The Top Rock Songs chart is pretty stagnant these day. The three top songs are all by Imagine Dragons, and all of those songs have been on the chart for at least 39 weeks already. In fact, a full tenth of the 50-song chart is made up of Imagine Dragons song. Rock just isn't a very dynamic genre these day, so even a meme can throw an old song into the top 20.
Rock and Roll may be dead, but "Dreams"—and memes—are forever.
Related: Stevie Nicks Can't Stop Fangirling Over Lorde, Her Long-Lost Witchy Daughter
From the '70s to Today: The Evolution of Stevie Nicks' Incredible Rock 'n' Roll Hair
Nicks with a bumpy blowout circa 1975.

Redferns/Getty Images
Casual California locks pinned back on top.

Getty Images
A chick pigtails look with a black beret.

Getty Images
Nicks opted for a folksy up-do to keep her mane tame.

Redferns/Getty Images
Transitioning from curly bangs to blowout.

Redferns/Getty Images
The beginning of Nicks' '80s curly blowout phase.

Redferns/Getty Images
Fully in the swing of the '80s with frizzy hair.

Getty Images
Nicks attends the 1987 MTV Video Music Awards loaded with hairspray and sequins.

WireImage/Getty
Nicks goes for a perm and bangs at the Ahoy festival in Rotterdam, Netherlands.

Redferns/Getty
Bleach blonde, and crimped!

WireImage/Getty
Nicks attends the "Interview With A Vampire" premiere looking the part.

WireImage/Getty
Today, Nicks prefers an elegant blowout with bangs. She's come a long way.

WireImage