Frances McDormand Will Play God in Good Omens
The Amazon adaptation will feature the Oscar-winner as a deity.
---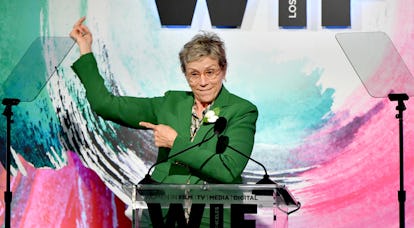 Photo by Emma McIntyre/Getty Images for Women In Film
Here's a truly good omen: Frances McDormand will play herself in Amazon's upcoming adaptation of Neil Gaiman and Terry Pratchett's cult classic novel Good Omens. And by "herself," we do mean the Almighty Lord on High, One True Ruler of the Kingdom f Heaven. Frances McDormand will play God. Which is perfect because she already is God! Sometimes casting is just right.
Good Omens is the story of the end of days, as prophesied by a witch and brought about by the Antichrist, told from the dual perspectives of the demon Crowley, played by David Tennant, and the angel Aziraphale, played by Michael Sheen. The six-part series also stars Jon Hamm as the Archangel Gabriel. (The book is, in this writer's opinion, very good and funny, and is, in fact, the only time that this writer has enjoyed the work of Mr. Gaiman!)
Gaiman announced the casting at a Comic-Con panel, explaining the unusual way that McDormand occurred to him for the role. "We knew God would be a woman," he said, per Variety. "We were talking about great American actresses, because we wanted her to have an American voice. And out the blue one day, I got an e-mail from Frances McDormand asking to borrow my house in Scotland."
He did not elaborate on when or why she wanted the house, or if he let her use it, but we'd assume so. Who denies God a favor?
Deadline further explained that McDormand will narrate the series and may make one on-camera appearance in Eden. But hers will not be the Voice of God. That role, akin in the world of the novel to a press secretary, goes to Derek Jacobi, who plays Metatron, the Voice of God. (The book is fun, I promise.)
Now, back to Gaiman's claim that God is a woman. Was he just having a feminist moment, or is he dropping a hint that the series will feature a certain new song by the Archangel Ariana Grande? Tune in next year to find out, we guess.
Related: Frances McDormand Got All the Female Oscar Nominees on Their Feet During Her Oscars 2018 Acceptance Speech
Met Gala 2018: All the Headpieces Worn by Celebrities on the Red Carpet, Ranked
No one could ever beat Rihanna cosplaying as the Pope of fashion.

Jamie McCarthy/Getty Images
Frances McDormand's headpiece was both elegant and enigmatic—much like the actress herself.

Kevin Mazur/MG18/Getty Images
Always one for making a bold statement, Solange opted for a gold halo to sit a-top her du-rag at the 2018 Met Gala.

Neilson Barnard/Getty Images
Priyanka Chopra smoothly incorporated this stunning gold headpiece into her 2018 Met Gala look.

AFP Contributor/Getty Images
Madonna held her veil in place with a crown consisting of gold crosses at the 2018 Met Gala.

Neilson Barnard/Getty Images
This is not the first (and likely will not be the last) time Jared Leto has worn a gold crown in public, neither is it the first or last time Jared Leto has looked like Jesus Christ himself.

Dia Dipasupil/Getty Images
Cara Delevingne didn't just cover her head—she veiled her entire face.

Mike Coppola/MG18/Getty Images
A wide brimmed headpiece at the 2018 Met Gala? Must be the Young Pope's influence.

Dimitrios Kambouris/MG18/Getty Images
SZA wore an ethereal halo fit for a princess.

Matt Winkelmeyer/MG18/Getty Images
Lily Collins coronated herself a sharp, gothic halo to complete her look at the 2018 Met Gala.

Kevin Mazur/MG18/Getty Images
Cardi B's pearl-encrusted crown made its debut on the red carpet at the 2018 Met Gala.

Dia Dipasupil
A biblical Nativity scene nestled its way into Sarah Jessica Parker's gold headpiece.

Dia Dipasupil/Getty Images
Lynda Carter showed up to the 2018 Met Gala looking just like Wonder Woman in a gold crown.

Neilson Barnard/Getty Images
After the Hedy Lamarr inspired star crown she wore at the 2018 Grammys, Lana Del Rey upped the ante for her 2018 Met Gala look with a couple giant birds.

Mike Coppola/MG18
Who knew beloved tile-matching puzzle game Bejeweled made headgear?

Mike Coppola/MG18
Rita Ora's black spiky floral crown was the perfect gothic accessory for the pop star's 2018 Met Gala look.

Kevin Mazur/MG18/Getty Images
"Signature bow, but make it… fashion?"

Sean Zanni
Rosie Huntington-Whitely took the theme to heart, and wore an actual gold halo.

Neilson Barnard
Hailee Steinfeld sported a classically simple bejeweled tiara.

AFP Contributor