Perfectly Frank
Michael Fassbender and Maggie Gyllenhaal perform at the premiere of Frank.
---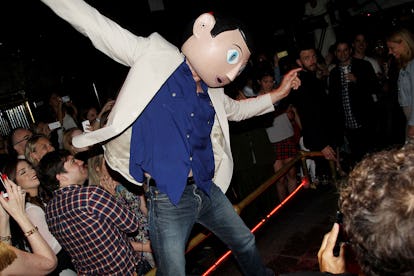 On Tuesday night, Tommy Hilfiger and Dark Horse hosted the premiere of director Lenny Abrahamson's quirky dark comedy, Frank, at the Sunshine Landmark Theater on Manhattan's Lower East Side. Michael Fassbender, who plays the film's mysterious masked front man Frank, arrived on the red carpet sans paper-mache head, but joined by his fictional band members—including Maggie Gyllenhaal, Dom Gleeson, Francois Civil, and drummer Carla Azar. Unlike in the film, where the band struggles to find cohesion, the cast acted like old friends on the step-and-repeat, laughing and disrupting each other's photos.
"It brought everybody together, because everyone was outside of their comfort zone," explained Abrahamson, who insisted the actors perform all the music in the movie—the alluring detail that attracted Fassbender to the production. For her part as the explosive bandmate Clara, Gyllenhaal had to learn to play the theremin and relied on Azar's prowess for her musical cues: "Having Carla there was totally indispensible. A band with a drummer isn't a band."
After the movie, musically inclined guests like Jack White, Marky Ramone, and Zoe Kravitz made their way across town for an after-party at Westway, where the band reunited for a special performance. Donning the head for one last time, Fassbender, or rather Frank, was the life of the party.
Michael Fassbender performing. Photo by Startraks.
Peter Sarsgaard and Maggie Gyllenhaal. Photo by Startraks.
Francois Civil and Dom Gleeson. Photo by Startraks.
Carla Azar and Jack White. Photo by Startraks.
Zoe Kravitz. Photo by Startraks.
Michael Fassbender. Photo by Startraks.
Alia Shawkat. Photo by Startraks.
Michael Shannon. Photo by Startraks.
Kathleen Hanna and Kathi Wilcox. Photo by Startraks.
Arden Wohl. Photo by Startraks.
Whit Stillman. Photo by Startraks.