A Celebrity Esthetician on the Powerful Impact of a French Skincare Routine
"The French facial techniques include more massage and touch, a more holistic approach, after all, the French pioneered the facial."
---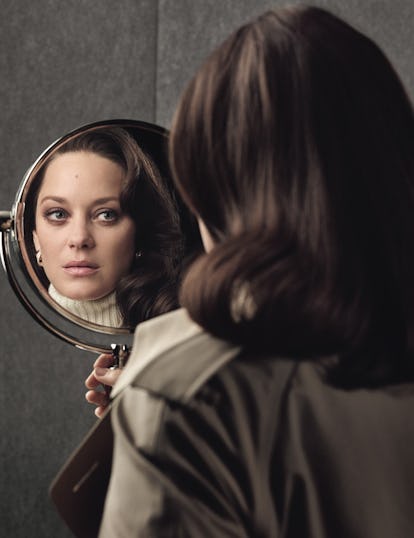 Photographs by Craig McDean. Styled by Edward Enninful. Hair by Orlando Pita for Orlando Pita Play; Makeup by Peter Philips for Dior; Manicures by Michelle Saunders for Essie at Forward Artists. Set design by Piers Hanmer.
Celebrity esthetician Angela Caglia spent years training as a facialist in France, but is now based in the US, working with clients like supermodel Helena Christensen and actress Minnie Driver in New York and Los Angeles. Here, Caglia opens up about the differences in the way her clients approach skincare in each city, her tips for the best products, and more.
With your extensive training in France, what unique techniques do you bring to your facials in the U.S.?
My French skincare training is very influential in my facial practice. It's how I learned 23 years ago. The French training begins with a thorough assessment of the skin, including in-depth questioning regarding lifestyle-related issues, i.e, stress levels, skin care routines, diet, medications, and exercise. I was trained and believe in the ART OF THE FACIAL, as I like to call it. It's about effective and relaxing European massage techniques, using aromatherapy and giving the most soothing, relaxing facial possible, a multi-sensorial experience. My philosophy includes centering the client with crystals, the tone of my voice, and the art of the conversation. It's my client's hour not mine. I'm hyper-vigilant about their verbal and nonverbal cues during their treatment. I explain each step in a soothing tone of voice so they know exactly what's going on. My clients also expect visible results so I include the latest skincare technology thereby combining the best of Old World and modern.
What are the main differences you see between French facial techniques and U.S. techniques?
The French facial techniques include more massage and touch, a more holistic approach, after all, the French pioneered the facial. In contrast, U.S. facials are quicker and medically focused, i.e, with brighter lights, plastic gloves, more machines, overall less ambiance. I incorporate both. I sneak in the machines after my clients are drifting off. The goal is to always have them on the brink of sleep with the lighting, aromas, sounds and touch. They leave with my signature "Hollywood Glow," but also walk away renewed, at peace, and very happy.
What are the biggest misconceptions people have about getting facials?
The biggest misconception is that they will break out after. There are no new pimples after my facials. It's about using the right products on the right skin types and your choices in the treatment room. I do a lot of mixing in my back bar, if needed. There are ways to cause inflammation and ways to calm inflammation, it's my job to always be on top of what works best for each of my clients.
Another misconception is that you will be red after a facial and can't go out in public afterwards. That's not the case with my facials. I was trained over 23 years ago by my French para-medical esthetician mentor Chantal Tourtin of Yonka Paris on how to do extractions the "French Way," a unique and gentle process whereby the client is more comfortable during the process and less red.
What differences do you see between your clients in New York and L.A.?
My New York clientele is similar to my European clientele in terms of skin. They tend to wear less makeup and have a more dedicated, but simple skin care routine. Some of my L.A. clients are more challenging because their workouts are more extreme, like hot yoga, which can wreak havoc on our skin if you are not caring for it immediately after the class. Also, some sunscreens clog more than others. I recommend using zinc oxide-infused sunscreens because they calm inflammation.
What facial treatments do you recommend for clients? How do you incorporate modern techniques into your treatment?
The absolute first thing I do with a client is ask them what their concerns are with their skin. I then tailor the facial to that. I specialize in lifting, tightening and retexturing treatments. I incorporate the best in anti-aging technology like RF (radio frequency), LED light, Micro current, and a new heat light therapy machine I have that stimulates collagen synthesis.
How often do you recommend your clients facials?
Some of my clients come in every two weeks and we mix it up. I wish everyone could come in that often, but it's not realistic for many. I recommend at least once a month so we can keep up the results.
What are your best at home tips to help keep skin healthy in between appointments?
I recommend using my La Vie en Rose Face Roller along with my own eco-luxe skincare line, so you can do your own at home facial type treatments in between appointments.
What ingredients do you like to work with on the skin?
I like to work with Meadowfoam Seed Oil. It's the hero ingredient of my skincare line and similar in structure to our own sebum so it penetrates beautifully and doesn't cause acne; rather, it calms inflammation and gives an immediate result and glow.
What are your best skincare tips?
Take your make-up off every night before sleep. Do it before you get too tired or you may be tempted to skip the step. Less is more, don't use too many products. Sleep is very important for a bright, healthy complexion and the best time to regenerate with a good serum or oil. Get monthly facials so you have an expert seeing the changes in your skin and helping you with treatments and the right products. Read the ingredients of the products you are using. I would stay away from parabens, phthalates, propylene glycol, silicones, artificial coloring or fragrance. Also, in choosing a natural line, be cautious of ones with too many essential oils, which may smell heavenly (perfume like), but may also cause redness or irritation.
The Best Facials in New York City
"Deep cleansing facials are extremely helpful for my acne. This all-natural one is my favorite because it keeps me completely breakout-free for two weeks." – Katie Becker, Beauty Editor
Try this treatment: Biologique Recherche Purifying Anti-Acne Facial, $190
Locations: 171 E 65th St., New York, NY; 66 East 55th St., New York, NY; 60 Chelsea Piers, New York, NY
Phone: 212.988.7816
Hours: vary by location
"Given that facials are part of my job (sorry, haters), I tend to be rather unfaithful in this arena. But if I had to pick one place to recharge my complexion, it would be Dangene, with her trusty team of exfoliators, spot sizzlers and skin brighteners. If you don't have time for a vacation, fake it by spending a morning with Dangene." – Jane Larkworthy, Beauty Director
Initial consultation and treatment: $1,500 (consultation alone is $250)
Location: 66 East 55th St., 6th Floor, New York, NY
Phone: 212.249.8172
Hours: Monday through Friday, 7 a.m. to 6 p.m.
"After an hour and a half of being infused with chi energy and enduring extractions, my skin has never felt so refreshed, and I have never felt so relaxed." – Sarah Leon, Web Editor
Try this treatment: Wow Signature Triple Peel Energy Lift Facial with with Body Wellness, $410
Locations: 12 East 16th St., New York, NY; 105 West 77th St., New York, NY
Phone: 212.989.8833 (16th St.) and 212.877.2883 (77th St.)
Hours: vary by location
"I rarely get facials, but when I do I choose the excellent microdermabrasion facial at The Peninsula." – Karla Martinez de Salas, Fashion Market and Accessories Director
Try this treatment: Microdermabrasion Facial, starting at $275
Location: 700 5th Ave, New York, NY
Phone: 212.903.3910
Hours: 9 a.m. to 9 p.m. daily
"Though I try to take care of my skin, my arsenal of products is still no match for my blackhead-prone skin. But with deep cleansing, extractions, and a massage, this does the trick." – Sue Williamson, Digital Editorial Associate
Try this treatment: The Fully Loaded Facial, $250
Locations: 12 West 57th St. New York, NY; 541 Lexington Ave., New York, NY; 568 Broadway, New York, NY
Phone: 877.862.5477
Hours: vary by location
"A friend with absurdly amazing skin turned me on to this place, which uses all Biologique Recherché products. I've since joined the cult. In my opinion, it's the best money you could spend on yourself." – Karin Nelson, Features Editor
Try this treatment: Deep Cleansing Facial, $305
Location: 30 East 67th Street, 5th Floor, New York, NY
Phone: 212.879.5257
Hours: Monday through Friday 11 a.m. to 4 p.m.; Saturday and Sunday 10 a.m. to 6 p.m.
"When my skin needs a complete reboot, I rely on this all-encompassing treatment that uses three different micro current techniques—and of course Joanna's magic touch. She's the best facialist in NYC." – Kat Herriman, Digital Editorial Assistant
Try this treatment: Triple Crown Facial, beginning at $250
Location: 501 5th Ave., New York, NY
Phone: 212.949.2350
Hours: Monday through Friday 8 a.m. to 8 p.m.; Saturday 9 a.m. to 6 p.m.; Sunday 10 a.m. to 6 p.m.
"I have never, ever been a facial girl—until I tried Pratima. Located in the heart of Soho, this eco-friendly spa uses all organic minerals, flowers, roots, and herbs for an utterly relaxing (I fell asleep!) and genuinely transforming experience. The next day I actually SAW the difference! My complexion was smooth and my skin was crystal clear." – Gillian Sagansky, Assistant to the Editor in Chief
Try this treatment: Uddhata Ayurvedic Facial, $147
Location: 110 Greene Street, #701, New York, NY
Phone: 212.581.8136
Hours: Monday 11 a.m. to 6 p.m.; Monday through Friday 10 a.m. to 8 p.m.; Sunday 10 a.m. to 5 p.m.