The French Girl's Guide to Buying a Summer Wardrobe Online
Maud Barrionuevo, the buying director of the new luxury fashion site 24 Sèvres from Paris's Le Bon Marché, breaks down what you need to buy this summer.
---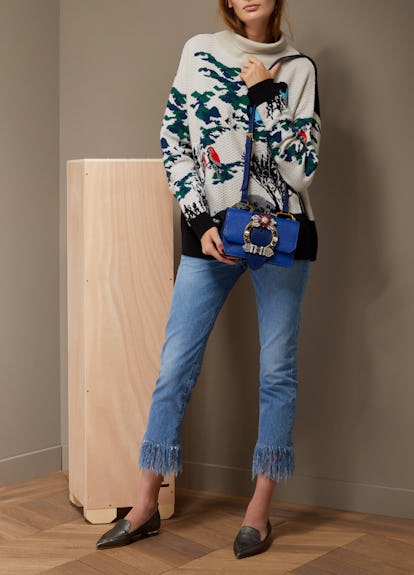 As the summer heats up, more often than not so does the seasonal desire to overhaul your wardrobe. Luckily, there is a new online luxury retailer to help with all of those fashion needs: 24 Sèvres, a Paris-based e-tailer that comes from luxury conglomerate LVMH and French department store mecca Le Bon Marché, who have teamed to create the ultimate in online shopping. The site markets it's offerings as "the finest selection of brands selected by Parisian experts," and it's hard to argue with that, with impeccably curated selection from nearly every major brand you could ever want: Gucci, J.W. Anderson, Prada, Proenza Schouler, Marc Jacobs, et al.
Additionally, to kick off with a very chic bang, the site has enlisted 68 brands to design one-of-a-kind pieces that evoke the quintessence of Parisian chic. The results range from Proenza Schouler's collaboration with Keith Haring Studio to reinvent their PS11 bag to Roger Vivier's partnering with Inès de La Fressage, who reimagined the Trompette ballerina in her uniform Parisian blue-and-white marinière stripe. All categories sold on 24 Sèvres are represented in the capsule collection, including prêt-à-porter, shoes, leather goods, and beauty, with prices ranging from $135 for a Maison Labiche sweater to $12,750 for an Yves Salomon mink bomber.
To celebrate the launch, the site's buying director, Maud Barrionuevo, spoke with W to break down exactly what you need to buy now to fill your summer wardrobe with the hottest trends and more.
What does 24 Sèvres offer to customers that other retailers might not?
The curation with which the products and brands we sell have been selected; we stock a mix of renowned luxury maisons some of them in exclusivity, like Dior, Louis Vuitton, Moynat, Berluti, and more niche labels which reflect a wholly Parisian vision of style. This Parisian eye is central to everything we are doing. Le Bon Marché is an iconic store, loved by its local Parisian clientele, but also admired internationally. For us, the objective is to bring its renowned edit to the world, by adapting the in-store browsing experience for the digital space. Parisian style continues to inspire and create desire, and we felt best positioned to make this available at a global scale.
What are the biggest trends for summer?
We launched with pre-fall and fall 2017 collections, but the detailing we loved on the fall runways is also very relevant for summer; ruching, ruffles, pleating and bows are all details to look out for, particularly in clashing pairings. I love the very feminine feel of an Isabel Marant tiered ruffle top, contrasted with a leather mini-skirt. A Givenchy asymmetrical ruffled dress has a very sophisticated structure, but is made of cotton, making it perfect for a summer evening look. Allover prints, including florals and animals, with a tapestry feel are also incredibly strong this season.
What does every woman need to have in her wardrobe this summer?
A great pair of denim jeans is an indispensable item of any Parisian's wardrobe, and detailing has also taken over this category, with infinite choices of fringing, lace inserts, raw hems. I particularly love a wide-leg, cropped style; Miu Miu makes a pair which has a masculine silhouette but feminine broderie anglaise inserts.
What is the key shoe of the season?
Without a doubt the mule, which so many brands are playing with. It's a comfortable and versatile style which is appropriate for daytime and nighttime, and for any occasion. My favorites include the Savatore Ferragamo pair created exclusively for our launch capsule collection, which are opulently luxe for evening, and the now-classic pair by Gucci, reimagining in striking silver glitter, appropriate for daytime or for a casual evening look. The Myla 65 Satin Mule by Jimmy Choo, with satin and embellishments make it a perfectly understated party shoe, and Tory Burch's fur Phoenix mule elevates a daytime look when paired with a denim skirt or cropped jeans.
What is the key bag of the season?
Maxi proportions are definitely on-trend right now, with a personal preference for the giant Hammock bag Loewe created for our exclusive launch capsule collection; the striped Balenciaga Bazar shopper everyone is talking about will also be landing onsite soon, and I'm personally excited about adding it to my Love List.
What is the perfect summer daytime and nightime look?
My go-to look for these first proper days of Parisian summer consists of a slinky asymmetrical midi dress by Marni, worn over skinny stirrup pants and paired with a block heel. For night, I am loving the fuchsia ruffled Koché dress from the fall 2017 runway, which will be coming to 24 Sèvres soon; it feels couture and unexpected at the same time, which is what I love about this emerging label.
What is your biggest tip for shopping online?
Tips should be personalized, which is why we encourage our customers to try our live video chat: the 24 Sèvres Personal Shoppers, based here in our Paris headquarters, will be able to provide a bespoke style consultation tailored to your individual needs, whether it's help browsing the site, or product recommendations to suit an existing look or upcoming occasion.
How Street Style Stars Do Paris Fashion Week
The Ultimate Guide to Summer's Best Swimsuits