Game of Thrones Star Lena Headey Completes Flawless Summer with Real Estate Deals and a Music Video
Life beyond King's Landing awaits.
---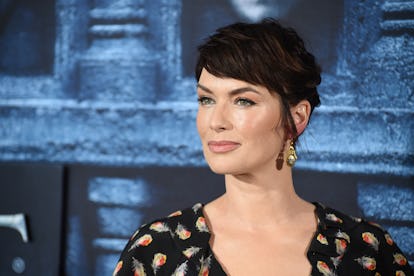 Jeff Kravitz/Getty Images
Long before she was Cersei Lannister, the devious ascendant queen of Westeros in Game of Thrones, Lena Headey was best known for starring in Terminator: The Sarah Connor Chronicles and 300. Now, with just a season to go before HBO's fantasy epic concludes, Headey, apparently, is making moves outside of King's Landing once again with a new music video, as well as a sweet real estate deal. And lest we forget, despite all the machinations in Westeros, Cersei Lannister, who Headey recently described as "such a bitch," is still queen in Game of Thrones. So let the evidence show Lena Headey had the best summer.
Headey teamed up with British indie rock veterans Kasabian on a video for their new track, "Ill Ray (The King)." In her first-ever music video outing, Headey plays the video's windbreaker- and turtleneck-clad protagonist, a practicer of black magic who manages to reanimate the dead King Richard III using such established magical tokens as digestive cookies dipped in tea, historical biographies, and, naturally, candles. (Headey, it seems, learned a dark magic secret or two from Qyburn, who brings Cersei's sadistic henchman the Mountain back from the dead in Game of Thrones in zombie-fied form.)
After bringing the dead king back to life in a vacant parking lot, she takes him on a pub crawl, the obvious first destination for any recently revived royal. Many pints are consumed, and Richard, played by English actor and music video veteran Michael Socha, demands all passersby kiss the ring. And at the end of the video, just when the disaffected Headey, whose eye-rolls are something to aspire to, seems like she's resigned herself to kissing her zombie king, he looks a bit queasy and then collapses into a pile of dirt and bones, as zombies are wont to do. The Mountain would never—but whoever is behind the Game of Thrones Twitter account nevertheless tweeted the video, captioning it, "The Lannisters send their regards."
Last month, Headey also put her Los Angeles home on the market; with Game of Thrones's Season 7 finale on the horizon, and the series finale not far beyond that, it seems it was time to migrate. Within two weeks, the Los Angeles Times reported Thursday, an offer had been made for $2.05 million—which is not only $105,000 more than her asking price, but is also nearly three times the $790,000 she paid when she bought the place back in 2014. According to the Times, the house has five bedrooms and four and a half bathrooms, measuring 2,900 square feet—plenty of room for practicing exorcisms, transmogrifications, and black magic of all sorts. Plus, there's a pool. And the lucky new owner gets to boast it once housed Cersei Lannister.
Meanwhile, Headey is moving on to Fighting with My Family, the biopic of WWE wrestler Paige co-starring fellow period piece alumna Florence Pugh that premieres next year—and is certainly a departure from Game of Thrones.
Kit Harington auditioned for Game of Thrones with a black eye: