Gary Clark Jr. Returns to the Surf Lodge—Virtually
During the summer of drive-in shows and virtual concerts, the Grammy-winning artist performed via livestream, from the safety of his studio.
---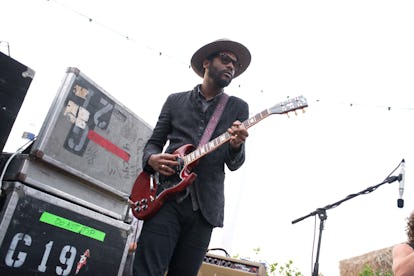 Madison McGaw/BFA.com
Any other summer, the Surf Lodge would be packed with celebrities, influencers, and locals drawn to a host of art shows and concerts. But that was before a global pandemic made the Montauk institution close its doors for the bulk of the season.
The Surf Lodge was, however, able to salvage the tail end of summer. This Sunday, Gary Clark Jr. closed out the weekend's Endless Summer benefit concert in partnership with The Governor's Ball Music Festival and Bumble, which featured virtual performances from Tones and I and Oli Benz the previous night. After the Chainsmokers' ill-fated "Safe and Sound" event in July, which provoked the ire of social media and Governor Cuomo alike, many would balk at the idea of another Hamptons show. But it was far from the raucous crowd that's become a signature of the Surf Lodge. Instead, the show was available to anyone online, via livestream—in addition to a small group assembled at Surf Lodge spread out en plein air, with social distancing observed and masks matched to going-out attire.
Clark is no stranger to the venue—his 2016 performance has amassed 5.6 million views on YouTube—but this time, he and his band streamed in from the safety of his studio. His wife Nicole Trunfio introduced his performance with an effusive video message, calling Clark "fire, so handsome, enigmatic, mysterious, and insanely talented." The Texas guitarist played a range of his hits, including "When I'm Gone" and "Low Down Rolling Stone."
Funds raised from the event went to the Equal Justice Initiative, an organization that works to end mass incarceration, excessive punishment, and racial inequality. The Labor Day Weekend concert came after a turbulent summer, during which Clark has spoken publicly and extensively about Black Lives Matter. In early June, following the death of George Floyd, Clark posted an emotional video on his Instagram, which he captioned, "Thoughts."
"I said everything I needed to say on the record, I think," he said in the video, referencing his award-winning album This Land—an explosive response to the 2016 election and an exploration of his experience growing up in the South.