George and Amal Clooney Went Out for a Romantic Date Night in Italy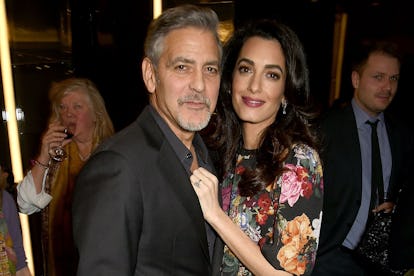 David M. Benett/Getty Images
George and Amal Clooney are back out on the town.
Looking not nearly as disheveled and exhausted as you'd expect the parents of a set of newborns to be, the A-list pair recently were stopped heading to dinner at Il Gatto Nero restaurant in Lake Como, People reports. This is one of the Clooneys' first public outings since they welcomed their twins, a boy/girl pair named Alexandra and Ella, in early June.
Paparazzi caught the two holding hands entering and exiting the restaurant, where they reportedly dined with friends. The ever-chic Mrs. Clooney donned a purple-and-yellow-striped dress, while her husband wore a black short-sleeve button down and the quintessential "new dad" goatee.
"Everyone was so excited to see him and Amal for dinner," a source told People. "They got many hugs and a lot of love. Amal looked gorgeous and didn't look the slightest bit tired. She kept smiling and looked so happy."
"You could tell they were happy about the date night," the source continued. "In the past, they always dined for hours. This time, it was obvious they didn't want to be out too late."
While the Clooneys have seemingly been spending the majority of their time at their home in Sonning, England, since the twins were born, Lake Como is a veritable home away from home for the new family of four. George Clooney has famously had a villa in the Italian coastal town for years, and the he and Amal wed in a lavish ceremony in nearby Venice in 2014.
The notoriously private couple have stayed even further from the spotlight than usual since becoming parents, and according to The Today Show were spotted deplaning from a private jet at the Milan airport earlier this week, babies in tow. There have been no official first photos of the family yet, but George Clooney's dad, Nick Clooney, previously told the press that the kids have dark hair and George's nose—though, obviously, there are no "bad" genes in this pool.
Despite having residences all over the world, the Clooneys plan to raise the twins in the United Kingdom, E! News previously reported. Amal Clooney's legal practice is based in London, and although she is on maternity leave, sources have confirmed that she has no plans to leave her job.
Related: George and Amal Clooney's First Meeting Was Literally Love at First Sight
George Clooney Reveals His Cinematic Crush: