George Clooney Reportedly Hospitalized After Scooter Accident in Italy
He was released with only minor injuries after a few hours.
---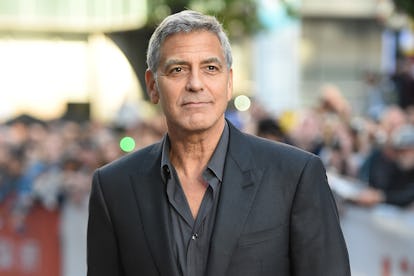 J. Merritt/Getty Images
While filming his upcoming TV adaptation of Catch-22 in Sardinia, Italy, George Clooney was reportedly hospitalized for perhaps the most quintessentially Italian mishap possible: a scooter accident. Officials at the Giovanni Paolo II (John Paul II) hospital in the Sardinian city of Olbia told the Associated Press that Clooney was released from the hospital via a side exit on Tuesday morning, only a few hours after the accident.
Alberto Cicognani, a Carabinieri police officer, told CNN that Clooney was thrown over the top of his scooter after being hit by a Mercedes, which had reportedly failed to come to a full stop before turning; Clooney was subsequently taken to the hospital in an ambulance, complete with police escort. Cicognani added that Clooney had assured him that he was "fine" and that Catch-22 would resume filming within a few days. Another officer, Giovanni Mannoni, confirmed to CNN that the Oscar winner hadn't suffered any serious injuries or broken any bones in the collision, which occurred on the scenic SS125 highway, near the village of Murta Maria in Olbia.
Amal Clooney rushed to the hospital to escort her husband back to their home, according to reports from local outlet La Nuova. The Clooneys have reportedly rented out a villa in the beachside Sardinian town of San Teodoro so that Amal and their children, 1-year-old twins Alexander and Ella, can be close to George while he films Catch-22.
Though perhaps now slightly tainted by this minor scrape-up, Italy holds a special place in the hearts of the Clooney family. They own a home on the country's mainland, near Lake Como, which is where George and Amal tied the knot in 2014 and where, as the Clooneys revealed to Vogue earlier this year, they first met. "Of course she was beautiful," George told the magazine of his fateful first encounter with the human rights lawyer. "But I also thought she was fascinating, and I thought she was brilliant. Her life was incredibly exciting—the clients she was taking on and the superhuman work that she was doing. I was taken with her from the moment I saw her."
Related: Hollywood Heartthrob George Clooney Has Come a Long Way Since the '80s
Hollywood Heartthrob George Clooney Has Come a Long Way Since the '80s
A long-haired, youthful George Clooney attended a celebrity basketball game in 1989 wearing a leather vest, jeans, and a printed shirt.

WireImage/Getty Images
With his hair still long and wavy, the actor ditched his denim-and-vest ensemble for a navy suit and printed tie to attend a party in 1989.

WireImage/Getty images
Leaving the airport in Los Angeles in 1995, Clooney looked simple and chic in navy chinos, a white t-shirt, and round sunglasses.

WireImage/Getty Images
Attending the 52nd annual Golden Globes in 1995, Clooney looked like a classic heartthrob in a classic suit and bow-tie.

WireImage/Getty Images
Ditching the long hair he is seen here at the 48th Emmy Awards in 1996 wearing a classic tux and with his now well-known salt and peppery hair.

Frank Trapper/Getty Images
At the premiere of "The Peacemaker" in 1997, Clooney chose a more casual look on the red carpet, leaving the collar of his shirt unbuttoned.

Frank Trapper/Getty Images
George Clooney and his girlfriend Celine Balitran hit the red carpet in 1998. The actor took a fashion risk, wearing a maroon-colored suit.

Frank Trapper/Getty Images
Clooney dressed for the occasion at GQ's Men of the Year award ceremony in 1998.

Steve Azzara/Getty Images
Off the red carpet, Clooney wore a denim-on-denim outfit.

WireImage/Getty Images
Clooney took home a Golden Globe award at the 58th Annual Golden Globes wearing a classic tux.

SGranitz/Getty Images
Attending Venice Film Festival in 2005, Clooney wore a classic suit while on a boat with the actress Patricia Clarkson.

Venturelli/Getty Images
Posing with longtime friend Brad Pitt in 2008 at the press event for "Burn after Reading," Clooney wore a classic, Italian-style suit.

Philip Ramey Photography, LLC/Getty Images
Stepping out after an appearance on "The Late Show with David Letterman," Clooney looked sophisticated in a navy, pinstripe suit.

WireImage/Getty Images
Clooney kept it classic at the 69th Golden Globes in 2012, where he took home the award for best actor.

Frank Trapper/Getty Images
George Clooney wore a perfectly tailored grey suit and sunglasses to celebrate his marriage to Amal Clooney in Venice.

Robino Salvatore
Amal and George Clooney cemented their status as one of Hollywood's most stylish couples while attending the Met Gala in 2015.

Lars Niki/Getty Images
George and Amal Clooney landed on all the best dressed lists at the 72nd annual Golden Globes in 2015 with their homage to Hollywood glam.

Frank Trapper/Getty Images
Always ahead of the trends, Clooney wore colored sunglasses with a well-fitting suit to the Cannes Film Festival in 2016.

Tony Barson/Getty Images
Clooney shared a moment with his longtime friend, the actress Julia Roberts, on the red carpet at the Cannes Film Festival in 2016. Both wore elegant, classic ensembles for the occasion.

Tony Barson/Getty Images
Wearing a turtleneck instead of a traditional collared shirt, Clooney makes a case for casual red carpet style while attending the "Hail Cesar" premiere in 2016.

Steve Granitz/Getty Images
George Clooney looked both comfortable and sophisticated wearing a knitted scarf and suede jacket while walking around Paris with his wife Amal in 2017.

NurPhoto/Getty Images
Actor George Clooney kept it classic in a tuxedo at an Omega Event in 2017.

Craig Barritt/Getty Images
George Clooney and Amal Clooney walk the red carpet ahead of the 'Suburbicon' screening during the 74th Venice Film Festival at Sala Grande on September 2, 2017 in Venice, Italy.

Pascal Le Segretain
George Clooney attends the "Suburbicon" premiere during the 2017 Toronto International Film Festival at Princess of Wales Theatre on September 9, 2017 in Toronto, Canada.

Joe Scarnici
George Clooney, Amal Clooney arrives at the Premiere Of Paramount Pictures' "Suburbicon" at Regency Village Theatre on October 22, 2017 in Westwood, California.

Steve Granitz