Georgina Chapman is 'Very Sad' But 'Well' According to Alyssa Milano
Friend Alyssa Milano offers an update on her friend Georgina Chapman.
---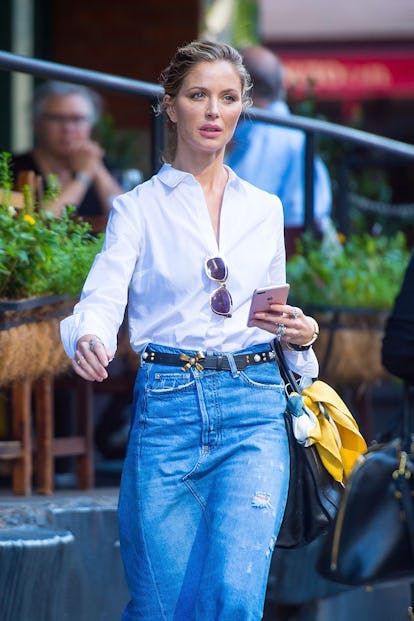 Photo by Gotham/GC Images
Georgina Chapman, the now-estranged wife of Harvey Weinstein and co-founder of fashion label Marchesa, has kept a low profile since the dozens of sexual assault allegations against her husband broke, sending a ripple effect into Hollywood and beyond, emboldening others to speak out against their abusers. But, her friend, actress Alyssa Milano, has offered an update on Chapman, who announced she would be separating from Weinstein in the aftermath of The New York Times' exposé.
"Georgina is doing very well," Milano told Today host Megyn Kelly, according to People. "She's an amazing mother. She's an amazing woman, and I think her priority right now is focusing on how to raise those two children to the best of her capacity given the situation… She goes through very dark times. She's very sad. This is not easy for her, but I have no doubt that not only will she come out on the other side of this, but she deserves too. She's a good woman."
After it was revealed that dozens of women had accused Weinstein of sexual misconduct, Chapman issued a statement to People, saying, "My heart breaks for all the women who have suffered tremendous pain because of these unforgivable actions. I have chosen to leave my husband. Caring for my young children is my first priority and I ask the media for privacy at this time."
Weinstein later addressed her decision to separate from him, in a statement quoted in Page Six, saying, "I support her decision, I am in counseling and perhaps, when I am better, we can rebuild. Over the last week, there has been a lot of pain for my family that I take responsibility for. I sat down with my wife Georgina, who I love more than anything, and we discussed what was best for our family. We discussed the possibility of a separation and I encouraged her to do what was in her heart. I understand, I love her and I love our children and hopefully, when I am better, I will be in their lives again."
Last month it was reported by Page Six that Chapman has been interviewing potential divorce attorneys.
Related: Gwyneth Paltrow Issues a Reminder Not to Mess With Her, Accusing Harvey Weinstein of Wielding an "Assault Weapon" in Lying About Having Sex With Her