How Gigi Hadid Became the Queen of Clapbacks in 12 Steps
A lesson in throwing shade.
---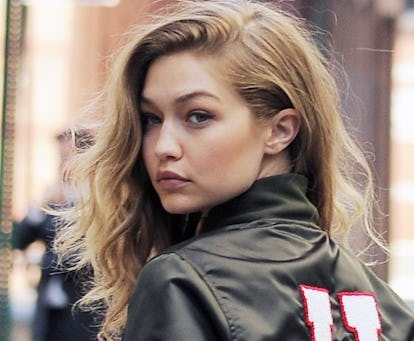 Josiah Kamau/BuzzFoto via Getty Images
These days you'd be hard-pressed to scroll through any one social media platform without browsing past a clap back. But perhaps no one has perfected the art quite like Gigi Hadid, which is, of course, not all that surprising considering she's a social media star with a following of nearly 45 million on Instagram alone. With fame, though, comes speculation, invasion of privacy, and, often, being treated like you aren't human at all, as Hadid has attested to as she let her fans in on her journey to supermodeldom. As she's done so, she's also given a lesson in how to expertly throw shade. That's why we've rounded up, in 12 steps, how Hadid became the queen of the clapback. Take a look below, and feel free take notes.
Back in 2015, the year she made her runway debut for designers like Marc Jacobs, Chanel, and Michael Kors, Hadid took to Instagram to call out the negativity directed at her. She defended by her body and her career, writing on Instagram, "No, I don't think I have the same body type as the other models in shows. No, I don't think I am the best at any given show. Yes, I want a unique walk but I also know I have to improve. No, I'm not the first or last model of my type in this industry… You can make up all the reasons you think I am where I am, but really, I'm a hard worker that's confident in myself, one that came at a time where the fashion industry was ready for a change."
The same year, after Hadid was spotted at Kanye West's Yeezy season three show at Madison Square Garden, she took the opportunity to share that her presence wasn't an endorsement of the rapper. In the wake of his premiering of "Famous," where he takes credit for Taylor Swift's fame, Hadid defended her squad friend, tweeting, "My attendance somewhere does not mean I agree with everything being said in the music playing there. My friends know of my loyalty."
It didn't take Hadid long to shut down one Twitter troll, who was rude enough to say the model needed to "practice how to walk properly instead of having a new boyfriend every two weeks" back in 2016. Hadid replied, simply, "I've dated three guys in three years, hun. My walk can always get better; I hope the unrelated bitterness in your heart can too."
Now it feels like lifetimes ago that Hadid dated Joe Jonas. But back when their breakup was still relatively raw, Jonas told The Mirror of her then-new relationship with Zayn Malik, "I think it's interesting that she moved on so quickly, I mean it was definitely very quick." Shortly after Hadid seemingly replied when stepping out in a t-shirt that said "lol ur not Zayn Malik."
During the beginning of Hadid and Kendall Jenners' careers as luxury fashion models, they received backlash from more established supermodels like Rebecca Romijn and Stephanie Seymour who referred to the then-rookie pair as "b-tches of the moment." Hadid took the high road, though, telling Vogue of their Instagram fame, "It's a way that people get to know us other than a face on a page. We are given the opportunity to spread our wings in so many different industries because people get to know us; they start to understand different levels of our personalities and our talents." She then added the mic drop, "I think that the reason why Kendall and Cara [Delevingne] and Karlie [Kloss] and I are kind of … able to have this moment right now is because the industry needed a change to be able to welcome in another generation."
After a commenter on Instagram questioned Hadid's body—something that there is never an excuse for—Hadid told them, "It's called growing up." She then proceeded to stick up for all other women, writing, "Your comment won't get me down. but next time, please think about the young women who may read body-judgement comments and judge themselves as they see their bodies growing and therefore naturally changing, too."
In 2016, Hadid had a scary run-in at Milan Fashion Week when a man attacked her, grabbing her body and lifting it off the ground. He was no match for Hadid, though, who defended herself against him while telling him, "Let go of me! Who the f-ck are you? You piece of sh-t!" Afterwards, she defended herself once again, this time against internet trolls. "I'm a HUMAN BEING," she tweeted, "and had EVERY RIGHT to defend myself. How dare that idiot thinks he has the right to man-handle a complete stranger. He ran quick tho ????."
Hadid has defended her body against body-shamers repeatedly. This February, however, she drew attention to how truly cruel those kinds of comments are when revealing that her body's changing appearance is due to health complications. "For those of you so determined to come up w why my body has changed over the years, you may not know that when I started @ 17 I was not yet diagnosed w/Hashimoto's disease," she tweeted, "Those of u who called me 'too big for the industry' were seeing inflammation & water retention due to that."
This past July, it began circulating that Zayn Malik didn't follow Hadid on Instagram, which is really inconsequential in the grand scheme of life. Hadid pointed out just that when replying to a troll who posted about it, writing, "Seems like u guys tag me in a new post every day … pls stop.. it's just negative, I really have no hard feelings towards you I just know what a beautiful world there is to go out and live in instead of trying to dissect a relationship between two people that you don't even know and that you do not see 99% of." She then gave the ultimate clap back: "I don't need his follow," she wrote, "my eyes are tattooed to his chest."
Hadid shut down body-shamers once again this past October when she told Vogue, "I loved my body when I was curvier. Then as I lost [the weight], people were still mean." She then emphasized with her critics, saying, "Yeah, I know I'm skinny. I'm looking in the mirror. I'm trying to eat burgers and do squats. I want an ass too. I get it. I got it. Thank you!"
As a celebrity, Hadid has had to deal with an unfortunate amount of aggressive paparazzi. But when she posted a photo of herself that was taken by one, she ended up getting pursued even further. Unbelievably, legal action was threatened against her for posting the photo on her Instagram. So, naturally, she replied with an epic clap back. "These people make money off us everyday, LEGALLY stalking us day in and day out – for nothing special – for us to walk six feet to a car and six feet into a work building," she wrote. "They drive dangerously close and extremely recklessly; they put the general public in danger in pursuit of a photo… I understand this is how you make your living, and I respect that this is something that I must accept with my job. But there is a line."
Before Hadid became, well, Gigi Hadid, her mother, model Yolanda Hadid was the star of The Real Housewives of Beverly Hills. But whenever someone credits that with Hadid's success, the model is quick to defend herself. She did so as recently as mid-November when she told the crowd at an event, "People say that I don't deserve to be where I am because I come from this successful family, but my parents were fucking hard-working…My dad was a refugee, my mum was on a farm, went to New York and worked to send money back to her family. They worked their asses off and they've given me a life because of their hard work, and I work hard to honor that." She also added of her peers who found success solely because of nepotism: "I've worked with them, they suck."