Gigi Hadid Claps Back at Critics Who Say She's Only Successful Because She's Privileged
She also addressed the controversy around her Vogue Arabia cover.
---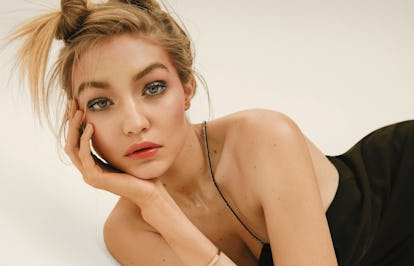 Inez & Vinoodh
Despite the fact that, over the course of the past few years, Gigi Hadid has walked in hundreds of runway shows, appeared on dozens of magazine covers, built ultrasuccessful collaborations with brands like Tommy Hilfiger and Maybelline, and is consistently recognized by her peers as one of the hardest-working models in the industry, there are still some people who insist on crediting her success to her privileged upbringing. Though her jam-packed schedule is certainly proof enough of Hadid's individual success, this week, during a celebration in Sydney in honor of her latest high-profile project—this one with Reebok—Hadid addressed those critics who attempt to define her as only one thing.
"People say that I don't deserve to be where I am because I come from this successful family, but my parents were fucking hardworking," she said, according to Australian outlet Pedestrian.TV. "My dad was a refugee. My mum was on a farm, went to New York, and worked to send money back to her family. They worked their asses off, and they've given me a life because of their hard work, and I work hard to honor that." The 23-year-old continued: "I shouldn't stay in my house because people say, 'You don't deserve to be here because they were successful.' That's not how I consider it in my house." She added, referring to those who think of her as nothing but the child of wealthy parents, that "we are all given titles by the world and we are told we're one thing, and we're flattened. We're told that we're not good enough."
That "flattening" has also happened with regards to other aspects of her background, Hadid said, bringing up the cover shoot she did for the first-ever issue of Vogue Arabia in March 2017, in which she wore a bejeweled hijab. "When I shot the cover of Vogue Arabia, I wasn't 'Arab enough' to be representing those girls, even though I'm half-Palestinian. I'm as Palestinian as I am Dutch. Just because I have blonde hair, I still carry the value of my ancestors, and I appreciate and respect that," she explained. "I talk about this with my boyfriend [Zayn Malik] too: He's half-Pakistani, half-English. I feel like when you're mixed-race, when you come from two different worlds, you get to see how both sides treat each other, and you feel like the bridge of those two sides."
Hadid, who, along with her sister Bella, has often spoken out about being proud of her Palestinian background and Muslim faith, was especially celebratory of her heritage upon the Vogue Arabia cover's release. "I think the beautiful thing about there being international Vogues is that, as a fashion community, we are able to celebrate, and share with the world, different cultures. Being half-Palestinian, it means the world to me to be on the first-ever cover(s) of @voguearabia, and I hope that this magazine will show another layer of the fashion industry's desire to continue to accept, celebrate, and incorporate all people & customs and make everyone feel like they have fashion images and moments they can relate to… & learn and grow in doing so," she captioned an Instagram post at the time.
Related: Gigi Hadid Dramatically Reads "Popular"