Gigi Hadid Offers Update on Her Relationship With Zayn Malik While Clapping Back at Trolls Who Said It's Fake
"I don't need his follow—my eyes are tattooed to his chest."
---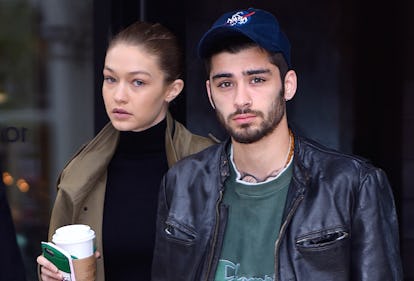 Robert Kamau/GC Images
No one claps back quite like Gigi Hadid. The model and expert social media user has perfected a rare balancing act: shutting down her haters while being completely polite. Most recently, she did so when an Instagram account, whose handle suggested her relationship with her on-again boyfriend Zayn Malik was fake, tagged her in one of its posts. Instead of ignoring it, Hadid was civil, explaining why it's problematic to speculate on any relationship that isn't your own.
"Seems like u guys tag me in a new post every day…pls stop," she wrote in the comments. "It's just negative, I really have no hard feelings towards you I just know what a beautiful world there is to go out and live in instead of trying to dissect a relationship between two people that you don't even know and that you do not see 99% of…There's nothing to figure out all the time…give it a break. this is my last comment on this matter but I hope u know it's not coming from a bad place, just would love for you to find something else that inspires you in life….x"
Hadid also addressed the fact that Malik no longer follows her on social media, which she dismissed with a mic drop. "For someone who is virtually inactive on the app, I don't need his follow," she said. "My eyes are tattooed to his chest."
She didn't stop there, though. When someone questioned why she didn't send her response via direct message—which, seriously?—Hadid replied thoughtfully, with a reminder that celebrities are emotionally no different from any other human being. "Just because I'm a 'celebrity' doesn't mean I don't feel, or that my time is too precious to not listen to what people have to say," she wrote. "I'm sure you can see how assumptions like this can be hurtful, especially about someone I love deeply…I'm sorry if it came off immature, I'm just trying to open a dialogue so people understand that their words are hurtful and not just an 'anonymous confession.' This internet culture is cruel and does not serve a greater purpose." Gigi Hadid: 1; her haters: 0.
Related: Gigi Hadid and Blake Lively Discuss Social Media Trolls and the Dangers of Retouched Images: "This Isn't Real Life"