Zayn Malik Spotted Wearing Gigi Hadid's Shirt
The pair have a history of shopping in each other's closets.
---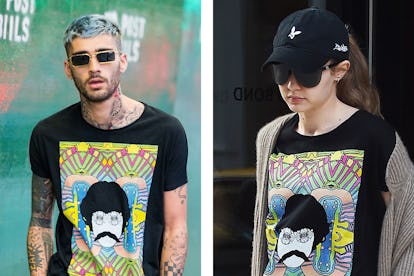 Composite. Getty Images
Zayn Malik and Gigi Hadid havedecided they're in no rush to publicly clarify the state of their relationship (in fact, just last week, Zayn said they "don't need to put a label" on their relationship), but a set of recent paparazzi pics proves they're definitely back on clothes sharing terms. On Thursday, Zayn was spotted walking around in New York City wearing a black shirt printed with a colorful graphic. But it wasn't just any old tee — according to Vogue, the Wrangler x Peter Max shirt actually belongs to Gigi, who was photographed wearing it back in early June. Hey, a little gender fluidity, right?
The shirt wasn't the only Gigi-related artifact Zayn incorporated into his outfit. Vogue reports that Zayn's square black sunglasses were designed by Gigi for her Vogue Eyewear capsule collection, while Marie Claire noted that one of his Roxanne Assoulin bracelets was another Gigi original.
Wardrobe swapping is a signature move for the pair, who gushed about how they love to share clothes back when they were still dating. For their Vogue cover in August 2017, they were photographed wearing interchangeable outfits, and in the accompanying interview, they talked about their habit of borrowing each other's clothes. "I shop in your closet all the time, don't I?" Gigi asked in the interview, to which Zayn replied, "Yeah, but same. What was that T-shirt I borrowed the other day?" When Gigi told him it was designed by Anna Sui, Zayn said, "I like that shirt. And if it's tight on me, so what? It doesn't matter if it was made for a girl."
"Totally. It's not about gender. It's about, like, shapes. And what feels good on you that day. And anyway, it's fun to experiment," Gigi said, adding later, "If Zayn's wearing a tight shirt and tight jeans and a big, drapey coat, I mean — I'd wear that, too. It's just about, do the clothes feel right on you?"
Related: Is Zayn Malik Really a "Challenging" Diva? Not So Fast