Is Zayn Malik Really a "Challenging" Diva? Not So Fast
Zayn Malik's music manager, Sarah Stennett, First Access Entertainment, just dropped him, prompting questionable rumors that he's a "challenging" diva.
---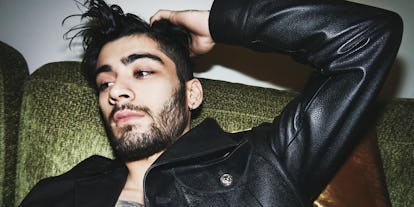 Gigi Hadid
Pretty much ever since Zayn Malik struck out on his own, leaving behind One Direction, in March 2015, he's partnered with Sarah Stennett, who's spent the past two years as his music manager at First Access Entertainment. But much like his relationship with Gigi Hadid, his collaboration with Stennett has now come to an end, as First Access has reportedly dropped him—just a few days after he released a new video and single, and about two months before he's set to release his second solo album.
Sure, Zayn has a bit less star power now that he's no longer part of one of the hottest celebrity couples, but his popularity among fangirls was never dependent on their relationship. Indeed, according to sources who spoke with Variety, the breakups seem to have come in succession by pure coincidence, since First Access reportedly has their own qualms with Zayn: namely, that he's "challenging to work with."
If you follow Zayn on Instagram, you've probably noticed that something has been up with the singer since the beginning of this year, when he started posting quotes that seemed to directly address his anxiety, which soon transitioned into jams and freestyle sessions plus a series of alarming selfies. Until he purged his account earlier this month, all that had only amped up over the course of the year, making his management's move seem like the latest step in his unfortunately public decline.
Upon closer inspection, though, it's not all that simple. To start, First Access's move doesn't seem to have been so personal, as Stennett also parted ways with Ellie Goulding earlier. Variety points out that the group continues to work with the likes of Rita Ora, Bebe Rexha, and Madison Beer.
Regarding Zayn, Stennett told Variety that "sometimes in life you have to make extremely difficult decisions to effect positive change for everyone." Anonymous sources, on the other hand, have offered alternative possibilities of what was happening, beyond the fact that Zayn was simply "challenging" in the diva-like manner you would expect from a highly worshipped celeb; the challenge for his management may have been that Zayn declined "many promotional opportunities" and didn't tour for his last album.
In confirming the split to Variety, Stennett said, "Sometimes in life you have to make extremely difficult decisions to effect positive change for everyone." And perhaps it's best for Zayn if he stays out of the public eye and parts ways with First Access. As has been repeatedly reported, Zayn's ever-growing fame has increasingly exacerbated his issues with mental health, particularly his anxiety. We know this because, well, Zayn has been welcomely open about it, to the point that he published a memoir in 2016that made headlines for revealing that he'd been dealing with an eating disorder since his One Direction days in 2014. (That was in addition to his issues with anxiety and ADHD, which he'd previously spoken about.)
Around the same time, an excerpt of the memoir, titled "Why I went Public With My Anxiety Issues," appeared in Time, following (and providing insight into) the canceled tour dates his management reportedly cited. (For example: a large-scale performance in London that he flew to the U.K. for only to cancel going onstage, tweeting that "with the magnitude of the event, I have suffered the worst anxiety of my career," adding that it had "haunted" him throughout the the last few months.)
In the Time excerpt, Zayn wrote that one of his team members offered to write a statement for the star saying he'd taken ill, which is when he decided to go public with his anxiety because, as he put it, it's "nothing to be ashamed of" and "affects millions of people every day." And while leaving the group may have helped with his disordered eating, Zayn also elaborated on that decision's downsides: "When I was in One Direction, my anxiety issues were huge but, within the safety net of the band, they were at least manageable. As a solo performer, I felt much more exposed," he wrote. "The psychological stress of performing had just gotten to be too much for me to handle—at that moment, at least. Rather than hiding away, sugarcoating it, I knew I had to put it all out there."
According to Zayn, throughout all of this, his team was "really supportive" of his decision to open up.
His revelations took an uplifting turn in 2017, when Zayn shared an update—that he'd gotten to the point of having "no problem with anxiety," and that his eating habits had "[come] back into place."
But then Zayn once again retreated toward the end of 2017, hiding out on a "working farm" in rural Pennsylvania, where he would "take the horses out and feed the cows and that kind of stuff." Since then, Zayn has, of course, reemerged from the farmland: He in fact spent the end of last year and the beginning of this year working on his new music, as evidenced by his new singles, video, and upcoming album.
So, is Zayn's behavior the reason for the breakup? Maybe, but maybe it's also what he needs at this moment. Stennett seems to agree.
In Memoriam of 2018's Most Devastating Celebrity Breakups, So Far
After eleven years together as a couple, Natalie Dormer and Anthony Byrne called off their engagement recently due to disputes from working together on their film, In Darkness.

David M. Benett/Getty Images
Robert DeNiro and his wife Grace Hightower recently announced their split after 20 years of marriage.

Taylor Hill/Getty Images
Paris Hilton and the actor-artist Chris Zylka reportedly called off their engagement in November, bringing their two-year relationship to an end. After meeting at Art Basel Miami and keeping in touch via text, the pair went on their first date—the actual first time around, since, as Zylka told W earlier this year, "I got so nervous that I cancelled and said I was sick." According to him, at least as of this past March, they hadn't spent more than four hours apart from each other since that first date, making it only natural that Zylka proposed to Hilton with a $2 million ring earlier this year. Having called things off, things are reportedly back to usual for the pair: "Paris will be focusing on her brand, like deejaying and fragrances, while Chris will get back into acting and art, like his gallery pop-ups with Banksy during Art Basel."

Michael Beckert
Antoni Porowski had been dating Joey Krietemeyer for about seven years before he became an overnight celebrity thanks to Netflix's Queer Eye, and the show's designated food expert even said that the pair were "basically married." Though, in recent months Krietemeyer didn't appear with Poroski in public nor on his popular social media channels. Us Weekly now reports that the two broke up two months ago, but that they remain friends.

Dia Dipasupil
The relationship between Diddy and "Me & U" singer Cassie has always been steeped in a mystery. They first started dating back in 2006, but had broken up and gotten back together before. As of now, the pair have once again split.

John Shearer
Pete Davidson and Ariana Grande's whirlwind relationship and engagement didn't just set a new precedent for news-cycle domination; it also arguably broke records in terms of plain old productivity. In just five months, the pair got seemingly countless tattoos together; went through bottle after bottle of bleach and hair dye; made the trek to Staten Island; moved into a $16 million apartment; adopted a pet pig; made merch for each other; and prompted a new strategy at SNL. (On a much more serious note, they also dealt with some very real tragedy: the untimely death of Grande's previous partner Mac Miller.) Davidson and Grande may have now called it quits romantically, but their bond apparently remains; according to TMZ, which broke the news, "the two still have love for each other."

Nicholas Hunt/Getty Images
Brandon and Leah Jenner announced via Instagram that they would be separating as of September 2018, after six years of marriage and 14 years together in total.

Imeh Akpanudosen
Shortly after Noah Cyrus and the rapper Lil Xan made their red-carpet couple debut, at the 2018 MTV VMAs, cheating rumors reportedly put an end to the relationship in September 2018.

Axelle/Bauer-Griffin/Getty Images
The short summer fling between Camila Mendes and her boyfriend Victor Houston reportedly ended with some deleted Instagrams in August 2018, about a month and a half after the two were spotted celebrating the Riverdale star's birthday in Montauk.

Photo by @victorhouston.
The endless iced coffee dates could not keep Ben Affleck and Lindsay Shookus together after their yearlong relationship reportedly fizzled out in August 2018.

Gotham/Getty Images
Comedians Rhea Butcher and Cameron Esposito announced via Twitter that they were "separating to live individual lives for a time" in August 2018, after nearly three years of marriage.

Paul Archuleta/Getty Images
Allen Berezovsky/Getty Images
G-Eazy and Halsey split in July 2018, just a year after the couple officially began dating.

Rachel Murray
The day after the singer Cheryl celebrated her 35th birthday, and a little over a year after she gave birth to a son named Bear with her partner of two years, Liam Payne, she and the former One Directioner posted identical tweets saying that they were "sad to announce that [they] are going [their] separate ways."

David M. Benett/Getty Images
Christian Siriano and Brad Walsh were together for 11 years and married for nearly two of those, before Walsh announced via Instagram Stories that the couple is officially over as of June 2018.

Taylor Hill
After just a few short months of dating, Emma Watson and Chord Overstreet reportedly called it quits in May 2018.

Composite. Getty Images.
"After much thought and consideration we have mutually decided to separate as a couple," Usher and his wife Grace Miguel shared in a statement announcing their divorce.

Tiffany Rose
The Preacher costars quietly dated for eight years before splitting in April—just in time for people to realize they were even a couple.

David M. Benett
After famously dating Nick Jonas, Olivia Culpo moved on to the New England Patriots player Danny Amendola, but the pair called it off post–Super Bowl.

Axelle/Bauer-Griffin
Anderson Cooper and Benjamin Maisani were together for nine years before breaking up in March.

Theo Wargo
The pair met on the set of Step Up and have one daughter together, but called it quits in early April. Their love lives on in DVD form and countless ABC Family re-runs.

Tim P. Whitby/Getty Images
After two years and many front-row fashion show appearances, Tiffany Trump and the dubiously named Ross Mechanic officially split in early 2018.

Jamie McCarthy
Though they never officially confirmed their courtship, it was reported that the rappers had broken up in the winter after seven months of dating.

Kevin Mazur
Rebecca Gayheart filed for divorce from Eric Dane after 13 years of marriage, citing irreconcilable differences.

Jason LaVeris
Sarah Silverman released a statement announcing that she'd broken up with boyfriend Michael Sheen, stating, "We just live in different countries & it got hard."
Dave M. Benett/Getty Images
The Girls creator and her musician boyfriend broke up after five years of dating, with many speculating Antonoff had moved on to mutual friend Lorde.

Scott Dudelson/Getty Images
Photo by Pascal Le Segretain/Getty Images
Related: Zayn Malik Opens Up About His Relationship with Gigi Hadid and His New Music