Ariana Grande Went to Staten Island With Pete Davidson, Had the "Most Fun"
The couple ventured to Davidson's home borough for a date night.
---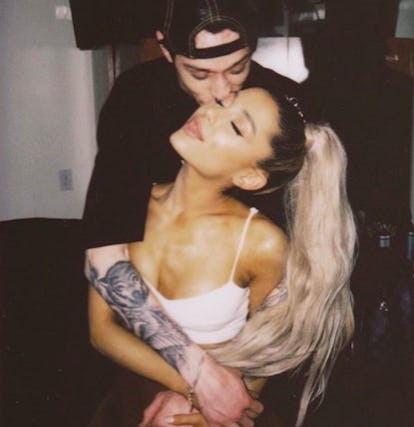 Courtesy of @arianagrande
It's been just about two months since inklings of Pete Davidson and Ariana Grande's relationship started making their way into the public domain, and Grande has finally made the pilgrimage across the bay to Staten Island, the Saturday Night Live star's ancestral homeland.
Davidson alerted his followers to the proceedings on his Instagram stories Saturday night. "Date night with my angel," he wrote, followed by the cloud, lightning bolt, and heart-eyes emojis. In the photo, Grande can be seen in profile, holding up a glass of red wine as if for a toast. They must have been at an Italian restaurant, because Grande then posted a boomerang of their hands, fingertips pinched together in the classic gesture for emphasis, captioned "so Italian." A couple more images followed, including a selfie and a photo of Davidson he later reposted to his own feed (caption: "photo credit – bae"). The evening concluded with an elaborate, chantilly-garnished dessert, which the Boca Raton native captioned "tonight was the most fun I've ever had," tagging Davidson.
But that wasn't the end of their Instagram exchange. As is their wont, the two proceeded to volley comments back and forth, proclaiming their love for each other. Davidson finally won with the trump card: "thanks for coming to staten island."
Grande, who is slated to release a new album next month and has been hard at work collaborating with Nicki Minaj, had previously met her fiancé's mom—the two spent much of the night together at a Saturday Night Live party in May, before the two even went public with their relationship (and when they did, it was so, so public)—but, based on the (extremely extensive) Instagram documentation of their relationship thus far, this marked their first adventure to New York's ugly-duckling borough. The first of many, considering what a great night they had! No hyperbole.
Related: Nicki Minaj Teases Possibility of Ariana Grande Joint Album