Meet the Designer Who Made Gigi Hadid's Latest Denim Jacket
The supermodel found her latest denim look in the obscure Polish label Kreist. "Everyone saw it on Instagram and Facebook, and have been calling and texting nonstop," said designer Krzysztof Stróżyna.
---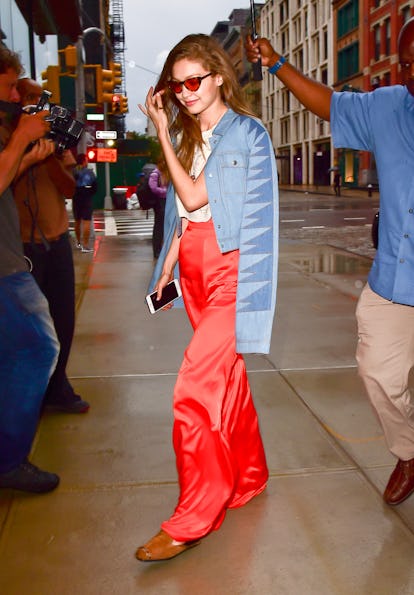 Raymond Hall
Earlier this week, when Gigi Hadid stepped out in New York wearing a two-toned, bell-sleeved denim jacket, the Polish fashion world went crazy. "We are the first Poland-based designer to dress Gigi Hadid," said designer Krzysztof Stróżyna, the 35-year-old Pole behind the streetwear brand Kreist. "Everyone saw it on Instagram and Facebook, and have been calling and texting nonstop."
While Stróżyna, who launched Kreist after graduating from London's Central Saint Martins last year, has a full ready-to-wear line, he says his main focus is on his best-selling denim and cross-zip biker jackets.
"Growing up my father was always wearing denim suits to work, really everywhere. So I always wanted to design denim, it was deep inside of me," he said. Unlike most young up-and-coming fashion darlings, such as his fellow classmates in the British Fashion Council's New Generation incubator program, Stróżyna decided to leave London and open his showroom in his hometown of Poznań, Poland.
"Even when I was studying in London I always wanted to come back to Poznań. For some reason this place is magical for me creatively," he said.
This is not the first time a celebrity has donned his Eastern-bloc inspired line. After his first season, Lady Gaga commissioned a millennial pink stone-studded leather biker jacket that she wore on stage at a concert in Japan. As it so happened, Gaga's jacket had the same bell-shaped sleeves as Hadid's denim one.
"It's crazy that the two celebrities we really wanted to dress both chose jackets with belled sleeves," he said. "I guess there's something to them, they stand out in a way." The sleeves, which he adoringly refers to as 'folk fashion,' are inspired by traditional Eastern European dress attire worn in the former Soviet bloc.
But this comes as no surprise, as Eastern influence has been heavy-hitting in the last year, with international fashion weeks such as Kiev and Tbilisi garnering mainstream recognition, and big name players like Gosha Rubchinskiy and Balenciaga creative director, Demna Gvalsia, taking fashion's center stage.
But despite his love for denim, Stróżyna opts away from the Canadian tuxedo, and towards the way Ms. Hadid styled it. "I don't necessarily want denim as a full look—it's nice to mix it with something else like Gigi did. The way she combines is very modern," he said.
Gigi Hadid Has Perfected Her Model Off-Duty Style
Like most teens in 2012, Gigi Hadid had a love of cool printed pants. Worn with her natural wavy hair and tan accessories, the young model showed an early sense of style.

GETTY
Less than two years later, Hadid had blossomed from traditional teen to mega model off-duty—and she had the leather jacket, black skinnies, and leopard print boots to prove it.

GETTY
The model was all smiles at the 2014 Kids' Choice Awards with a fun blue and white look befitting of the occasion…

GETTY
And again showed off her stellar off-duty style in a striped shirtdress and Chanel boots in New York.

GETTY
The model is known for her versatility. Here, she wears a minimalist Calvin Klein Collection number at the brand's 2014 Reveal fragrance launch party.

GETTY
And really showed her star power at the 2015 Vanity Fair Oscar Party with a slinky Versace dress.

GETTY
The shimmering Atelier Swrovski and Michael Kors jumpsuit she wore to the CFDA Awards…

GETTY
And, most recently, the branded Mikhael Kale jacket and Christian Louboutin booties she sported at the MuchMusic Awards. #Hadid for the win.

GETTY
Out on a date with then-boyfriend Joe Jonas at L'Avenue, Hadid opted for a sporty Versace dress in Paris, France, September 2015.

GETTY
Hadid and Kendall Jenner wore straight-off-the-runway Balmain looks (and swapped hair colors while they were at it) during Olivier Rousteing's Fall 2017 Balmain after party in Paris, France, March 2016.

GETTY
A longtime fan and model for Rousteing, Hadid wore another one of his designs for Balmain attending a dinner he hosted during the Spring 2016 collections in Paris, France, September 2015.

GETTY
Hadid wore a daring sheer Yanina Couture dress with a La Perla bodysuit to the Daily Front Row "Fashion Los Angeles" awards, where she observed little sister Bella Hadid nab the Model of the Year award, in West Hollywood, California, March 2016.

GETTY
Hadid made headlines with her new (later revealed to be faux) bangs, but her Versace suit was no less attention-getting. Here, she walks the red carpet at the MTV Movie Awards in Burbank, California, April 2016.

GETTY
Hadid was in the midst of promoting her first collection with Tommy Hilfiger when the designer was honored at the Daily Front Row's Fashion Media Awards — so, appropriately enough, she wore a daring iridescent gown by Hilfiger to support the designer, in New York, New York, September 2016.

GETTY
Hadid proves there's Tommy for all occasions, here under the brutal New York City heat dome, July 2016.

GETTY
Hadid, in Atelier Versace chain mail, joined sister Bella (who walked her first-ever Victoria's Secret show last year) on the pink carpet at the lingerie brand's afterparty in Paris, France, November 2016.

GETTY
Hadid put the rest of New Yorkers to shame in the chic-est possible look during the polar vortex: a Victoria Beckham coat, Mansur Gavriel bag, Karen Walker sunglasses, and Freda Salvador boots, in New York, New York, December 2016.

GETTY
Ever the early adopter of a street style trend, Hadid works a pair of plaid Miaou jeans, looking every inch the British punk goddess in Paris, France, March 2017.

GETTY
Hadid broke the cardinal rule of New Yorkers everywhere, wearing a slouchy all-white ensemble after a bout of fresh snow and before Memorial Day with an M2Malletier bag. You can take the girl out of Calabasas, but you can't take Calabasas out of the girl.

GETTY
Gigi Hadid's enviable crop top selection showcases her enviable abs. Here, she wears an embellished Sally LaPoint sweatsuit in New York, New York, April 2017.

GETTY
Gigi Hadid seen on the streets of Manhattan on September 08, 2018 in New York, NY. Photo courtesy of Getty Images.

GETTY
Gigi Hadid looks crisp in an all white suit on October 23, 2018 in New York City. Photo courtesy of Getty Images.

GETTY
Denim-on-denim for a Rangers game as Gigi Hadid is seen arriving at MSG on 34th street on March 12, 2018 in New York City. Photo courtesy of Getty Images.

GETTY
Gigi Hadid seen on the streets of Manhattan on October 09, 2018 in New York, NY. Photo courtesy of Getty Images.

GETTY
Gigi Hadid seen on the streets of Manhattan on December 11, 2018 in New York City. Photo courtesy of Getty Images.

GETTY
Model Gigi Hadid is seen on February 26, 2019 in Paris, France. Photo courtesy of Getty Images.

GETTY
Model Gigi Hadid is seen on February 28, 2019 in Paris, France. Photo courtesy of Getty Images.

GETTY
Model Gigi Hadid attends the "Americans In Paris" Cocktail Party Outside Arrivals as part of the Paris Fashion Week Womenswear Fall/Winter 2019/2020 on March 03, 2019 in Paris, France. Photo courtesy of Getty Images.

GETTY
Gigi Hadid is seen at Cipriani 42nd Street for the Variety's Power of Women on April 5, 2019 in New York City. Photo courtesy of Getty Images.

GETTY
Gigi Hadid arrives at Marc Jacobs and Char DeFrancesco wedding reception at the Pool on April 6, 2019 in New York City. Photo courtesy of Getty Images.

GETTY
Watch: Model Gigi Hadid Reveals the Secret to Her Signature Runway Walk