Gigi Hadid Makes a Case For Rihanna As Her Sunglasses Idol
The supermodel debuted her new eyewear line during Paris Fashion Week.
---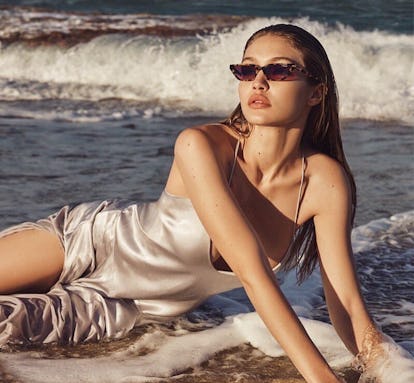 It's been less than a week since Gigi Hadid bid adieu to her creative collaboration with Tommy Hilfiger, presenting a race-car themed runway show during Milan Fashion Week, but the supermodel is already presenting another new design endeavor: her second sunglasses collection for Vogue Eyewear. The collection is filled with retro-inspired styles that the model has become known for, including John Lennon-esque circular lenses, 50's-inspired cat-eye shapes, and, yes, the ever-popular mini-"Matrix" glasses, which Hadid deems "still a big thing." The collection is, of course, perfect for the model's signature off-duty looks, which she's recently put into overdrive for the very special occasion of Paris Fashion Week. But the one person Hadid would really love to see in her glasses? Rihanna, of course. Here, Hadid explains how Rihanna and her own mom Yolanda Hadid inspired her new collection in equal measure.
What was your mindset going into this new collection? I was so looking forward to it as I love to do always new things and try things I've never done before. Like when I cook, for example, I love cooking recipes that I've never cooked before to actually prove myself that I can do it. Same for this collection—it was another challenge for me!
Were you apprehensive about this second collection after the first one was so successful? Not at all, actually. The success of the first collection was not a limit but a threshold for me to start from, as I really think that I could learn from it and I wanted to see what I could do better this time, what could be improved.
What was your biggest inspiration for this new collection? Rihanna and my mom. Rihanna inspires me to be more edgy and bold while I look up at my mom for being so classic and simple, yet chic at the same time.
Were there any particular images in pop culture of fashion icons that you looked at for this collection? Actually everything around me, inspires me. I feel inspired by many things and by different designers—every one of them makes special and unique things that I hope I can do the same with what I design.
Matrix-inspired mini-glasses have been popular for some time; what do you think is the newest big sunglass trend? The slim shape is still a big thing and I'm very glad about it, as it reminds me of what my mom used to wear. I really look up to my mom and her style.
How many pairs of sunglasses do you think you own? And how many do you actually wear? I own a lot of sunglasses, probably 200 pairs, or even more. And I actually wear all of them. I love them and changing them based on the outfit I'm wearing, on how I feel.
Who has the best collection of sunglasses that you know? Probably, I do.
Where do you stand on the notion of sunglasses at night? I love wearing sunglasses at night, they make me feel so chic yet mysterious. But I also love wearing optical styles.
What's your general style vibe for this fashion month? I love feeling comfortable, that's my general style vibe. I love feeling good in what I wear and I love being chic, fun, sometimes bold and edgy, yet comfortable.
Who would you love to wear your glasses? Rihanna, no doubt.
Related: Cuba Tornado Scott, Granddaughter of Ridley Scott, Is Not Ruling Out a Future In Film Just Yet
Gigi Hadid Had a Kobe Bryant Cake at Her Best Birthday Party Ever