Gina Rodriguez's Might Reinvigorate the Rom-Com with Someone Great on Netflix
The Jane the Virgin star has already proven she's got more than what it takes to be a leading lady.
---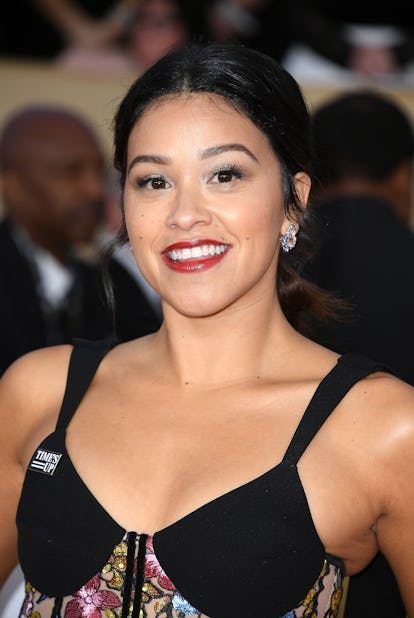 Steve Granitz/WireImage
If anyone can reinvigorate the lagging genre of the romantic comedy, it's Gina Rodriguez.
On Monday it was announced that the Jane The Virgin star would both produce and star in Someone Great, a romantic comedy about a woman who moves to New York City with her new best friends after a horrendous breakup. The film, which will premiere on Netflix, will also be the directorial debut of Jennifer Kaytin Robinson, who created the short-lived vigilante series Sweet/Vicious for MTV. Not only does Someone Great mark a potentially large success for its streaming platform, but it also marks the latest in a trend of promising romantic comedies that may lean into a rom-com formula, yet still put friendships between women at the forefront of the story.
Given the critical and commercial successes of films like Bridesmaids and Girls Trip, perhaps studios have finally begun to wise up to the fact that audiences crave films about women, particularly those in which women hold onto their own sense of agency when it comes to friendships and relationships, and even more so when a woman of color is attached in a leading role. The film's director, Jenn Kaytin Robinson, even said so herself on Monday via Twitter, after the production of Someone Great was announced. "I always wanted to watch a romantic comedy where a woman could be her own white knight," Robinson tweeted. "A movie that's central love story revolves around female friendship. And now I get to make one." Robinson reportedly worked on the script for 8 years, until Paul Feig (of Bridesmaids and Freaks and Geeks fame) was attached to produce with Rodriguez.
And Someone Great isn't the only anticipated rom-com that will explore "loss, growing up, and above all, the everlasting bond of female friendships." As predictable as it may sound, the real romance of the films will likely be found within the rich relationships between the female characters, but that doesn't necessarily rescind the importance of seeing stories that investigate layered characterizations of women.
Another upcoming Netflix film titled Ibiza will follow three best friends played by Gillian Jacobs, Phoebe Robinson and Vanessa Bayer as they travel to Ibiza to track down an EDM DJ. Later this year, the big screen will also see a shift when Jennifer Lopez, once marked a queen of the rom-com with her role in the 2002 film Maid in Manhattan, will make her official return to the genre with her starring role in Second Act, a film that follows Lopez and her best friends (played by Vanessa Hudgens and Leah Remini, an actual best friend of Lopez) as she runs through the ins and outs of her relationship with her longterm boyfriend (played by Milo Vengimiglia) while reinventing her career. All three of these films will likely do a great service to a genre that has gone stale for years by shifting the focus to women (and particularly women of color) and their friendships with one another. And besides, who doesn't think it's long overdue for Gina Rodriguez to star in her own rom-com?
Rodriguez has already demonstrated her range as a performer with a role in Alex Garland's sci-fi thriller Annihilation and by lending her voice to the titular Carmen Sandiego in an upcoming Netflix reboot of the 1990s classic. After starring in Jane the Virgin and winning a Golden Globe for Best Actress in a Musical or Comedy in 2015, Someone Great should be a piece of cake for Rodriguez—who's already proven that she's got more than what it takes to be a leading lady.
Related: Jennifer Lopez Returns to Rom-Coms, with Milo Ventimiglia As Her Love Interest