Giovanna Battaglia Engelbert Has Given Birth to Her First Child
Aka the soon-to-be chicest infant on the planet.
---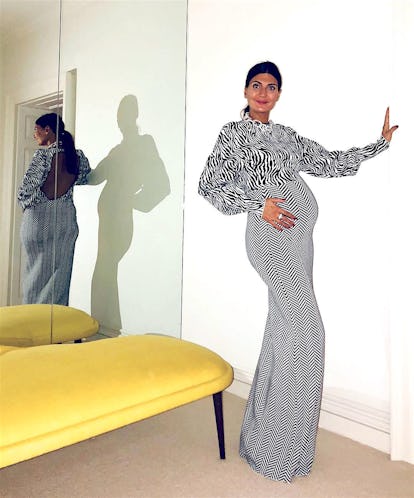 Corutesy of @bat_gio
Just over four months after announcing that she was pregnant, Giovanna Battaglia Engelbert shared with her nearly 100,000 Instagram followers on Thursday that she has officially given birth to her first child, named Talitha Italia Engelbert. The baby is also the renowned stylist and former W contributing fashion editor's first with her husband, Oscar Engelbert, a Swedish real estate mogul whom she married in the summer of 2016.
If you're familiar with Battaglia—who for many years documented her exotic travels and outrageous personal style in her column in W and who has certainly given pregnancy style a serious high-fashion upgrade lately—you no doubt remember the couple's blowout wedding in Capri, whose festivities stretched across two countries. A lot of space was, after all, required for the four events, which saw opera singers serenade guests like Battaglia's fellow street-style star, Anna Dello Russo. There was also the matter of Battaglia's wardrobe, seeing as she made no fewer than four outfit changes throughout the whole affair, which included gowns by Thom Browne and Valentino couture, as well as two custom ones by Alexander McQueen's Sarah Burton and the late Azzedine Alaïa. (Though she did tone things down a notch for the pair's honeymoon in Iceland.)
All that, of course, only confirms what we suspected of Battaglia's child even back when she was in the womb, cleverly hidden behind a personalized Bottega Veneta clutch in this Instagram post: that Talitha will soon be the absolute chicest infant on the planet—or at least the hottest playdate around for anyone looking to play dress-up.
Photos from Giovanna Battaglia's Over-the-Top Wedding to Oscar Engelbert
Azzedine Alaïa for the Piazzetta

"For the welcome dinner on Capri, Italy, we took over the piazzetta in the center of town. I figured I should start the wedding weekend with an 'A'—as in Azzedine Alaïa. It was the first time he made something custom for me! We were inspired by classic Italian straw parasols, so both the shape of the dress and the sleeves resemble an umbrella. Azzedine wove this amazing white straw onto his signature knit fabric. I added white coral De Simone Fratelli earrings and an orchid in my hair—and, ecco!, an effortlessly polished, festive look."

Alex Bramall
Opera singers serenading guests at the dinner.

Alex Bramall
The scene in Capri's piazzetta.

Alex Bramall
Eva Cavalli, Remo Ruffini, Etienne Russo, and Francesca Ruffini (back row, from left), with Oscar Engelbert and Battaglia in 
a customized newsstand–cum–photo booth full of Photoshopped magazines featuring the couple.

Alex Bramall
Battaglia, 
with Alaïa, at a fitting in his Paris studio.

Courtesy of Giovanna Battaglia Engelbert
The betrothed, with W's Rickie De Sole, Armand Limnander, Stefano Tonchi, and Vanessa Lawrence (from left).

Alex Bramall
"My husband is Swedish, so we had a very intimate civil ceremony in Stockholm before the festivities on Capri. The day was full of activities and demanded a wardrobe change! For that ceremony, I wore a caped, off-the-shoulder Valentino couture gown—it was pure and minimal but also regal and bold."

Lynsey Addario
Former Valentino design duo Maria Grazia Chiuri and Pierpaolo Piccioli, with Battaglia, at her fitting.

Courtesy of Giovanna Battaglia Engelbert
A sketch of the Valentino dress.

Courtesy of Valentino
A close-up of Battaglia's wedding-ceremony coiffure, by Luigi Murenu.

Courtesy of Luigi Murenu
A sketch of the hairdo by Olivier Schawalder.

Courtesy of Olivier Schawalder
A detail of Battaglia's custom Thom Browne dress.

Courtesy of Giovanna Battaglia Engelbert
"Thom Browne designed my evening look: an intricately embroidered, pearl-trimmed dress and capelet with a sculptural, futuristic silhouette. I topped it off with a Stephen Jones headband."

Lynsey Addario
"The wedding site was the dramatic lighthouse on Capri. Since I wanted to feel like a queen, I asked Alexander McQueen's Sarah Burton to design my dress. The corset is like a vase, from which the organza ruffles spray out. Burton used almost 500 meters of organza for the train, which was four meters long. The dress felt alive, mimicking the sea and rocks of Capri."

Alex Bramall
Battaglia, en route to the second ceremony, at Il Faro, Capri.

Alex Bramall
Battaglia, with her bridesmaids Sara Battaglia, Coco Brandolini, Anna Dello Russo, Erin Hazelton, Natalie Massenet, and Christine Lumley (from left).

Alex Bramall
Battaglia, Ermanno Daelli, and Toni Scervino (from left).

Ellen von Unwerth
The chandelier-lit wedding-reception dinner.

Alex Bramall
For the party, Giambattista Valli made me an incredible macramé minidress, inspired by Neapolitan Capodimonte vases, which I wore with matching Manolo Blahnik boots and a three-meter-long organza-chiffon cape."

Alex Bramall
Battaglia, with Giambattista Valli, at a fitting for her wedding-party look.

Courtesy of Giovanna Battaglia Engelbert
"The night after the wedding, we threw a 'Celebration of Exaggeration' fete on an oil barge—a theme epitomized by 
my custom Prada dress. Dubbed the Crystal Monument, it was made of over-embroidered layers of crystal net and crystal paillettes held together with metal rings."

Courtesy of Giovanna Battaglia Engelbert
"Delfina Delettrez designed a matching peridot, amethyst, topaz, and quartz earpiece that she called the Tree of Life because it looked as if it had grown on my head."

Alex Bramall
A close-up of the custom earpiece.

Courtesy of Giovanna Battaglia Engelbert
A view of the party barge.

Alex Bramall
The scene aboard the barge.

Alex Bramall
Battaglia, in a custom Prada dress and shoes, and Engelbert make their entrance.

Alex Bramall
Related: How Giovanna Battaglia Engelbert Built Her Career