Grizzly Bear's Ed Droste Also Loves Busy Philipps's Instagram Stories
The singer shares his culture diary, including why he loves Broad City and thought It was just okay.
---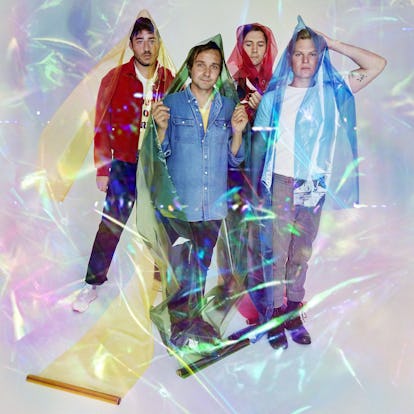 Obsessed with Busy Philipps's Instagram stories? You aren't alone. Among the actress's many avid followers? Actress Julia Roberts, and Grizzly Bear frontman Ed Droste, who recently cast Philipps, a long time friend, in the band's recent music video for their latest single, "Losing All Sense." "I love them!" Droste said. "I watch them as much as I can. She's got an amazing knack for drawing people in, plus she's just hilarious in general." The singer himself is no slouch on social media, frequently posting his own stories chronicling the band's travels. And there are plenty of them these days—Grizzly Bear is currently in midst of a major world tour to support their new album, Painted Ruins, which will touch down in the U.S. this week, starting at Boston's House of Blues on Wednesday and leading into a three night stint at New York's Brooklyn Steel beginning on Thursday. Here, the singer shares what he's been reading, listening to, and watching in this week's culture diet.
How does it feel to be performing the new album?
Honestly it's amazing. While we always enjoy playing older tunes, I can't deny playing new songs is always the most exciting for me because they feel so fresh. I'm really enjoying the live interpretations of them, especially a song like "Mourning Sound," which we sort of reinvented parts of for the live show.
What tour stops are you looking to most?
I love playing honestly anywhere, but I enjoy the South a lot because they give a ton of energy back. Same with South America and Australia. They just cheer so much that it energizes you to the next level.
What is the best and worst thing about being on tour?
The best part is hands down performing for people and feeling a connection with an audience. I also love meeting fans and just chatting. The worst part is all the waiting in green rooms and the schedule, which is grueling. I always get sick.
What is your favorite song to perform on this tour?
"Sun in Your Eyes" had always been a favorite to play, but I've been loving playing "Mourning Sound" and "Three Rings" a ton, as well!
What is the first thing you read in the morning?
The New York Times—tied with text messages.
What books are you currently reading?
At the moment I'm not consuming much music or books because I'm focused on putting on a great live show. Also, I can't read on the bus because I can car sick. But my all time favorite book is "Master and Margarita."
What TV shows have you been watching?
When I'm home, I'll catch up on my favorite, Broad City. I also loved Big Little Lies and The Handmaid's Tale.
What is the last movie you saw in theaters?
The last movie I saw was It. I found it to be entertaining, but nothing worth getting excited about.
What is the last piece of art you bought?
A Japanese wooden sculpture
What is the last song you had on repeat?
"Hug of Thunder" by Broken Social Scene.
What music are you looking forward to this fall?
I've been digesting the new Kelela, which is great. There was a lot of great music out this year! I'm looking forward to Dede's new album out in November.
What is the last concert you went to?
I overlapped with my good friend Jonny [Pierce] who's in The Drums while in Dublin and saw his show. It was epic. I loved it.
How do you get your news?
Via my New York Times app or Facebook—from real new sources like Washington Post and the BBC, not the fake ones.
What is the last thing you Googled?
"Sick person photo stock."
What are your favorite social media accounts to follow?
I love @ChillWildlife and @Cosmosextips on Instagram. They both crack me up. I just discovered @ShibuyaMeltdown, too, which is amazing.
What is the last ting you do before you go to bed?
Set my alarm.
Related: TV's New Domestic Goddess Amy Sedaris' Colorful Domestic Situation Is Not a Letdown
Stranger Things Star Sadie Sink Explains the Biggest Trends of the '80s