Gucci Launches Mx, a Genderless Section
Gucci Mx aims to dissolve traditional notions of gender with a non-binary section and a new Jackie 1961 handbag.
---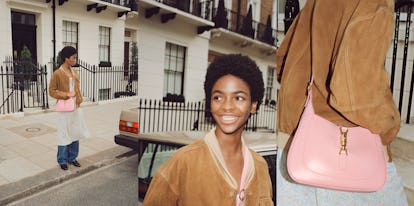 Image courtesy of Gucci. Creative direction by Alessandro Michele. Art direction by Christopher Simmonds. Photographed by Angelo Pennetta. Make up by Thomas de Kluyver. Hair by Cyndia Harvey.
Gone are the days of only having the choice between shopping at the "men's" or "women's" sections on Gucci's website.
Under the creative direction of Alessandro Michele, the luxury label has introduced "Gucci Mx," a new non-binary, gender fluid section of clothing now available on Gucci's website. According to an announcement from the brand, "Gucci Mx is a space that welcomes all people…without having to comply with a rigid female/male distinction." The Pre-Fall and Fall/Winter 2020 campaign was shot in London with non-binary models.
The section includes ready-to-wear items, accessories, shoes, and handbags. Fendi created their men's Baguette, and Dior made a Saddle Bag for men, too. But who says a bag can or should even have a gender? Certainly not Gucci, which decided that a major component of the new Mx section is the iconic Jackie 1961 handbag, which was of course popularized by Jackie Kennedy in the 1960s, and is now available in three sizes.
Gucci says that Mx will be updated each season from now on with new products, alongside the traditional men's and women's sections on the site. On their website, a statement also reads, "Playing with the constructive nature of gender, the MX project underlines the performative nature of what we wear, presenting masculinity and femininity as relative concepts."
But having a genderless section is nothing new for brands like Telfar and Hood by Air, which have been creating clothing for all genders quietly for years, and are only recently getting recognition for their work to dissolve the gender binary. Even brands like Rihanna's Fenty and Fenty Beauty have decided that articles of clothing do not necessarily need to be associated with a particular gender, and everyone can benefit from having some new skincare products, regardless of where they fall on the gender spectrum.