Could Gwen Stefani Be the Reason Donald Trump Ran for President?
Documentary filmmaker Michael Moore has some theories on the matter.
---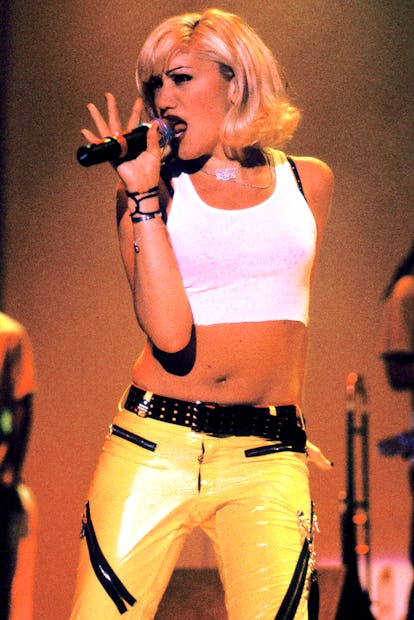 Tim Mosenfelder
It might seem laughable that musician Gwen Stefani had anything to do with Donald Trump's election, but the theory has been posed that she could have been one of the catalysts. There are many intersecting reasons as to why Donald Trump ran for president of the United States in 2016, but documentary filmmaker Michael Moore has one unique theory about the driving force behind Trump's insistence on running for office. Per a recent interview with The Hollywood Reporter, Moore remains adamant about his theory that Gwen Stefani is one of the main reasons Trump ran for president, and it all has to do with some messy television network drama.
When Gwen Stefani signed up to be a coach on NBC's singing competition The Voice, Trump discovered that the singer's fees were higher than his own for The Apprentice, his reality series that also aired on NBC for 13 years. Trump could not handle that The Voice was skyrocketing in popularity as The Apprentice's ratings dipped, and Stefani's high performance fee apparently added insult to injury, according to Moore.
"He'd been talking about running for president since 1988, but he didn't really want to be president," the Fahrenheit 9/11 director told The Hollywood Reporter. "There's no penthouse in the White House. And he doesn't want to live in a black city. He was trying to pit NBC against another network, but it just went off the rails," he continued. Once Trump discovered he was less popular than the lead singer of No Doubt, he revealed he would be running for president of the United States in Trump Tower in an effort to seem more popular with NBC, which eventually cut ties with him after his allegations that Mexico sent rapists into the United States illegally across the southern border.
As for Stefani's own political views, back in October 2016, she and her family cheerily posed for a photo with Barack and Michelle Obama at a state dinner in the White House after she and Blake Shelton performed for the then-President.
Related: Kim Kardashian Is Now Seeking a Pardon for Convicted Felon Chris Young, With Help From Jared Kushner