Gwyneth Paltrow Is Now Taking Credit for Popularizing Yoga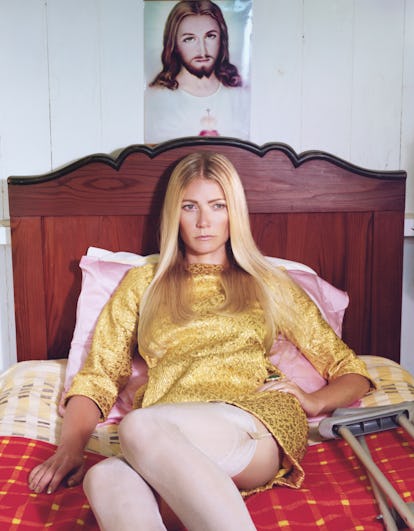 Steven Klein
Gwyneth Paltrow has many jobs—she's a CEO, a wellness guru, an actress, and a mom—but being Gwyneth Paltrow is the one that's often the most-talked about. That's because, in between advocating for New Age-y women's-health approaches, like getting intentionally stung by bees to reduce inflammation or combatting depression by "earthing" (aka walking around barefoot), she regularly drops sound bites that send shockwaves across the Internet. Her latest? That she alone is responsible for popularizing yoga in the U.S.
Allow Paltrow to tell the story, though, as she did in a recent Wall Street Journal profile. "Forgive me if this comes out wrong," Paltrow said, before allowing it to, yes, come out wrong. "I went to do a yoga class in L.A. recently and the 22-year-old girl behind the counter was like, 'Have you ever done yoga before?' And literally I turned to my friend, and I was like, 'You have this job because I've done yoga before.'" Forget the repeated yoga booms of the '80s and the aughts, and thank Goop, which was founded in 2008, next time you're asked to set an intention on your way into downward dog.
The question of whether the yoga industry's status as a $16 billion-per-year business in America is all thanks to Paltrow is definitely up for debate, but the Oscar winner maintains that she's a pioneer of the centuries-old practice. When talking to WSJ about how she shifted her eating in order to connect what she was putting into her body with how it was functioning, she said, "That was the beginning of people thinking I was a crackpot. Like, 'What do you mean food can affect your health, you fucking psycho?'" She added, "I remember when I started doing yoga and people were like, 'What is yoga? She's a witch. She's a freak.'"
Another thing Paltrow isn't shy about taking credit for? "Contextual commerce," which is another way of saying lifestyle-based marketing. "We sort of made it up. It's the why of why you're buying something," she explained. "It's really about finding things that we love, whether it's a restaurant down the street here or a face product or whatever, and we write about why we love it, and then it converts really well." You know, like all those jade yoni eggs she's selling.
Related: Why Celebrities Like Gwyneth Paltrow, Shay Mitchell, and Solange Are Still Going Glamping
Why Celebrities Like Gwyneth Paltrow, Shay Mitchell, and Solange Are Still Going Glamping
Shay Mitchell went glamping somewhere deep in the mountains in August 2018.

Photo by @shaymitchell.
Leave it to Solange and her husband Alan Ferguson to be early to the glamping trend—they took this photo back in January 2015 when they went glamping with a group of friends to ring in the new year.

Photo by @saintrecords.
The glamorous camping lifestyle can extend to the Coachella Valley. Just ask Emma Roberts, who posed in a luxurious tent last April.

Photo by @emmaroberts.
Rather than rent a chic lodge or cabin, Guy Ritchie just went and built a cabin for himself all by himself in 2015. That's one way to ensure you'll always have a comfortable time when you go camping.

Photo by @guyritchie.
Carly Simon gets to go "glamping" every day of the week since she technically lives in a cabin in the woods full time.

Photo by @carlysimonhq.
Jamie Chung got the glamping memo at Coachella 2017.

Photo by @jamiejchung.
Emily Ratajkowski posed at a chic retreat in the desert in March 2018.

Photo by @emrata.
The Ranch at Rock Creek is reportedly one of the many glamping destinations for Gwyneth Paltrow, Kate Bosworth, and more celebrities, and it's easy to see why. Who could resist a clawfoot tub during a camping trip?
Style YouTuber Leo Chan relaxed in his upstate glamping site in November 2018.

Photo by @levitatestyle.