Hailey Bieber Hid Inside a Tent Before Walking Down the Aisle at Her Wedding
It was an unconventional—albeit effective—method for hiding from paparazzi.
---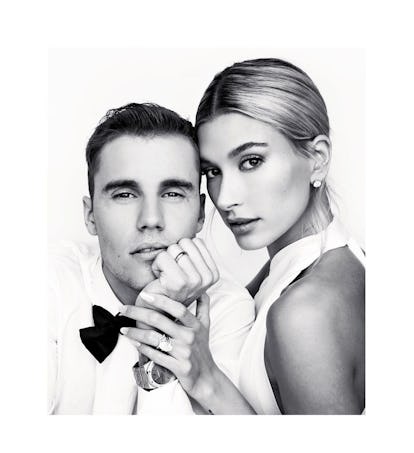 Photo courtesy of @haileybieber.
Everybody knows that you can't have a celebrity wedding without paparazzi poking around. Thankfully, Hailey Bieber took this fact seriously, and implemented an unusual but effectively stealth method for hiding from the paparazzi before walking down the aisle at her wedding to Justin Bieber.
In an effort to keep her wedding gown a surprise from her betrothed, her bevy of celebrity guests, and, of course, the general public, Bieber hid inside of a giant tent as four security guards moved it down the lawn of the South Carolina plantation where the model wed her pop star husband on September 30, 2019.
Of course, there's no way to tell if Bieber was totally alone underneath the tent or what exactly she was sitting on inside of it. Was it a throne? A lawn chair? Or was she just standing there, holding her dress and scooting along inch by inch as she gave verbal directions to the four security guards on the outside? Nobody can be certain, but there is at least aerial footage of the supermodel's hideaway, presumably taken from a paparazzo in a helicopter (or perhaps even a photographer perched upon a nearby tree), as it was moved towards the inside of the venue where the nuptials took place.
Initially, it was unconfirmed that the paparazzi shot of a giant tent being carried forth across the lawn at the Bieber wedding contained the bride, but Bieber confirmed that it was indeed her inside of the big white tent with an Instagram Story that read "big ole ????to the helicopters."
It's not every day that you see this sort of technique used for hiding from paparazzi, but it's also not every day that the Biebers hold their second official wedding in front of their closest friends and family, complete with Drew House merch given to guests as party favors.
Related: Hailey Bieber's Wedding Actually Looked Really, Really Fun