What Exactly Is Drew House, Justin Bieber's Mysterious New Unisex Clothing Line?
Bieber's former "swagger coach" has returned to assist in his sale of slippers.
---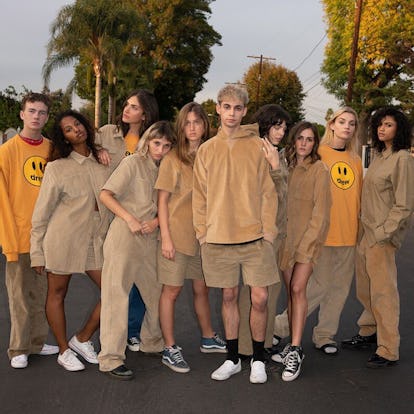 Courtesy of @drewhouse
Justin Bieber loves Christmas. In 2017, he got into the holiday spirit by driving a custom festive SUV around Los Angeles, and this past year, he spread the cheer by at long last making Drew House, his mysterious clothing line, available to the public. And the public gobbled it up with glee. It had, after all, been a long time coming: Bieber trademarked the words "Drew," "The House of Drew," and "La Maison Drew" (ooh la la!) last February, but maintained his silence on the label for the months and months that followed.
That ended, however, in late December, when Bieber dropped a capsule collection of so-called "Cheap Hotel Slippers," which, accordingly, retailed for $4.99. Needless to say, it wasn't long before the affordable footwear, which bore an "iconic smiley face design," had entirely sold out.
Why, exactly, the smiley face, which features the word "Drew" in place of a mouth, was being considered "iconic" remained to be seen. In fact, it still remains to be seen, even though yesterday saw the still mysterious label, which now has more than 160,000 Instagram followers, release its debut collection. We've also been gifted with a description of Drew House—kind of. According to its website, which favors the lowercase: "drew house is a place where you can be yourself. blah blah blah blahsdbksjdfhl wear like you don't care. come chill. k. bye."
If there's anything you can glean from that, it's that the label is intent on keeping the mystery alive. While it details information about international customs and duties and their use of your "personal information," Bieber's name is nowhere to be found. Nor is that of Bieber's former "swagger coach," Ryan Good, who appears to be even more involved in Drew House than Bieber is.
So, what exactly is going on here? Let's start with the obvious: Drew happens to be Bieber's middle name. (And "House of Drew" happens to be one way to circumvent the fact that a 19th-century bed-and-breakfast in Ontario has already claimed the "Drew House" domain.)
If at this point you're trying to decide whether it's worth your time to join us in this investigation, ask yourself a question that (we hope, anyway) you've never considered before: Do you have any strong feelings about the fact that Bieber is now selling $138 shorts that allow you to broadcast his middle name across a certain section of your lower half? Whether you kept this tab open because you're a Bieber stan or simply out of morbid curiosity, it may interest you to know that there's more where that came from.
Take, for example, the three additional corduroy, camel, and apparently Carhartt-inspired garments, like a $148 pair of pants that are "garment washed and dyed, making them unique, just like you," and "perfect for doing the kinds of things you'd normally do while wearing pants." (Each is labeled "Chaz," apparently as a tribute to Chaz Somers, Bieber's childhood friend.)
The rest of the items are tops, which, like the Chaz items, are also unisex and apparently "ethically made" in limited quantities in Los Angeles. Each is emblazoned with the word "Drew" and split up into two groups: those featuring the smiley face logo, titled "Mascot," and those featuring just the brand name, titled "Secret." While it's mostly hoodies and T-shirts, there's also a black turtleneck that's described as "what a young, chill steve jobs might have worn."
Those cutesy descriptions appear to be working: Less than 24 hours after the collection was made available, all of the items had sold out. Plus, as an added bonus, each comes with an informational factoid like "polar bears can eat as many as 86 penguins in a single sitting," or "7% of american adults believe that chocolate milk comes from brown cows."
To be fair, Bieber deserves as much credit as his copywriter: Since October, he's been making like Yeezy by wearing Drew House out and about—especially in front of the paparazzi. Naturally, his wife, Hailey Bieber (née Baldwin), has followed suit, including on her Instagram. (She admittedly used the hashtag "#houseofdrew," rather than "#drewhouse," but luckily, as this infographic helpfully demonstrates, Bieber's comrades Good and Scooter Braun made up for that with helping him get the word out.)
The debut collection, however, marked the label's foray into turning to noncelebrities for help: They enlisted a group of relatively unknown models to help out with their e-commerce—as well as a couple who, if you squint your eyes, you may mistake for Justin or Hailey.
Is that really all there is to it—slippers and corduroy? Thankfully, that remains to be seen. Drew House will, after all, have to replenish its stock eventually. (And hopefully eventually a bit more inventively.) For the time being, feel free to investigate the hints that Drew House is expanding into snack foods, join the haters in decrying Drew House's radical increase in price, or contribute to the growing number of Drew House memes.
Related: A Recap of Justin Bieber's Beef With 15-Year-Old Jojo Siwa, Starting With His Demand to Burn Her Car
A Complete Visual History of Justin Bieber's Hair
And I was like baby, baby, baby, oh…

Getty Images
Aside from minor changes in its swoop, Bieber stayed notably consistent with his look between 2008 and 2010.

Getty Images
For his appearance at the 2011 Video Music Awards, Bieber offered a long-awaited glimpse at his forehead, and accessorized with glasses and Selena Gomez.

Getty Images
A sneak peek at Bieber's future scruffiness.

Getty Images
By 2012, Bieber seemed to have learned how to maintain his original locks: by simply slicking them back into a bouffant.

Getty Images
The kickoff of Bieber's Believe tour in South Africa brought his bouffant to the international level.

Getty Images
Bieber's cheery mug shot, taken shortly after he was charged with drunk driving, resisting arrest, and driving without a valid license, featured a magnificent bouffant—perhaps because he'd just spent the night racing.

Getty Images
Fully embracing his roast on Comedy Central, Bieber matched his hair to his monkey's. (To be clear, this is not OG Mally, Bieber's pet monkey, who was infamously confiscated by the German authorities, and who is still a resident of a German zoo—and still having trouble communicating with other monkeys.)

Getty Images
Posing with Nash Grier, Bieber later captioned this image simply "#Ponytails."

Courtesy of @justinbieber
Behold: a bleached-blond Bieber.

Getty Images
By the next month, though, he was back to his dirty-blond bouffant.

Getty Images
Who knows what's hiding under this beanie? The possibilities are endless.

Getty Images
Bieber started off the new year with a bang—i.e., a man bun.

Getty Images
By the next month, he'd already moved on to bleached blond, as he showcased at the Saint Laurent show.

Getty Images
Naturally, his Purpose World Tour merited his third transformation in as many months. Lest it get in his way, he slicked it back into a bun on the tour's opening night in Seattle.

Getty Images
Yes, those are dreadlocks, and yes, Bieber wore them out in public—here at the iHeartRadio Music Awards, though regrettably on other occasions as well.

Getty Images
By the next month, the dreads were fully gone, though that didn't stop Bieber from making a statement while on his trip to Monaco. It was during this month that he also got a teeny face tattoo.

Getty Images
A little over a year later, Bieber shifted his attention to his facial hair.

Getty Images
The next year, his regrown hair didn't exactly help him at the NBA All-Star Celebrity Game.

Getty Images
We're still waiting with bated breath to find out if or when Bieber will deliver on this promise.
Look at those luscious locks go!

Getty Images
The evidence of the haircut, though, was already gone by the next month.

Getty Images
While in Michigan that September—a whirlwind month for Bieber's hair—he returned to the forehead-less days of his youth.

Courtesy of @justinbiebercrewbackup, via @sammybiebs_
Yes, that bump under his hood is no doubt a bun or a ponytail, pulled up high on his head, Hailey Baldwin–style.

Getty Images
Less than a week later, Bieber took care of the bump, using his Instagram Story to share the news of his buzz cut, which quickly earned him the nickname Buzztin. It also put his tiny face tat of a cross more prominently on display—an act of faith perhaps as prominent as his and Hailey's commitment to waiting until marriage to have sex.

Courtesy of @justinbieber
Save for the presence of Hailey and quite a few more tattoos, you'd be forgiven for thinking this photo dates several years back. In May 2019—yet another banner year of hair changes for Bieber—he threw things back to his original sleek, neatly combed, and naturally colored mop.

Courtesy of @justinbieber
Periods of scruff soon followed, but Bieber once again managed to clean things up for his (second) wedding to Hailey in the following months.

Courtesy of @haileybieber
It's no surprise that Bieber kicked off the new year in a pair of Drew House pajamas, but his peroxide pixie was definitely an unexpected touch.

Courtesy of @justinbieber
Our thoughts and prayers go out to Hailey. Even she (reportedly) "can't stand" Bieber's mustache, which unfortunately made a comeback. (Bieber even put it at the center of his "Intentions" art.) Hailey has yet to publicly condemn it, but according to People's mysterious source, that might be for the best: "The more people want him to shave it off, the more he wants to keep it. It's staying for now. It's making him feel like a rebel and he likes it!" Thankfully, Hailey has previously prevailed in getting him to shave it off.

Courtesy of @justinbieber