IS IT TOO LATE NOW TO SAY SORRY
A Complete Recap of Justin Bieber's Utterly Fascinating—and Occasionally Terrible, Horrible, No Good, Very Bad—Year
From being attacked for forgetting the words to "Despacito" to acquiring a Christmas-mobile.
---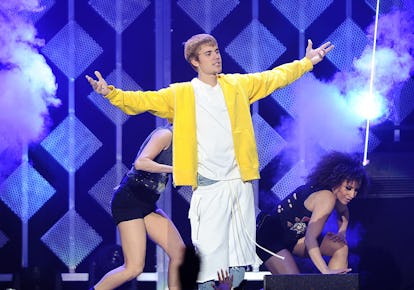 Jason LaVeris/Getty Images
In a year that found Kanye West abruptly off the map, Zayn Malik embracing life as a farmer, and Drake trying and arguably failing to become a man, it's no surprise that Justin Bieber ended up having to pick up some of their slack in the famous man-boy drama department—even though midway through 2017, he decided to temporarily turn away from music to instead focus on god (or maybe actually just ride some bikes).
Sure, Bieber appeared on what just might become the Song of the Decade, embarked on a world tour, and even got back together with his long lost love, Selena Gomez, but despite the best efforts of his new sidekick, the strangely hip pastor Carl Lentz, Bieber also managed to get up to what seemed to be even more trouble than usual—though perhaps that's because he's now learned how to document some of his strangest moments on Instagram Stories (which were in turn then religiously documented by outlets like the teen site J-14, even when they strayed into kind of scary territory, like his desire to become a chicken). On an even more public note, though, from getting a water bottle pelted at him for not knowing the lyrics to "Despacito" to semi-charmingly helping out the photographer he accidentally ran over after church, revisit the most thoroughly documented highs and lows of the maelstrom that was Bieber's year, here.
January
High: Okay, if you're a social butterfly, this is most definitely a low. But for the less outgoing among us, Bieber's move to take himself out to a solo night at the movies, where he ordered nachos off the menu, was a pretty much the most ingenious (and relatable) way treat to himself shortly after his then-ex Selena Gomez was spotted making out with The Weeknd.
Low: This one is indisputable: Bieber not only got slammed into a glass wall by a professional hockey player while participating in a fundraising extravaganza, but the whole incident was also documented on video. (Though afterwards, as Vulture importantly notes, Bieber still did manage to score a goal.)
February
High: Bieber returned to Instagram after a hiatus since August—mainly because he had a T-Mobile campaign to promote. But! The move also paved the way for Bieber to produce his most impressive oeuvre to date: The cache of his endlessly entertaining Instagram stories he produced over the course of 2017.
March
Extreme Low: "You know in films when someone gets punched, and you hear that fake sound, like a slap? But in real life when someone gets punched, you hear that dull thud, a bit sickening? I heard a sound like the last one." This description of that time Bieber got "cracked in the face with a golf club" in Japan would be bad enough coming from anyone, but seems particularly pathetic coming from Ed Sheeran, aka about half the internet's least favorite celebrity. For the record, Bieber drank water all night long, but he did challenge Sheeran, who described himself as "hammered," to hit a golf ball out of his mouth, so…
April
Extreme High: The video for "I'm the One" premieres, beginning with DJ Khaled asking Chance the Rapper to do both of them the "biggest favor" and invite Bieber over—along with Quavo and Lil Wayne, though Bieber's name importantly comes first. What's more, the song is indisputably a banger, and a fresh-faced Bieber manages to stand out even though all eyes should presumably only be on Khaled's adorable, then just six-month-old son.
May
Low, also in the sad kind of "low," too: After sustaining a soccer injury, Bieber quite understandably took a deep dive into the disquieting world of WebMD. Unfortunately, rather than then simply lying awake that night, sleeplessly ruminating about potentially life-threatening diagnoses like the rest of us, Bieber's visit to the site drove enough fear into his heart that he actually took a trip to an ER in Long Island to see whether or not he'd twisted one of his testicles. Rest assured: It was totally fine (just a lil swollen), but at least one of the doctors that heard about it when he presumably became the talk of town at the hospital was definitely not, as she was eventually fired for reportedly attempting to access his medical records.
June
Low: Bieber headed off to Stockholm, where the crowd naturally wanted to hear "Despacito," 2017's flyaway hit that he happens to appear on with Luis Fonsi and Daddy Yankee. Unfortunately, though—and again, we can't blame him too much for this, as the lyrics are largely in Spanish—he was forced to tell the crowd, "I can't do 'Despacito.' I don't even know it." He quickly followed up the admission with admonishment—"Whoa, don't throw things"—when, in response to the disappointment, a fan pelted a water bottle at him.
July
High: The Beijing Municipal Bureau of Culture issued a statement describing Bieber as a "gifted singer."
Low: The statement was only issued because, making him quite the trendsetter, before several potential Victoria's Secret Fashion Show models followed suit, Bieber was being banned from performing in China. When a local resident asked he wouldn't be performing in Beijing anytime soon, the bureau further explained: "In order to maintain order in the Chinese market and purify the Chinese performance environment, it is not suitable to bring in badly behaved entertainers."
High, but only because it was a non-lethal Low: Bieber accidentally ran over a photographer when paparazzi ambushed him after he left church. Perhaps inspired by the service, Bieber then benevolently exited the car to stay by the photographer's side until the paramedics arrived. In the end, his victim only suffered non life-threatening injuries, and eventually in fact thanked Bieber for being so "compassionate."
August
Low?: Full disclosure: I haven't seen the photos in question, so unless they were immensely flattering, it was likely a low when someone hacked Selena Gomez's Instagram account—aka the account with the app's most followers—and posted some of Bieber's nudes, which her team hastily scrubbed from her otherwise immaculate grid.
Low, but also kinda charming: Bieber proved, at the very least, his ignorance of how to take screenshots when he posted this low-res photo of a computer screen with his apology for canceling the final 14 dates of his Purpose tour. All you really need to read is the conclusion, which Bieber conveniently highlighted in all caps: "THIS MESSAGE IS IS VERY GRAMMATICALLY INCORRECT BUT ITS FROM THE HEART. BUT I THINK THERES SOMETHING SPECIAL ABOUT IMPERFECTIONS!!"
September
High: Bieber's highly embarrassing public feud with Marilyn Manson, which was essentially a battle over merch and Bieber's reported claim that he "made Marilyn relevant again," finally came to an end. In fact, Bieber even started the reconciliations himself—beginning with a text that read, "Bro, it's Bieber."
October
Low: News broke that Bieber has reportedly been having trouble finding someone willing to rent a home to him in Beverly Hills, no matter how much money he offered. Property owners apparently "clubbed together to agree that nobody should rent to Justin," making it more than clear it was way too late for him to say sorry for his past local antics like throwing eggs.
Low: Bieber reportedly attempted to slide into a rando gym in Georgia's DMs to ask who "that girl" in one of their photos was. The gym, which only had 73 followers at the time, did not respond, but "that girl" definitely got his message—and sent him one back with photos of her boyfriend.
November
High: This might be a low for Gomez, but it was indisputably a high for Bieber when he officially got back together with his ex after she broke up with the Weeknd—a fling you may remember seemingly cause him to spend a solo night out with nachos at the beginning of the year. Suddenly, the couple was once again everywhere: Gomez showed up to Bieber's hockey game—and then wore his sweaty jersey; they started heading to church, which seems to in fact be the reason they got to be back on speaking terms, together; and even took to taking bike rides around L.A.—one of Bieber's favorite pastimes.
December
High: Bieber shared a 60 oz. sugary blue nonalcoholic drink with Gomez while on a romantic getaway in Seattle, not long after their first public kiss of the year.
Low: Even though it was otherwise by all accounts quite a romantic getaway, while in Seattle, Bieber's too out-there dancing reportedly caused Gomez to walk out on him during a date.
High: Bieber, who once released a Christmas album, shot back at the unfounded criticism that he wasn't in the Christmas spirit by fashioning himself a custom festive SUV covered in snowflakes, ornaments, and Santas, which he promptly drove around L.A., effectively spreading holiday cheer this season to not only an entire city, but also both Jaden Smith and Selena Gomez.
Related: Yes, Justin Bieber Is Driving a Custom Christmas Mobile Around Los Angeles
Marion Cotillard on Why the Justin Bieber Movie Made Her Cry: