Justin Bieber and Marilyn Manson's Feud Has Been Resolved
"Honestly I totally thought we hit it off."
---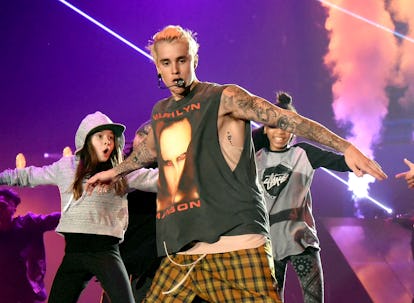 Jeff Kravitz
Justin Bieber sparked an unexpected feud with Marilyn Manson after allegedly using an unauthorized pic of the Prince of Darkness on a T-shirt. What ensued was a colorful recounting of the tale to Consequence of Sound, in which Manson claims that Bieber said he "made Marilyn relevant again." But now, at long last, it seems that the two have patched things up, much for the better of humanity.
Manson went on Howard Stern's radio show on Tuesday to clear the air. The rocker said Bieber reached out to him with the very Bieber-like opening line, "Bro, it's Bieber." Manson then handed his phone over to Stern, who proceeded to enact a dramatic reading of the subsequent messages the musicians exchanged. Bieber's outreach went something like, "What's up with this article? I thought we had a pretty pleasant interaction. Also if anything wasn't squared away with the t-shirts I'm so sorry. Anyway, regardless, it kinda stung seeing that I came off as an a–hole or even was an a–hole. I'm sorry."
To his credit, Manson was just as kind in return. He said, "That was exaggerated. You were just being you. No beef here." Bieber continued apologetically, "Honestly I thought we totally hit it off. Again, my bad. If I was an a–hole that wasn't my intention. Just want you to know that." Manson then calls fake news on the whole thing. "We are cool," he said. "People just made that shirt stuff into a fake feud. Let's turn it upside down and f— the press and do something together. It'll be the best. And don't apologize. You weren't an a–hole. They asked if you were and I sort of agreed. I wasn't out to get you. If you want I'll try to avoid more questions today on Stern. I won't sh-t talk you on Stern." (To be clear, Manson actually said he was a piece of s—, but let bygones be bygones, right?)
And there you have it. Manson even kept his word and laid off Bieber on Howard Stern. Now perhaps Manson will give Biebs a goth makeover as an act of their newfound good will?
Related: Did Justin Bieber Cancel His Tour to Dedicate Himself to God, or Just to "Ride Some Bikes"?
Kendall Jenner and Gigi Hadid Dramatically Reading "Baby" By Justin Bieber Will Blow You Away: