Selena Gomez Reportedly Walked Out on Justin Bieber During a Date in Seattle
Apparently, he was dancing too wildly.
---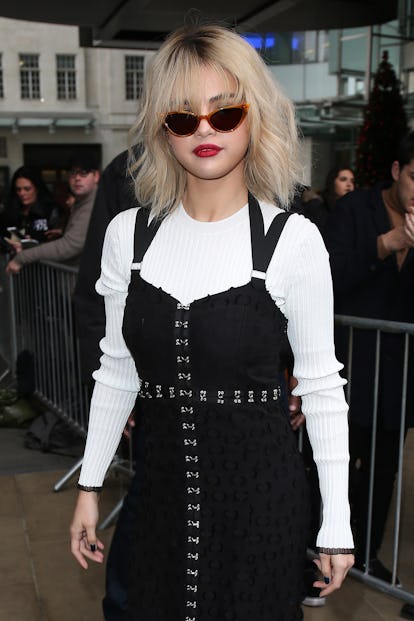 Neil Mockford
Selena Gomez isn't one to just sit around and let herself be publicly embarrassed. At least, not according to an E! News source, who reports that the singer got up and left in the middle of a recent date with Justin Bieber due to—of all the reasons why one might walk out on the noted troublemaker—his obnoxious dancing.
The walk-out happened this past weekend, when Bieber and Gomez jetted off to Seattle for a romantic getaway (read: a break from the paparazzi). According to E!, the duo was hanging out at the Sugar Factory location in Bellevue, sharing a large drink with two straws, when Bieber, apparently, started showing off some of his moves. Gomez reacted by getting up and walking out of the restaurant, since Bieber's dancing was "drawing too much attention to them." But don't worry, Jelena shippers, Gomez's power play worked: Bieber almost immediately ceased his dance floor writhing and followed Gomez out of the restaurant.
The Seattle getaway may be one of the pop stars' last hangouts of 2017. As People reported earlier this month, it's highly unlikely that Bieber is invited to Gomez's family's Christmas celebrations. "Justin's family always loved Selena, but Selena's family is still not happy about her seeing Justin," a source told the outlet. "Selena doesn't bring Justin to any family events. Selena is spending Christmas with her family. As of now, Justin is not invited."
Especially, it would seem, if he insists on breaking out his over-the-top dance moves everywhere he goes. Of course, maybe Gomez's tune will change come 2018. At a recent Billboard Woman of the Year event, she teased new music, and just last week took to her Instagram to post a picture of herself in the studio alongside the caption, "Currently. Until the next year. Here's where I'll be." After-all, those new songs will definitely need someone to dance to them.
Related: Selena Gomez Is Not a Fan of Private Instagram Accounts
All the Famous Women Justin Bieber Has Been Spotted With Over the Years