Yes, Justin Bieber Is Driving a Custom Christmas Mobile Around Los Angeles
He took the Yuletide SUV for a spin about town, with a pit stop at Selena Gomez's house, of course.
---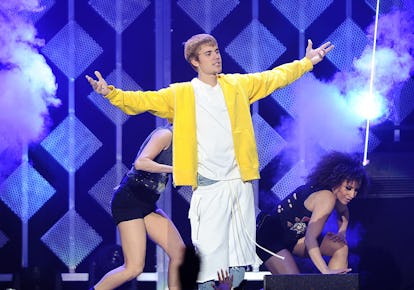 Jason LaVeris/Getty Images
Over the course of 2017, it's become increasingly clear that Justin Bieber's musical career has taken a backseat to other extracurriculars—namely, posting mind-boggling Instagram stories and finding very public ways to proclaim his love of god. Now, he's combined both of these pursuits by posting a series of Instagram stories unveiling a Mercedes-Benz G-Class SUV, valued well over $100,000, which he'd converted into a Christmas-mobile, covered in polar bears, penguins in Santa hats, Christmas trees, ornaments, and giant bows all against a backdrop of gently drifting snowflakes.
Bieber could barely contain his delight when he first unveiled his ride over the weekend on Instagram stories, explaining that "People came to me and they were trippin' like, 'JB you ain't in the Christmas spirit, dog.' I was like, 'Oh really? Oh really, boy? Oh really, dog?'"
Still, he managed to keep this gift to himself (and the world) under wraps until Tuesday, when he finally took the car out of a seemingly abandoned underground parking lot for a spin on the streets of Los Angeles, doing some shopping at the Nike store (see more photos of the excursion here) before eventually making his way over to Selena Gomez's house in Toluca Lake, perhaps as a seasonally appropriate apology for his antics that reportedly caused Gomez to walk out on him during a date over the weekend.
In any case, Gomez could use some holiday cheer: During a heated conversation about Gomez's renewed relationship with Bieber, her mom reportedly got so worked up that she had to be sent to the hospital. Adding more fuel to the rumors that they've been butting heads over Bieber, Gomez and her mom also unfollowed each other on Instagram this week.
It's hard to believe that Bieber, on the other hand, would be accused of lacking in holiday spirit, as it was only last week that he posted a shirtless video of him decorating a Christmas tree all by himself, to the tune of "Jingle Bell Rock." Also, let Bieber's Yuletide haters never forget that Bieber literally released an entire album of Christmas music back in 2011—something that even six years later, has at least one devotee still in Jaden Smith.
Related: Selena Gomez's Mom Could Really Use a Little Less Justin Bieber in Her Life Right Now
Kit Harington Gets No Attention With a Birthday Right After Christmas: