Selena Gomez's Mom Could Really Use a Little Less Justin Bieber in Her Life Right Now
She was reportedly hospitalized after a heated conversation with her daughter about getting back together with her ex.
---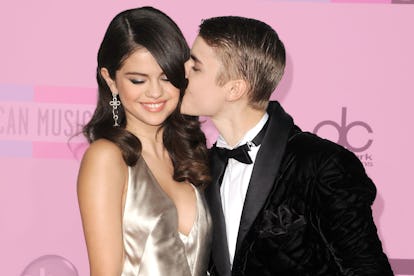 Composite. Steve Granitz/Getty Images
By all accounts, things have been going great for the newly reunited Selena Gomez and Justin Bieber: Over the weekend, the two took a private jet to Seattle to spend a wholesome weekend sharing a 60 oz. nonalcoholic bright blue drink at the Sugar Factory and catch a Sunday morning sermon led by one of Bieber's favorite pastors—not long after Bieber's mom, Pattie Mallette, said that she "love[s]" Gomez, whom she thinks is "precious" and has "a special bond" with.
Alas, if only Gomez's mom, Mandy Teefey, who seems to be going through a real rough patch lately, felt similarly about Biebs. In the very early hours of Tuesday morning, TMZ reported that Teefey had become so worked up after talking with Gomez about her renewed relationship with Bieber—including that the pair is in couple's therapy, and therefore thinking long-term—that she had to be taken to the hospital.
Of course, take it all with a grain of salt—it is TMZ, after all. But let's consider the dramatic scenario at hand. While law enforcement sources told the outlet that Teefey did indeed go to the hospital, TMZ's other "sources with direct knowledge of the incident" did not offer any real confirmation that her "heated convo" with Gomez was the cause of her hospitalization, which occurred after police went to check on Teefey at a family member's request. Still, it does seem suspicious that the news comes not long after TMZ spoke to a member of Gomez's family who said many of the Gomez's have never forgiven Bieber for mistreating her, going so far as to say that "Justin is a vile human and will never be accepted by us."
In any case, Teefey hasn't exactly had things easy as of late. Not too long after she shared how "helpless" and "scared" she felt when Gomez had a kidney transplant, on Monday, she posted an emotional Instagram in memory of her unborn child Scarlett, marking the anniversary of her miscarriage in 2011, a day that she said "will never be the same."
Gomez was off in Seattle with Bieber—who, for what it's worth, did visit Teefey when she was in the hospital at the time—on the anniversary, but Teefey will hopefully find some cheer in the reports that Gomez walked out on Bieber on a date during their romantic getaway when his sudden outburst of over-the-top dance moves were "drawing too much attention to them."
Plus, Teefey will soon be getting Gomez all to herself: The singer is reportedly spending Christmas with her family—a celebration to which, People breathlessly reported, Bieber has not been invited.
A Photographic Guide to All the Famous Women Justin Bieber Has Been Spotted Out with Over the Years
Circa 2010, Bieber was rumored to be dating musician Jessica Jarrell, whom he was touring with at the time. The pair were seen embracing on the red carpet at a Hollywood event that year.

Jason Merritt/WireImage
Bieber made his relationship with Selena Gomez public in 2011, when the pair arrived hand-in-hand to the 2011 Vanity Fair Party wearing coordinating ensembles.

Kevin Mazur/VF11/WireImage
The pair stayed together on-and-off for five years, frequently appearing at awards shows and basketball games together, before breaking up (for good?) in 2016.

Noel Vasquez
During one of those breaks with Gomez, Bieber performed at the 2012 Victoria's Secret Fashion Show, where he was spotted flirting with models Barbara Palvin and Miranda Kerr.

Kevin Kane/FilmMagic
The singer was also spotted around town with YouTube and Instagram star Chantel Jeffries, including at a 2014 Ciroc party hosted by Diddy.

Prince Williams/FilmMagic
Bieber has been linked to both Kendall and Kylie Jenner countless times; both sisters made an appearance at the "Justin Bieber: Never Say Never" Los Angeles premiere in 2011.

Todd Williamson/WireImage
Shanina Shaik and the singer were linked together in 2015 when they attended a party in Las Vegas together, as well as Coachella just days later.

Mindy Small/FilmMagic
Of all the rumors of Kendall and Kylie, the one that ended up being most persistent was their older half-sister, Kourtney. The mother of three was often spotted out with the singer in 2015, including at his Comedy Central Roast.

Jeff Kravitz/FilmMagic
At the taping of the show, Bieber was seen coming over to greet Kardashian, who was attending alongside Kendall.

Jeff Kravitz/FilmMagic
A few years before being romantically linked to Bieber, Hailey Baldwin attended the New York premiere of Justin Bieber: Never Say Never back in 2011.

Michael Loccisano/Getty Images
Four years later, the pair were often spotted out and about together. It was rumored that the two dated seriously circa 2016.

JMA/Star Max/GC Images
Last year, Bieber was spotted out with another famous scion: Sofia Richie, daughter of Lionel Richie and half-sister of Nicole Richie.

BG003/Bauer-Griffin/GC Images
The pair were spotted shopping in Tokyo by paparazzi, but would soon break up just weeks later.

Jun Sato/GC Images
Related: Selena Gomez Reportedly Walked Out on Justin Bieber During a Date in Seattle
Go Behind the Scenes of Selena Gomez's W Magazine Cover Shoot: