Eminem's Daughter Hailie Scott Returned to Instagram After Long Hiatus to Celebrate Her 22nd Birthday
When your birthday is on Christmas it's only fair.
---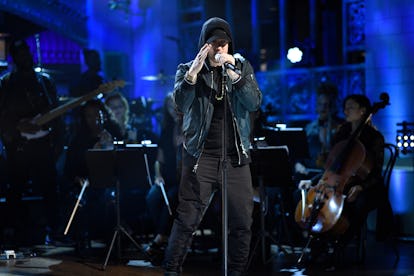 Photo by: Will Heath/NBC
Hailie Jade Scott, daughter of rapper Eminem and his ex-wife Kim Masters, celebrated her birthday a little early this year. The Michigan State University student turns 22 on December 25, but as any December baby will tell you, it's no fun having your birthday overshadowed by Christmas. Fair enough, then, that she got her own special day on December 23 and posted a cute Instagram picture to mark the occasion, posing in heels and an abs-baring top on a red couch. "happy early birthday to me" she captioned the image.
Scott doesn't post to Instagram very often (her last post was in March) and she has disabled comments on her account, but a quick perusal shows the life of a seemingly normal, selfie-taking Detroit resident and college student. She celebrated St. Patrick's Day with her boyfriend, as well as her 21st birthday last year.
She also has a super cute puppy named Lottie.
Her dad, meanwhile, is returning to the music scene with his new album Revival and a track, "Walk On Water," featuring Beyoncé. He took down President Trump in a pretty epic freestyle, "The Storm."
Beyond music, Eminem's very much in the cultural conversation again; artist Alex Da Corte recently completed works featuring himself in costume as the superstar rapper. As we wrote of the work in November, "His first attempt to explore Eminem's more human side began as simply as with a bowl of cereal, which he captured himself, dressed as the rapper, eating in a video that was shown in Detroit, which was eventually accompanied by more Eminem-themed works…Da Corte has now returned to his alter ego for "Bad Land," at Josh Lilley Gallery in London, which features three new videos of Da-Corte-as-Eminem, one in which he's surrounded by homemade bongs that he smokes from with unsettling laughter, and another in which he covers himself in mustard."
Watch: Kit Harington Gets No Attention With a Birthday Right After Christmas
Related: Beyoncé Beneficently Tries to Save Eminem's New Single "Walk on Water" From Sinking