Coachella Vet Hannah Bronfman Would Rather Head to the Spa than Another Pool Party
The wellness expert details her spring beauty regimen
---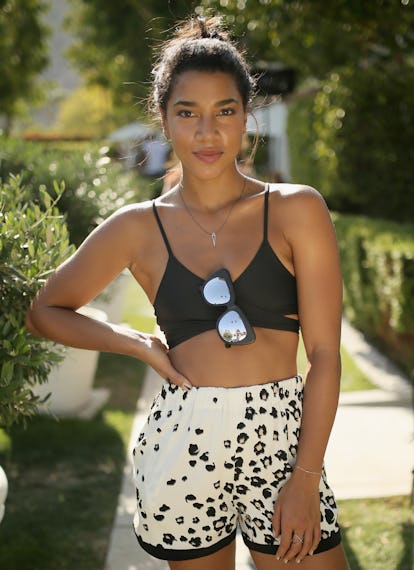 Mike Windle
Springtime brings opportunity for all of us to shake up old routines and start afresh. Here, HBFIT founder and wellness expert Hannah Bronfman shares her current beauty and fitness regimens, travel plans, and reflections on married life.
How do you personally mark the change of season when it comes to your beauty regimen? The change in season certainly has an effect on my combination skin. When it starts to get warmer out, I stop washing my face in the morning, as I find that just cleansing with water helps me stay more on the dry side. I can get oily quickly—they say that's good for aging, but at the moment, I'm like, okay, shine, be gone! I use several different SPFs including, but not limited to, Alba Botanica, Dr. Barbara Sturm, and Dr. Dennis Gross, which is tinted. In March, I start doing fruit-acid peels every four to five weeks with my dermatologist, Dr. Macrene Alexiades. I find this routine not only keeps my skin clear but really helps even out my complexion, which I struggle with due to hyperpigmentation.
You are steadfast in all things concerning wellness, especially a healthy diet. Do you partake in any detox or cleanse this time of year? I love giving my body a little reset. Whether that's eliminating something from my diet, like grains and beans, or committing to a soup cleanse for a week, or simply doing a 24-hour water cleanse, I think that cleansing can be very beneficial to the body.
Do your meals change up? What is a typical breakfast for you this time of year? I hardly ever eat breakfast, only because I am not hungry first thing in the morning. I usually get hungry around noon. But I am religious about having a hot morning beverage in the winter. As we move into spring, either that becomes an iced matcha latte, or I switch up the profile of adaptogenic herbs that I'm adding to my drink. There are specific herbs that are better to take in transitional seasons than others, and I love to add adaptogenic herbs year-round every day.
What is your favorite source of protein during the day to keep you going? These days my favorite way to get protein into my diet is by eating eggs, quinoa, leafy greens, or collagen. I love a good chocolate protein smoothie, but I feel like the protein powder market is quite fragmented and there isn't any one brand that I love or trust. So I'm constantly concocting my own versions of things.
Do you take any probiotics, or the increasingly popular prebiotics? I do take pro- and prebiotics, as well as enzymes. The probiotics that I love are from Dr. Salerno and are in powder form, which is great for me because I travel so much. There are 275 billion, which is on the higher side, but very effective.
How do you nurture the mind-and-body connection? It's all about the mind-body connection for me. That is why I try to workout everyday and push myself because it's good for brain function, as well. I get acupuncture once a week, and I try to get a massage or reflexology once a month. It's very important to me for my body to be in a balanced state, and with my lifestyle, and the amount I travel, I definitely believe that all of these holistic habits add up and are benefitting me. On HBFIT, you seem to thoroughly investigate the products you tout. What is your latest obsession? I have recently gotten my hands on a microroller from StackedSkincare and I have been using it at night and I love it. I feel like my serums are going deeper into my skin and I think my skin is visibly brighter. I am also loving the clear serum from True Botanicals.
As days get longer in spring, does your nighttime ritual change? My nighttime ritual is the same: I drink a big glass of room-temp water and then cleanse my face and use my microneedle. Then I use a toner, serum, and moisturizer. My products change because my skin changes due to weather, but I always do that skincare routine.
You mentioned that lately you've been DJing at earlier hours. Are you still a night owl on the evenings you don't work? I have been actively trying to break the habit of staying up late at night for no reason. I am trying to stay off my phone at least for an hour before bed because when I sleep better I am far more productive and balanced.
Coachella is approaching soon. This has become an annual favorite for you. Give us some tips for making the trek to Palm Springs. This will be my 12th Coachella, which is insane! Coachella used to be one weekend and seemed really authentic, and now it's two weekends and filled with brand activations. Everything goes through change and I certainly don't party as much as I used to, so I like to stay at nicer hotels where I can indulge in the spa rather than head to pool parties. For that reason I love staying at the Parker in Palm Springs.
How do you keep hydrated in that desert heat from day into night? The first thing I do when I go to a hotel is stop at a drugstore and pick up six 1.5-liter bottles of water. I find that when I travel, finding water when you need it can be extremely difficult, so I try to eliminate that part of the equation. I also love to bring a cooler of juices and smoothies from my favorite L.A. juice spots like Kreation Juice and Erewhon and load them into the hotel room minifridge. It's satisfying to me to be set up because you never know what time you'll make it back from the desert or how parched you'll be. Do you pack light for this trip? I do try to pack light for the trip, but this year I'll be in L.A. for ten days so I have a feeling it's going to be a checked-bag situation. I don't opt for the boho look, I tend to stay more sustainable-concert-chic. I'm definitely not going to the festival without a jacket tied around my waist, because it can get cold quickly.
Your first wedding anniversary is coming up. Does married life feel any different than living together? Honestly, we had lived together for roughly five years, and I have to say that married life does feel a little different. I think because for so long you are thinking about marriage and once that's out of the way you get to the bigger picture…life! And that's the best part.
Who is more health-conscious? Who makes sure the other is taking his/her vitamins? It's funny 'cause we both do little things for each other, like, I will make sure he has had lunch, but he might know I was having a hectic day and will leave my vitamins beside my bed. We are both health dorks.
Are you getting much alone time together these days? We definitely take advantage of the time we have together, as it doesn't come that often. We are grateful for all the time we get to spend together, and with our friends all over the world.
Any new collaborations you two are doing together? At the moment, no, but we have always talked about a home decor line. Perhaps it's in our future.