Harrison Ford Is Doing His First Animated Movie, But These A-Listers Still Haven't
Why not Disney Princess Jennifer Lawrence or Kim & Kanye in 'Toy Story 4'?
---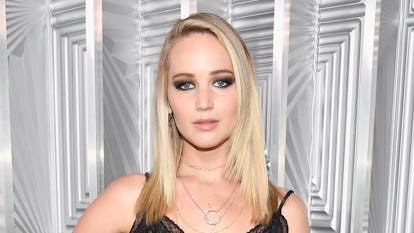 Getty Images
"Woah, this is huge," tweeted Entertainment Weekly movie writer Piya Sinha-Roy while attending CinemaCon. "Harrison Ford is taking on his first animated role in #SecretLifeOfPets 2, out next summer." It left us wondering, though, if the huge news was that Ford was taking on his first animated voice role or, rather, that there were actually celebrities left who hadn't lent their voice to a big-screen cartoon character.
Just about everyone else has, whether you remember it or not. Oprah gave voice to Judge Bumbleton in Bee Movie. Nicole Kidman played a motherly penguin in Happy Feet, while Brad Pitt and Matt Damon teamed up to voice a pair of krill shrimp in the sequel. Angelina Jolie voiced a seductive, big-lipped lion fish named "Lola" in 2004's Shark Tale, Julia Roberts's voice was in the latest Smurfs movie, Meryl Streep played an insect (a queen insect, but still an insect) in The Ant Bully, Denzel Washington was once Humpty Dumpty, and who could forget George Clooney's star turn in South Park: Bigger, Longer & Uncut?
Though Hollywood A-listers can be notoriously choosy about which projects they attach themselves to and how those projects reflect on their image—see: forgoing a starring role in a guaranteed blockbuster in favor of working on an indie film with an up-and-coming Norwegian auteur, or only doing commercials in Japan—the usual rules don't apply when it comes to animated films. Even notorious critical and commercial animated flops have attracted A-list casts. Judi Dench, Jon Stewart, and John Krasinski were all in 2006's ill-fate Doogal, double Oscar winner Sean Penn did The Angry Birds Movie, and Anne Bancroft appeared, most unfortunately, in the dreaded disaster Delgo three years after she passed away. Dame Maggie Smith was just in Sherlock Gnomes, for heaven's sake.
It wasn't always the case. Animated movies before the Nineties rarely cast celebrities, and if they did they were usually comedians with unique voices or stunt castings. Then Robin Williams came along, wowed everyone with his work as the Genie in Aladdin. At the same time the Disney renaissance meant that animated flicks were increasingly some of the most profitable of the year, and suddenly everyone was doing voice-over work. Why not? The lines for a supporting part can be recorded in an afternoon or two. So it's quick, stars can get a nice paycheck, and if anyone questions their integrity they can just say, "Eh, it was nice to finally do something my kids can actually watch."
So, it's kind of not that big of a deal that Harrison Ford may voice something like a loner hamster in an Illumination Entertainment project next summer. It's more a big deal that these 10 stars below haven't done anything of the sort.
Jennifer Lawrence
Lawrence is young and has a whole lot of career left in front of her, though many of her young leading-lady contemporaries have already leant their voices to cartoons: Emma Stone is a star of The Croods franchise, and Margot Robbie just voiced a bunny in Peter Rabbit. Maybe Lawrence is just waiting for the right part.
Suggested Role: A Disney princess who brings a curse upon herself for being simply too relatable in the face of a royal tradition of stodginess. She sings an entire song about how much she loves pizza. The Kardashian sisters play the three small mice who help her on her journey.
Tom Cruise
Hollywood's other leading Tom (Hanks, that is) helped make A-listers taking a role in CGI-animated films the norm with Toy Story, but this Tom has sat the trend out. We suspect it's because Cruise is as much a businessman as he is an actor. He likes to make sure he gets money on the back end of most of his films, and Cruise/Wagner Productions just doesn't have experience in the animated realm.
Suggested Role: Let's be honest: If it ever happens, he'll probably just voice Ethan Hunt in some Mission: Impossible VR movie. Though, maybe someone in Hollywood could tempt him by offering him the role as a kind of hero savior in an animated space opera of some sort.
Gwyneth Paltrow
Paltrow did a cameo in an Austin Powers movie, is a longstanding member of the Marvel Cinematic Universe, and guest-starred on multiple episodes of Glee. She certainly allows a little bit of fun in her career, and, yet, she's never signed on to voice, say, an adventurous chipmunk or a brainy songbird. She hasn't even played one of Bart's girlfriends on The Simpsons.
Suggested Role: A benevolent witch who guides a princess on her journey with the help of all sorts of magical organic juices and all-natural spells—delivered via enchanted newsletter, of course.
Leonardo DiCaprio
If there's one thing we know Leonardo DiCaprio loves more than 20-something blondes, it's animals. His Instagram is full of them. Yet, DiCaprio doesn't seem eager to voice one on film. He's apparently never been in a voice-over studio in his entire career, but it's like, Leo, you won your Oscar. You can relax a little. Have some fun. Your hero Martin Scorsese once voiced a pufferfish in a DreamWorks movie.
Suggested Role: The voice of Milton, the last living Golden Toad, in a remake of Jim Henson's critically acclaimed and cult-favorite TV special The Song of the Cloud Forest. We could imagine it keeping up DiCaprio's preference for prestige, while also working in his love of environmentalism. Or, perhaps more obviously, a lion.
Kristen Stewart
Stewart certainly has a long history of doing live-action fairy tales, but we guess her general chill-girl vibe doesn't obviously scream "MAKE ME A CARTOON!"
Suggested Role: ? in The Emoji Movie 2
Jack Nicholson
For a while as a child I just assumed that Jack Nicholson voiced the angry Air Conditioning Unit in The Brave Little Toaster, but it turns out that was just Phil Hartman doing an impression. Turns out Disney had began to model the characters of Hades in Hercules on him as well, but he passed, giving the role (unfortunately, in hindsight) to James Woods. Of course, Nicholson doesn't work as much as he used to, but he is making a comeback in an American remake of Toni Erdemanm soon. Maybe he can find an afternoon here or there to pop into a voice booth.
Suggested Role: The angry Air Conditioning Unit in a CGI remake of The Brave Little Toaster (which we all deserve anyway).
Viola Davis
Yeah, she did a cameo on Sofia the First, but we're talking movie roles here, and it's high time Davis get a shot.
Suggested Role: Enchanted Queen. High Empress of Fairies. Kind Sorceress. You get the picture. Anything regal and authoritative with at least one major monologue that leaves us crying and inspired.
Chloë Sevigny
We get it. Nothing in Sevigny's career has ever said, "I am interested in entertaining children." However, she did recently lend her voice to Amazon's bizarro (non-animated) series Comrade Detective, so maybe she's down for some more v/o work.
Suggested Role: Ennui in Inside Out 2: Puberty.
Jake Gyllenhaal
Half the fun of Jake Gyllenhaal movies is looking at Jake Gyllenhaal, but he's a serious actor, okay, and we're sure he can give a complete performance with just his voice.
Suggested Role: Well, Donnie Darko is basically a movie for kids anyway, so just remake it in CGI, except this time Donnie is cute li'l porcupine.
Kim and Kanye
Let's conveniently forgot that they've both voiced themselves on episodes of Seth McFarlane shows (Kim was on American Dad, while Kanye did three episodes of The Cleveland Show). Let's also forget that neither is actually an actor. Let's just wonder why Pixar keeps overlooking them for roles.
Suggested Roles: In Toy Story 4 Kim plays a Bratz doll and Kanye plays a super-rare Beanie Babies bear who has been kept on a high shelf in a protective case for so long he's gone a little bit mad, especially after he learns he may not be worth what he once thought he was. They're dating. It seems crazy to everyone on the outside, but it works for them.
Related: Allow Kanye West to Clarify That He Doesn't Agree With "Everything" Trump Does, He Just "Loves" Him Like a "Brother"