Riverdale's Hart Denton Reveals His New /Nyden Collaboration and Teases Chic's Season 3 Return
The actor reveals a few secrets he kept from even his Riverdale castmates.
---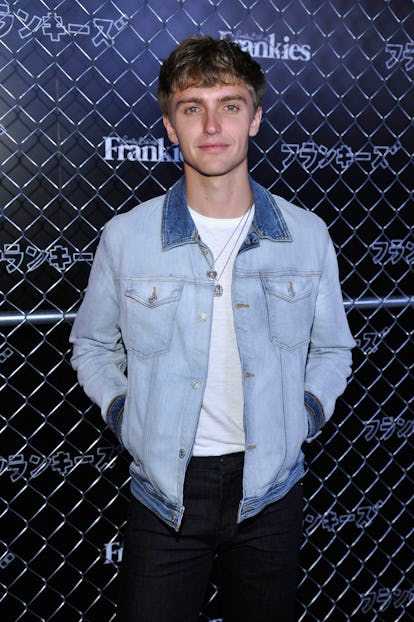 John Sciulli
If you are one of the many, many people who fanatically consume Riverdale, then you are already more than familiar with Hart Denton, the actor who disrupted the already messed up town of Riverdale last season. For those who have yet to fully catch up (it's summer, what are you waiting for?), Denton portrays Chic, the previously unknown half-brother of Betty Cooper, played by Lili Reinhart, who shakes up the family dynamics and—would you believe?—may not be exactly what he seems. In true soapy drama form, Chic abruptly leaves towards the end of the season, leaving behind even more mysteries than what he arrived to.
Denton, as it turns out, can keep a secret himself. In fact, while filming the show in Vancouver last season, he withheld a major project from his co-stars, which he stealthy worked on behind-the-scenes: a clothing collaboration with /Nyden, H&M's affordable luxury line that launched last October. In collaborating with the brand on a collection due out in Fall 2018, Denton joins a growing list of the brand's "co-creators" that already includes Dua Lipa, Justine Skye, and tattoo artist Dr. Woo. Denton's collection, which will include both men's and women's clothes, features useful details, clean lines, and tech-y fabrics that you can integrate seamlessly into your existing wardrobe. Here, the actor, who is also represented by Next Model Management, details his design process, and teases his big return to Riverdale.
How did this collaboration first come about?
When I moved to Los Angeles a few years ago, I became very good friends with Jamie [Schuppert, /Nyden's Talent Relations Manager], and we stayed very good friends throughout the next few years. Then I got [Riverdale] and she told me she was working with this clothing company, and we talked a little bit about it, but not too much. But as time went on, she kept telling me a little more, and the company came to me and my management and it fell into this perfect harmonized place where they were looking for people to design, and I've always been a very creative person who didn't like doing just one thing. So this acting thing, which I love doing, gave me a platform and an opportunity to do other things as well on a big scale. And fashion and designing was one of those first things.
Had you designed before?
On a very small scale. I had designed t-shirts for friends or family growing up with markers. I was going to start a clothing company in high school, when I was living in Arkansas, and I had it going for awhile, but I don't know if you've ever been to Arkansas… So I ran into some roadblocks there. Then when I moved to L.A., I had some different companies approach me, even before I got the show, about designing some stuff because they had seen the one-offs I had designed for other people. I said no to everyone. I had three or four offers before this, and nothing felt right.
Growing up in Arkansas, how did you first become interested in fashion and design?
In the school that I grew up going to, with the exception of a few peopl almost everyone wore the exact same thing. It was a sports t-shirt and shorts, every day. That was not me, at all. I wanted to wear different things or try different things. I never wanted to be just like everyone else. I wanted to feel like my own individual; I didn't like how those other people dressed and wanted to dress how I wanted to dress. People started to comment on it and think that it was weird or off. I thrive on that. I really enjoy when people think that it is something off from the norm. I think a lot of it was my mom; she was dressing me in all sorts of crazy stuff. And she would let me wear whatever I wanted. A lot of parents are like, "No, you have to wear this." If I wanted to wear a superhero costume to school, she'd be like, "Okay, do it." Both of my parents were very, very open about letting me express who I wanted to be.
How did you land on the designs for this particular collection?
I really liked the trend of safari and outdoors and military. I think it is a very clean and casual, but professional look. When I met with /Nyden, I talked about that and they were on board with it. I was very excited about what we going to collaborate together, and it looks exactly how I wanted it… A lot of my life, reflects how my internal feelings are in artistic ways, and the past few months I've been doing a lot of research on military themes and have so much respect for that. I've also been watching a lot of movies like Indiana Jones, and those sort of mesh together. /Nyden and I landed on doing this marriage of military, outdoor safari, and whatnot.
When did you start designing the clothes?
We started in the fall of last year. We met briefly right before I left [to shoot Riverdale] and then I'd come back and we'd squeeze something in, but for the majority of the time, I was on set. With technology these days, you can design things in different countries.
Did you have to keep the project a secret from your castmates?
Oh my gosh, yes. I'd be on my iPad and drawing things and they'd be like, "What are you doing?" I would be like, "I'm designing clothes." And they were like, "You're designing clothes?" Because they didn't know anything about this. And now, I did show a few of them some of the sample images we have to crowd test when I was choosing colors and shapes and what not, so a very select have seen of it, and they were like, "We need all of it. You're going to send us all these pieces, right?" So now they get it.
Who was the harshest in their feedback?
Oh, I can't say. She's the harshest about everything. But it was good. It's all constructive.
How are you feeling leading up to the launch itself?
Oh, I can't wait. I'm so excited. This is going to take on a whole new phase of my life, while still doing acting and music and whatnot. I feel like I'm going to empty my whole closet. I'm just going to wear my own stuff, and I can't wait.
What other projects are you currently working on?
I've spoken with some of the people at Riverdale, and they are trying to land on a date when I go back. Most people just got back and started shooting episode one [of season three] last week. I'm very excited. I love the people, I love the cast, I love Vancouver. I miss it. I really do enjoy the pace of L.A., but there is something about Vancouver that I really do love. Something about that environment and being on set with friends.
Have you gotten scripts for season three?
I've gotten some. I've got a bit of information about things. The show goes so quickly that they fly by with stuff; things can change and shift. I had several different storylines last season that ended up changing and going different directions and it made my character way more interesting. It's ever changing, but from the stuff that I've heard so far, I'm very excited.
Related: Riverdale's Camila Mendes On Navigating Fame, and Why She's Not Slowing Down Anytime Soon