Inside French Art Royalty Harumi Klossowska de Rola's Wild, Beastly Kingdom
The daughter of the famous French painter Balthus, Harumi Klossowska de Rola has established her own enchanting domain as a jewelry designer.
---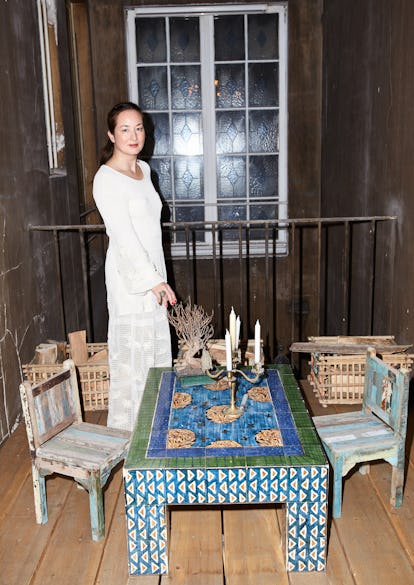 Photographs by Hugues Laurent, Styled by Gianluca Longo
"We're all animals," says the jewelry designer Harumi Klossowska de Rola, whose specialty is precious jeweled beasts: Chinese-style diamond dragons and gem-encrusted leopards for Chopard; sculptural, totemic ­animal-themed pieces she creates under her own name. "The link between us and nature has been sort of fading away in this last century," she explains. "I'm trying to reconcile it."
Klossowska de Rola's rings featuring heads of big cats, bulls, elephants, and birds of prey are massive and singular, realized with ­cunning, almost maniacal detail, as if animism were put through a Wes Anderson filter. Peer into the mouth of a leopard and marvel at its millimeter-long teeth, hand set and individually carved. With rare base materials like petrified wood and woolly mammoth ivory, her pieces have a life of their own. Tiny gems complement the natural striations and contours of their settings. Executed by master craftsmen, the work is impeccable, hewing to preindustrial techniques like lost-wax casting and repoussé, or hand-hammering metal in a reverse relief.
The natural world has dazzled Klossowska de Rola since childhood, when she preferred the company of pets to most people, and scavenged for stray mosaic tiles in the gardens of the Villa Medici in Rome, where her father, Balthasar Klossowski de Rola (known simply as Balthus), ran the French Academy. ("I loved the colors, especially the blue," she recalls, noting that her father kept her found treasures in a drawer.)
Harumi's mother, the painter and sculptor Setsuko Ideta, was Balthus's second wife, and worked as his assistant. Ideta, a native of Kyushu, Japan, who favors traditional dress and currently collaborates with the French ceramics maker Astier de Villatte, raised her daughter with a Shinto sensibility, seeing spirits in all living things. When Klossowska de Rola was 4, the family acquired Le Grand Chalet de Rossinière, an imposing 18th-century castle in the Swiss Alps, surrounded by forests teeming with foxes and badgers and fascinating creepy-crawlies.
"I remember my parents brought me to visit their gallerist friend Claude Bernard, in Paris," Klossowska de Rola recalls, "and he had a huge collection of minerals and crystals of all different sizes. I was 7 or 8, so my eyes were level to the table, and I got the most amazing feeling. I spent hours there, imagining traveling through them like a forest. I think that feeling never left me."
Indeed, Klossowska de Rola was "too dreamy" to study beyond high school in Switzerland. Her professional life got off the ground slowly, aimlessly, and somewhat serendipitously, as can happen for well-­connected European girls: First there was London, where, for a few years, her mother enrolled her in drawing courses. "I barely went," Klossowska de Rola admits with a laugh. She thought the calligraphy lessons her mother subjected her to every Sunday, between the ages of 5 and 12, were training enough. "I hated it then, but Japanese calligraphy helps a lot with drawing," Klossowska de Rola says now. She returned to Paris, "hoping maybe I could get a job at Christie's or something because my father was an artist," and landed an internship at John Galliano after meeting the designer's director of communications at the Bal des Débutantes. (She was wearing Hanae Mori.)
Fashion made sense—her half brother Thadée Klossowski de Rola was married to Loulou de la Falaise, the jewelry designer and Yves Saint Laurent muse—and the team at ­Galliano liked Harumi enough to eventually promote her to the press department. But after two and a half years, she returned home to Switzerland to aid her aging father (he died in 2001). She was handling his exhibitions and doing a bit of sketching when she stumbled upon a drawer full of handmade Chinese buttons belonging to her mother, and got the idea to sew gems into them to create earrings and necklaces. With the backing of a family friend, she launched a proper jewelry line, but soon began to feel estranged from the process. "I was designing several collections a year without having any real contact with the people making them, or making anything myself," she recalls. "I had gotten so far away from the craftsmen."
That partnership eventually fizzled out, and Klossowska de Rola started experimenting with the bolder, wilder aesthetic that came to define her. Boucheron was the first company she won over, in 2008, just as she was pregnant with her first child with her partner, the ­photographer Benoît Peverelli. She suspects that being the daughter of the famous painter might have helped her get her foot in the door, but her intricate cat-themed designs convinced them. "And I finally realized that working with gold and precious stones could be really interesting," she says.
Partnering closely with the Boucheron atelier hooked her completely on the traditional techniques so evident now in her own jewelry. She started commuting to Paris about once a month from Le Grand Chalet—where she, Peverelli, their two sons, Thadée, and Ideta all live—working out of an apartment on a cul-de-sac in the 9th arrondissement, and an atelier in Saint-Denis, just north of Paris. In 2012, she began designing pieces for Chopard; this year she unveiled a collection of sculptural furniture and a gilt screen with a lion-and-butterfly motif for L'Ecole Van Cleef & Arpels.
In her work, "there's something almost morbid," says the shoe designer Christian Louboutin, a friend and frequent visitor to Le Grand Chalet when Klossowska de Rola was a teenager. "She was a totally wild kid, into gory movies, and with what she does today, it's like she's making that gore delicate and beautiful." Pierpaolo Piccioli and Maria Grazia Chiuri commissioned Klossowska de Rola to create the coiled snake headpieces for their spring 2016 haute couture collection at Valentino. (The mood board was about Isadora Duncan and Fortuny and modern dance, but, unsurprisingly, the snakes were Klossowska de Rola's idea.) According to Piccioli, the designers were inspired by her human touch: "her idea of beauty as something ephemeral that changes with time."
This is very much evident in Klossowska de Rola and Peverelli's Paris home—a classic Haussmannian apartment with small rooms that radiate off of branchlike hallways. The couple share an unkempt study filled with manga-inspired art and botanical ephemera. An enviable stash of vintage Yves Saint Laurent, Ossie Clark, and Chanel hangs in a hallway nook. Just off the terrace, where party guests sometimes wind their way out for a cigarette—a recent affair was a birthday party for close friend Haider Ackermann—the wall is stained, with paint peeling away due to water damage. Rather than renovate, Klossowska de Rola added a sketch of a tree trunk. The effect is part enchanted forest en ville, part destruction and decay; another nod to the cycle of life in all its natural unprettiness. "What interests me is the wild part," she says.
Watch W's most popular videos here: