Harvey Weinstein and Georgina Chapman Have Reportedly Settled Their Divorce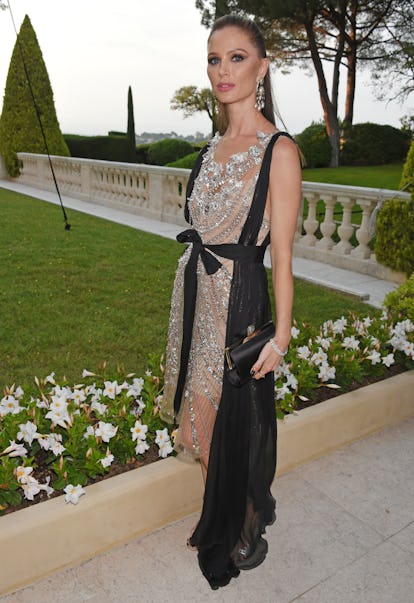 Dave Benett/amfAR2017/Getty Images
Exiled Hollywood monster Harvey Weinstein made a rare outing into public last night to grab dinner at a restaurant in Scottsdale, Arizona where he was promptly slapped by a man who called him a "piece of s—," according to TMZ. At some point this week, he was also slapped with the news that his divorce from Georgina Chapman was a done deal. As per Page Six, the two parties have come to an agreement on the terms of their divorce that they have both signed off on. Papers will be officially filed in court in the coming days.
The deal was reportedly finished sometime at the end of 2017, which would have been around what was their 10-year anniversary on December 15. According to the purported terms of their prenuptial agreement, Chapman would receive more money if the marriage lasted at least ten years. The de facto settlement would have amounted to around $12 million. Though, the exact terms of the settlement they did reach is unclear. (Another note on the prenup: it had a clause that would prevent either party from giving interviews or writing a book about their marriage).
Weinstein's total net worth is reported to be more than $250 million. Chapman reportedly has a net worth of $20 million of her own.
Chapman, the daughter of a British coffee mogul, started dating Weinstein sometime in 2004 after he divorced his first wife Eve Chilton. That was also the year she launched her fashion line Marchesa with business and creative partner Keren Craig. Chapman and Weinstein married in 2007 and would go on to have two children. It would also understood amongst actresses that if they starred in a Weinstein production, it was expected of them to wear a Marchesa gown at some point on the red carpet. Though, the brand found genuine fans as well.
While Weinstein initially publicly stated that Chapman stood behind him, she quickly announced that she was leaving him back in early October.
"My heart breaks for all the women who have suffered tremendous pain because of these unforgivable actions. I have chosen to leave my husband," Chapman said in a statement released at the time. "Caring for my young children is my first priority and I ask the media for privacy at this time."
Chapman has indeed sought privacy since. The only major update we've gotten on Chapman came when her friend Alyssa Milano spoke to Megyn Kelly in December.
"Georgina is doing very well," Milano said. "She's an amazing mother. She's an amazing woman, and I think her priority right now is focusing on how to raise those two children to the best of her capacity given the situation… She goes through very dark times. She's very sad. This is not easy for her, but I have no doubt that not only will she come out on the other side of this, but she deserves too. She's a good woman."
Marchesa is still officially on the calendar for the next installment of New York Fashion Week in February.
Related: Georgina Chapman is 'Very Sad' But 'Well' According to Alyssa Milano