Georgina Chapman Would Receive Close To $12 Million If She Leaves Weinstein Now
The couple's tenth anniversary was Friday.
---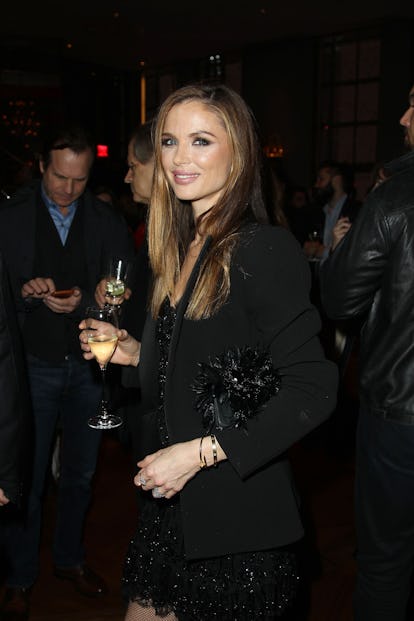 While Georgina Chapman has yet to file for divorce from husband Harvey Weinstein, TMZ got hold of their prenup which indicates that if she divorced him now, Chapman would walk away with $11.75 million.
According to documents signed in December of 2007, Chapman would now—since they've hit their 10th anniversary (on Friday)—receive $400,000 for each year they've been married. In marital assets, she would get $250,000 a year for the first five years of marriage and $700,000—again, per year—for the next five. The agreement also includes a monthly housing allowance of $25,000 per month of the marriage and spousal support total of $4 million. Add it all up and it amounts to $11.75 million. Again, that is, if she leaves the marriage now and doesn't contest for more.
The Oscar-winning film producer's family life turned upside down when news first broke of his alleged sexual harassment, assault and rape of women for decades. More than 50 women came forward sharing their personal stories, exposing Weinstein's alleged ways of using his position of power to prey on the more vulnerable. And while the former Hollywood titan isn't the first man in power to be accused so publicly of sexual abuse or harassment, of course, these events have undoubtedly opened a floodgate—in Hollywood and beyond—where women and men feel more able than ever to come forward with their own stories, leading to the spread and awareness of the #metoo movement.
For now, Weinstein, 65, and Chapman, who is 41, are separated, as she announced in a statement the Marchesa designer gave People in October: "My heart breaks for all the women who have suffered tremendous pain because of these unforgivable actions. I have chosen to leave my husband. Caring for my young children is my first priority, and I ask the media for privacy at this time."
Following the news, Weinstein checked into an Arizona facility. "I'm not doing OK," he had told a swarm of photographer at the time, acknowledging he needed "help".
Chapman has yet to share another word, but according to friend Alyssa Milano, she's "focusing on how to raise those two children to the best of her capacity given the situation."
Though, don't expect Chapman to talk much about the situation at any point. The prenup also dictates that neither party can divulge details of their divorce publicly, nor expose their personal matters in any form, including interviews or books.
Related: Georgina Chapman is 'Very Sad' But 'Well' According to Alyssa Milano