Inside Shayne Oliver's Helmut Lang Show, NYFW's Most Exciting Appointment for Fashion Obsessives
Everyone from Cardi B to Selah Marley to Diplo, not exactly a fashion week regular, came out to Soho to take it all in.
---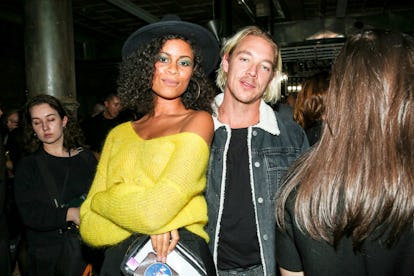 SERICHAI TRAIPOOM
You knew you were in the right place by the restless crowd that gathered outside the vacant storefront on Broadway, once occupied by Pearl River Mart, on Monday night. The musicians Kelela and Aluna Francis wove their way to the front (though not without a few onlookers, not recognizing the regular front-rowers, attempting to block their path); lines spread in both directions up the wide sidewalk, clusters of club kids scattering out from the queues and passersby pausing and craning their necks to see what the fuss was about.
The occasion was the debut of Shayne Oliver, the erstwhile designer of Hood by Air, as the designer-in-residence of Helmut Lang, the label founded by the Austrian designer and artist in 1986 and later departed in 2005. Inside, the hollowed-out retail space had been filled with metal bleachers and fog lights (which would later bathe the space in harsh white light) and a hum of anticipation. After all, no one quite knew what to expect; little had been revealed about the show, save for the location and the ambiguous title, "Helmut Lang Seen By Shayne Oliver." The rapper Cardi B, Spring 2018's most ubiquitous face, passed me purposefully as I wandered down the runway; she joined rumored boyfriend Offset, of the Georgia trio Migos, in the front row. Meanwhile, just inside the entrance, Lauryn Hill's daughter Selah Marley sat next to Dev Hynes of Blood Orange.
Though the 18-year-old rising model-musician was born towards the end of Lang's reign, she still recalled being "a little bit" familiar with the designer's work because her mother "used to have it in her closet." Marley, who wore a post-Helmut Lang Helmut Lang black off-the-shoulder dress, had spent the previous night at Rihanna's "insane" Fenty Puma show; the night before that, she stopped in at Alexander Wang's "hectic" #Wangfest—and, naturally, she grabbed one of the Shake Shack burgers that were served out as appeasement for the disorder of the party. (After all, it's so much more challenging for an It girl to issue a threat to leave a party with the promise of burgers.) Marley's review: "It was actually good," she said, sounding surprised.
The producer Diplo, who paused for a photo with Lil Yachty, Ian Connor, and A$AP Ferg, squatted just down the row, sitting in close quarters with Aluna Francis of AlunaGeorge. (They had also attended 3.1 Phillip Lim together earlier in the day.) She had spent the previous week stopping by smaller designers like Dion Lee, Area, and Libertine, looking for inspiration for the tour looks she designs herself. Helmut Lang was her last stop before heading off to Las Vegas for a show the next day ("Done. Done," she emphasized), though she professed she was not especially familiar with either Shayne Oliver's work at Hood by Air or the old Helmut Lang. ("I am literally learning about fashion through music," she said. "Otherwise, I only shopped at Oxfams.")
Diplo, who, earlier in the evening, told WWD designer Helmut Lang "always hooks me up with great stuff" (never mind, of course, the fact that Lang departed the brand more than a decade ago; Diplo does, however, sometimes wear recent looks from the brand on stage), admitted he, likewise, was not familiar with the designer during his tenure. "In the '90s, I think I just shopped at Marshall's and Ross," he said. (At this, Francis cackled gleefully.) His first purchase? A pair of British Knights sneakers. But "you could shoplift from there pretty easy too," he added readily. "I'd bring a pair of shoes in and just wear out a new pair of shoes. They had Air Force 1s, and I would just get a new pair of shoes every two months."
For Oliver, speaking about the collection in front of a cluster of journalists after the show, this lack of familiarity was precisely the point: "People are not interacting with fashion like they used to or big fans or collect it as much, because it's not built for them," he said. (Though vintage Helmut Lang pieces remain coveted collectors' items, some of which the brand is "re-issuing," the label never earned the same cult appeal under its former creative directors, which include Nicole and Michael Colovos, who have since broken out on their own with an eponymous label that made its runway debut earlier Monday.)
Fashion, with a capital F, is "built for a house that sells handbags," Oliver added. "There's no wardrobe." Plus, "everything was getting so political," he said of contemporary designers. "No one was creating solutions for the problems—just talking about it." So with this in mind, having been tapped by Helmut Lang's new editor-in-residence Isabella Burley to inaugurate the new Helmut Lang residency experiment, Oliver plunged into the archives and surfaced "some sort of fetishistic ideal."
So, according to Oliver, his collection for Helmut Lang was an antidote to the apparently hollow politicization of fashion: "I just wanted to go back to something that felt a bit more sensual," he added, "and the only thing that made me feel comfortable was sensuality and being comfortable with who I am." After all, in the '90s, the Austrian designer "taught people how to be horny in the right way," he said.
In Oliver's interpretation, models from his own circle—Slick Woods, Selena Forrest—walked alongside old Helmut Lang favorites—Missy Rayder, Kristen Owen—as well as a broad spectrum of up-and-coming runway stars and nightlife icons—like, for example, Lex Herl and Sophia Lamar. The looks also reflected a synergy between Oliver and Lang's respective aesthetics, with bras doubling as bags or backpacks, harnesses, and asymmetrical outerwear. (In case anyone forgot where we were, there were shirts reading "Helmut" and belt buckles reading "Lang"; a couple models held up newspaper-bags on which a headline blared "Helmut Lang" in block capitals.)
The show opened with an industrial din, and by the time the models began to file out for the finale, the opening bars of Whitney Houston's "I Have Nothing" had begun to play—a reference to the musician's 1992 film The Bodyguard, and a particularly timely one given the recent release of the documentary Whitney: Can I Be Me.
"It came from wanting to feel sexy, wanting to feel protected," Oliver said after the show. Outside, one attendee put it particularly well: "When that Whitney came on…" she said, trailing off and letting out a brief, ecstatic moan.
Watch a young, pre-Hood By Air Shayne Oliver voguing for Rashaad Newsome: