Hilary Duff Confirms "Conversations" About a Lizzie McGuire Reboot Have Happened
There have been "conversations" about it, says Hilary Duff.
---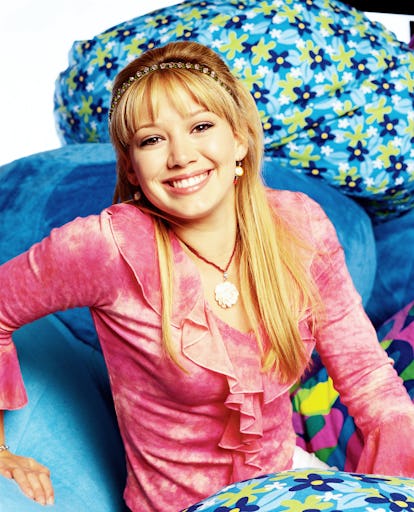 Walt Disney Co./Courtesy Everett Collection
In the early aughts, an entire generation of pre-teens were guided through unrequited crushes, humiliating bra-buying experiences, and devious sibling-planned pranks by an awkward, bumbling leader: one Elizabeth Brooke McGuire. Now, according to star Hilary Duff, there's a very good chance that those former tweens could get a reboot of Lizzie McGuire, this time to show them how to navigate life as a 20-something (or, knowing Lizzie's tendency to land herself in less than desirable situations, how not to).
In an interview with Entertainment Tonight at a charity event on Thursday, Duff confirmed that a Lizzie McGuire reboot, in which she'd likely star as a grown-up Lizzie, is officially in talks to happen. "Yes, yeah, there have been conversations," she said. "It's definitely not a go, I don't want to get everyone wild talking about it, but yeah, I love [Lizzie] so much and I think that she was so important to girls at an important time in their life, and if she could be important to them again at this age, like, I think that would be amazing."
Duff, 31, also speculated about what that grown-up Lizzie would be doing 15 or so years after she infamously impersonated an Italian pop star during a pre-high school sightseeing trip. "There's been lots of conversations about that, so I don't know, I'm racking my brain. I don't think she's a mom yet, but she might be getting there soon," Duff, who is mom to 6-year-old son Luca and just welcomed 7-week-old daughter Banks, said. "It's fun. I feel excited and, I don't really know, it could be a possibility or it could be nothing, so we'll see."
The actress has actually mused on Lizzie's adult life before: In 2017, she told MTV News that she thought Lizzie might have a lot in common with her Younger character Kelsey. "[Kelsey] is still flailing a little bit, but she is kicking ass and taking names," Duff said. "She's finding her way, but she's doing it, and I think that's what Lizzie McGuire would be doing right now." That said, Duff noted that Lizzie wouldn't be nearly as professionally successful as her Younger counterpart. "I think Lizzie McGuire would be an intern, still, like, dropping papers all over the floor," she said, which certainly tracks with everything we know about Lizzie.
And though Duff now seems to be fully on board should the reboot ever move forward, she wasn't always so gung-ho. In a 2017 interview with Good Morning America, she was quick to admit that she doesn't miss Lizzie McGuire. "I loved it and, honestly, it prepared me for so much. And I think, just like everyone else, that it hit them when they needed it to at that time of their life, it did the same thing for me. I totally related to her, loved her, felt like I was her completely. And I loved that she was just so relatable," she said. "But I'm kind of glad to move on from that."
Related: Hilary Duff Took Her Feud With Her "A**hole" Neighbor Public on Instagram