House of Cards Is Coming Back With Some New Faces
Diane Lane! Greg Kinnear!
---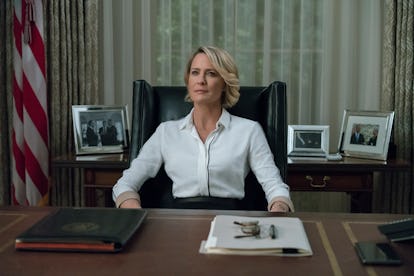 David Giesbrecht/Netflix
After months of anticipation and mixed signals from Netflix, Robin Wright is finally getting the farewell showcase she deserves. And, naturally, she'll be the HBIC.
House of Cards will officially resume production on its sixth and final season Wednesday, with Wright receiving top billing as Claire Underwood, the maniacal and chilly wife of ex-president Frank Underwood. Specifically, Deadline reports that while the eight-episode season has yet to secure an airdate on Netflix, the writers' room was able to successfully craft a narrative focusing entirely on Wright's character mere months after allegations of sexual misconduct and assault against Kevin Spacey — eight of which emerged from the House of Cards set — came into the public consciousness. Spacey will be written out of the series entirely, and although it's not confirmed, it's reportedly likely his character will be killed off, owing to the fact that the original British novel the series is loosely based on concludes with the death of its own main character.
In addition to Wright gunning for a possible Emmy campaign, she'll be joined by two new faces on the drama: acting veterans Diane Lane and Greg Kinnear. While the exact nature of their roles is being kept under wraps, we do know they'll be playing siblings who somehow become intertwined with Underwood as she rules over Washington, D.C., with an iron fist.
While Wright has chosen not to comment on Spacey's removal from the show or the allegations against him, she has been open about her struggles to receive equal pay to her male counterpart. While she initially demanded Netflix give her pay parity with Spacey — "you better pay me or I'm going to go public" — she later admitted that the streaming service, unbelievably, still wasn't moved enough to raise her salary. "I don't think I'm getting paid the same amount," Wright explained. "They told me I was getting a raise. But…I don't think so…I really don't like being duped. Nobody does. It's such a male-dominant workforce still. There's a conditioning. And changing the condition of men is what needs to happen." Hopefully Netflix changes its mind for this season.
Related: An Early Look at the 2017 Pirelli Calendar, Featuring Nicole Kidman, Robin Wright, Penelope Cruz, and More Completely Unretouched
Robin Wright's Ever-Changing Hairstyles, From Forrest Gump to House of Cards
In 1985, a young Robin Wright posed at the NBC Network All-Star Party wearing her hair in a simple bun with a lavender smoky eye.

Photo by Getty.
Arriving at the JFK premiere in 1991 alongside Sean Penn, Wright wore her shoulder-length blonde locks in a straight style with a middle part.

Photo by Getty.
Wearing an elegant up do with a loose curls framing her face, Wright attends the 22nd Annual American Film Institute Lifetime Achievement Award Salute to Jack Nicholson in 1994.

Photo by Getty.
Wearing side-swept polished curls with a nude, mauve lip, Wright looked elegant at the 1st Annual Screen Actors Guild Awards in 1995.

Photo by Getty.
Wright rocked full bangs with a hint of blush on the cheekbones at the New York Film Festival in 2003.

Photo by Getty.
Wearing a sleek blowout with a subtle smoky eye, the actress attends the IFP's 15th Annual Gotham Awards in 2005.

Photo by Getty.
Sporting a playful half up do of tousled waves with a light contour on the cheekbones, Wright attended the 31st Annual Toronto International Film Festival in 2006.

Photo by Getty.
Debuting her dark brunette locks in tousled curls with a sheer, glossy lip, Wright attends screening of The Private Lives Of Pippa Lee in 2009.

Photo by Getty.
Back to blonde, Wright wore tousled bangs with a full lashes and nude, glossy lip at the 17th Annual Screen Actors Guild Awards in 2011.

Photo by Getty.
Debuting her chic pixie cut, Wright wore a light contour on the cheekbones at the 25th Anniversary screening and cast reunion of The Princess Bride in 2012.

Photo by Getty.
Celebrating her Golden Globe win for her role in House of Cards, Wright looked radiant wearing her sleek pixie with swept over bangs and luminous skin.

Photo by Getty.
Wright wore her platinum pixie in a sleek, asymmetrical style with a sheer, glossy lip at the 72nd Annual Golden Globe Awards in 2015.

Photo by Getty.
At the 68th Annual Primetime Emmy Awards in 2016, Wright wore her blonde bob in tousled curls with a glossy nude lip.

Photo by Getty.
Stunning on the Cannes red carpet in 2017, Wright wore her perfectly blown-out hair sweet to the side, paired with a subtle grey smoky eye.

Photo by Getty.