Iman Opens Up About Her Marriage to David Bowie: "I Will Never Remarry"
The 63-year-old supermodel talks about why she's not looking for a new relationship and her plans to travel the world with Bethann Hardison.
---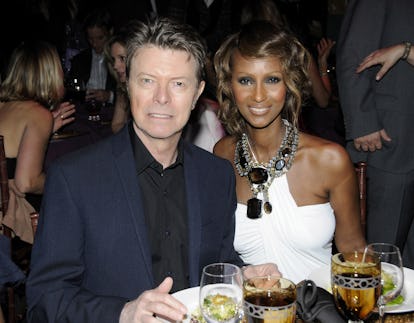 Kevin Mazur/Getty Images
It's been nearly three years since the death of David Bowie, and his widow, the supermodel Iman, still wears a gold pendant that reads "David" around her neck, a reminder of her late husband. Or, rather, her husband, she corrects anyone who calls him her "late husband"—as she explains in a new interview with the Net-a-Porter editorial site Porter Edit, "He is always going to be my husband." In the story, Iman opens up about her marriage to the late glam-rock star, their family, and why she's not looking for a new relationship any time soon.
"Sometimes, I don't want people to know how sad I am," she says. "People say to me, 'Oh, you're so strong,'" she adds with a roll of her eyes, Porter Edit describes. "I'm not strong—I am just trying to keep it together."
Bowie and Iman were married for 24 years, during which the supermodel lived under the unremitting gaze of paparazzi and tabloid items. But, according to Porter Edit, the public attention has only intensified since his death, in early 2016: "People take pictures of me in the street and say, 'I am so sorry for your loss,'" she tells the writer Jane Mulkerrins, touching her arm in mock-imitation of the sympathy of passersby. "I'm like, don't touch me. You just took pictures of me, how can you be sorry?" (She does have some empathy for fans who lost a beloved public figure, she says, but it's not quite the same as losing "a husband and a father." Bowie and Iman have one daughter, Lexi, now 18; she also has a daughter from a previous marriage, and Bowie, a son.)
Iman is apparently firm in her conviction that she's not looking for romance anytime soon: "I will never remarry," she tells Porter Edit. "I do feel very lonely," she admits. "But do I want a relationship? I can't say never, but no, not now." She's been busy, anyway—regularly appearing at conferences and on panels like the Vogue Forces of Fashion conference and the Apple Awards, where she's been an honoree. And here's what she does want: to travel. She and Bethann Hardison are eyeing some far-flung destinations, including South Korea, Vietnam, and Australia. That's a trip we might like to keep up with on her Instagram.
Related: Lexi Jones, David Bowie and Iman's 17-Year-Old Daughter, Sure Knows How to Rock a Septum Piercing