Issa Rae Has a Great Idea for an All-Black Gossip Girl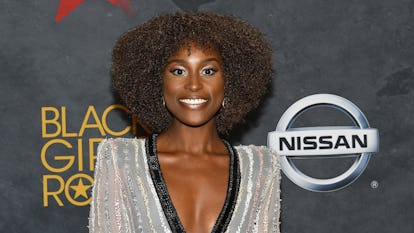 Dia Dipasupil/BET/Getty Images
The 10th anniversary of Gossip Girl has us all living a simpler past where fashionable headbands reigned supreme and the biggest villain to come out of Manhattan was Chuck Bass. But instead of harping upon the very fashionable past, why not look into a more diverse future?
Issa Rae, the creator and star of HBO's breakout comedy Insecure, is doing just that. She'd like nothing more than to see a Gossip Girl-type show aimed at a young black audience, pitching her idea to The New Yorker in a new video in connection with the magazine's Television Issue. Predictably, the idea she has in mind is nothing short of fantastic.
"I would like to pitch you a new show about black teenagers. Think 90201 or Gossip Girl for black kids," she explained in her video. "Maybe we call it Ladera Heights 90041. It could be Potomac, Maryland 20854." She even has a few characters in mind—and boring archetypes need not apply. "My main character would be Lil' Richie. He's, you know, a young black rich teen. He's tired of the access, and the excess," Issa continued. "I'm Lil' Richie, I'm so tired of being rich, there's more to me than this. I just created a song. That's the theme song. I would definitely have a ho character. Just thirsty. No goodie-goodies over here. Not in this show. Nobody was watching 90210 for Tori Spelling."
But most importantly, Rae says the sheer lack of teen and young-adult programming aimed at a black audience is what's encouraging her to pursue her pitch. "I don't think since, I would say, Moesha have we followed the lives of black teens," she concluded. "So, like, where's our Gossip Girl? This Gossip Girl is black, bitch….That's the tagline!"
Form an orderly queue, television executives.
Related: Meet Kari Faux, the 24-Year-Old Rapper Tapped by Donald Glover and Issa Rae
Issa Rae's Style Glow-Up Has Only Gotten Bolder
Issa Rae attends People's Ones to Watch event at the Line on October 9, 2014, in Los Angeles, California.

Getty Images
Issa Rae attends the Love and Basketball screening during the 2015 Los Angeles Film Festival at Regal Cinemas L.A. Live on June 13, 2015, in Los Angeles, California.

Getty Images
Issa Rae attends the 2015 BET Awards Debra Lee Pre-Dinner at Sunset Tower Hotel on June 24, 2015, in Los Angeles, California.

Getty Images
Issa Rae attends 2016 BronzeLens Film Festival: HBO's Insecure special screening at Georgia Pacific Auditorium on August 26, 2016, in Atlanta, Georgia.

Getty Images
Issa Rae attends the 2016 ESSENCE Black Women in Hollywood awards luncheon at the Beverly Wilshire Four Seasons Hotel on February 25, 2016, in Beverly Hills, California.

Getty Images
Issa Rae visits the SiriusXM Studio on October 3, 2016, in New York City.

Getty Images
Issa Rae attends the 20th annual Urbanworld Film Festival Insecure Screening at AMC Empire 25 theater on September 23, 2016, in New York City.

Getty Images
Issa Rae attends HBO's Insecure Premiere at Nate Holden Performing Arts Center on October 6, 2016, in Los Angeles, California.

Getty Images
Issa Rae attends HBO's Official 2016 Emmy After Party at the Plaza at the Pacific Design Center on September 18, 2016, in Los Angeles, California.

Getty Images
Issa Rae backstage at the Glamour Women of the Year 2016 LIVE Summit at NeueHouse Hollywood on November 14, 2016, in Los Angeles, California.

Getty Images
Issa Rae attends the Hollywood Foreign Press Association and InStyle's Celebration of the 2017 Golden Globe Awards Season on November 10, 2016, in West Hollywood, California.

Getty Images
Issa Rae attends the 2017 Film Independent Filmmaker Grant and Spirit Award Nominees Brunch at BOA Steakhouse on January 7, 2017, in West Hollywood, California.

Getty Images
Issa Rae arrives at the 2016 Ebony Power 100 Gala at the Beverly Hilton Hotel on December 1, 2016, in Beverly Hills, California.

Getty Images
Issa Rae attends The Hollywood Reporter's Annual Women in Entertainment Breakfast in Los Angeles at Milk Studios on December 7, 2016, in Hollywood, California.

Getty Images
Isaa Rae arrives at HBO's Official Golden Globe Awards After Party at Circa 55 Restaurant on January 8, 2017, in Los Angeles, California.

Getty Images
Issa Rae attends the Power of Story: Art of Episodic Storytelling at Egyptian Theatre on January 26, 2017, in Park City, Utah.

Getty Images
Issa Rae attends the 74th Annual Golden Globe Awards at the Beverly Hilton Hotel on January 8, 2017, in Beverly Hills, California.

Getty Images
Issa Rae attends the 48th NAACP Image Awards at Pasadena Civic Auditorium on February 11, 2017, in Pasadena, California.

Getty Images
Issa Rae attends the 48th NAACP Image Awards Non-Televised Awards Dinner at the Pasadena Convention Center on February 10, 2017, in Pasadena, California.

Getty Images
Issa Rae at Essence Black Women in Hollywood Awards at the Beverly Wilshire Four Seasons Hotel on February 23, 2017, in Beverly Hills, California.

Getty Images
Issa Rae attends the 2017 MTV Movie and TV Awards at the Shrine Auditorium on May 7, 2017, in Los Angeles, California.

Getty Images
Issa Rae attends the 2017 Film Independent Spirit Awards sponsored by American Airlines at the Santa Monica Pier on February 25, 2017, in Santa Monica, California.

Getty Images
Issa Rae arrives at the 2017 BET Awards at Microsoft Theater on June 25, 2017, in Los Angeles, California.

Getty Images
Issa Rae attends BET Presents the American Black Film Festival Honors on February 17, 2017, in Beverly Hills, California.

Getty Images
Issa Rae attends the 20th Anniversary Celebration of HBO x ABFF at the Betsy Hotel on June 17, 2017, in Miami, Florida.

Getty Images
Issa Rae attends the 2017 ESPYS at Microsoft Theater on July 12, 2017, in Los Angeles, California.

Getty Images
Honoree Issa Rae attends Black Girls Rock! 2017 at NJPAC on August 5, 2017, in Newark, New Jersey.

Getty Images
Issa Rae attends the Refinery29 Third Annual 29Rooms: Turn It Into Art event on September 7, 2017, in Brooklyn.

Getty Images
Issa Rae arrives at the 69th Annual Primetime Emmy Awards at Microsoft Theater on September 17, 2017, in Los Angeles, California.

Getty Images
Issa Rae attends the Wine Down With Issa Rae event at Hollywood Roosevelt Hotel on November 18, 2017, in Hollywood, California.

Getty Images
See What's Trending in W Video: