The New It Trailer Is Here to Give You Even More Clown Nightmares
This movie is not clowning around.
---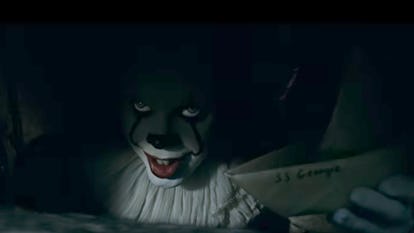 Warner Bros. Pictures/Youtube
Hollywood is very clearly having a scary clown moment. Just check the latest American Horror Story teaser for proof. The new It trailer, though, is here to remind you that Stephen King's creation is the original scary clown.
The first It teasers debuted earlier this year, but the just-released full trailer is full of even more nightmare fuel. In case you've managed to avoid the clown-themed terror until now, the film follows a ragtag team of adolescents known as the Losers Club—members include Stranger Things' Finn Wolfhard , Jaeden Lieberher, Jeremy Ray, and Sophia Lillis—who are tasked with battling a pure evil shape-shifting creature that for the most part appears as a truly horrifying clown named Pennywise.
In the latest look at the adaptation of the 1986 King novel, we see more of Pennywise, played by a truly unrecognizable Bill Skarsgård, than ever before. He lures one little victim, George, into a sewer (and hypnotizes him into trying to lure his big brother down into the watery depths with the haunting phrase "You'll float too!"), before waging all-out war on the youths.
"All the bad things that happen in this town are because of one thing," one of the kids astutely observes.
It is set to start clowning around in theaters on Sept. 8, a date after which all children's birthday parties will never feel quite right. Until then, check out the latest trailer below:
Related: Stranger Things' Finn Wolfhard Directed a Music Video Starring Himself and Iris Apatow
See What's Trending in W Video: